Travel
A local Hanukkah celebration was named among the best in the country
Thousands of people attended Hanukkah at the MFA last year.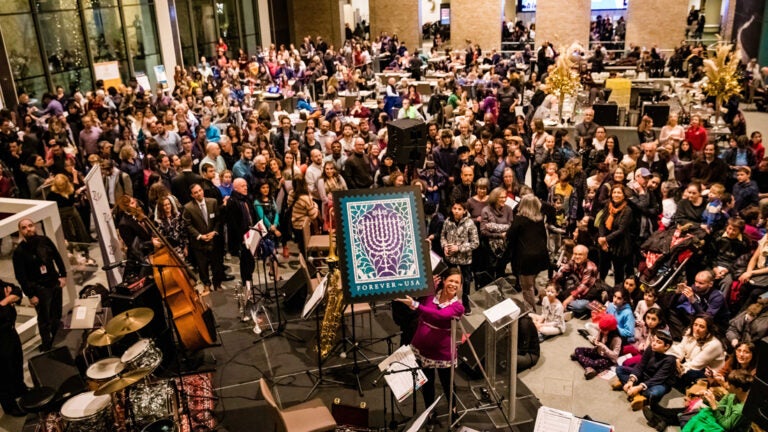 A Hanukkah celebration held at a Boston museum was named one of the best in America.
Hanukkah at the MFA, now in its sixth year, was named one of the eight best Hanukkah celebrations in the U.S. by MarthaStewart.com. The event, a collaboration between the Jewish Arts Collaborative and the Museum of Fine Arts, was called "an exciting celebration of art for the evening" by the lifestyle publication.
"We're thrilled that MarthaStewart.com has recognized what is now a beloved Boston tradition," Laura Mandel, executive director of the Jewish Arts Collaborative, said in a press release. "Our creative celebration, free and open to all, has been a tremendous success. With music, dance, art, and food throughout the galleries, we attracted more than 3,500 people to share the fun and creativity last year."
This year's activities include viewing an interactive blacklight experience by artist Tova Speter, making sufganiyot, listening to music performed by Rosalie Gerut and the Yaeko Elmaleh Group, storytelling with The Moth's Rabbi Dan Judson and Michelle Ephraim, watching modern dance with Jenna Pollack, and attending Judaica talks in the galleries, according to the Jewish Arts Collaborative. Activities for families with young children include dancing with Vanessa Trien and the Jumping Monkeys, making art, face painting, and a special Barnyard Bubbe's Hanukkah story time with Joni Klein-Higger.
The free celebration starts at 4:30 p.m. on Dec. 18 at the Museum of Fine Arts. The evening will culminate with a communal lighting of an 8-foot menorah by artist Caron Tabb at 6:30 p.m. in the museum's Shapiro Courtyard.
Check out all eight of the best Hanukkah celebrations nationwide.