Travel
How Massachusetts inns are going '420-friendly' for travelers
Since recreational marijuana sales began in Massachusetts a year ago, some inns are attracting new visitors by permitting pot use on the premises.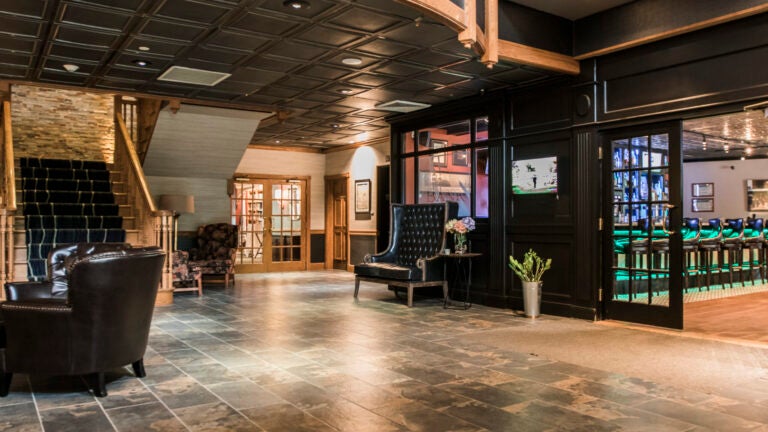 Melody Whelden has been welcoming travelers to her western Massachusetts inn for nearly 20 years, but this past year marked a first: An influx of out-of-state visitors booked a room due to the marijuana-friendly accommodations and proximity to recreational cannabis dispensaries.
"It's a new audience," said Whelden, a Cape Cod native. "They've been my little bit of a godsend when it's the dead time, where I know after 20 years of doing this, you'd better save some money for November and December."
Melody's Place, an 1860 Victorian home in Charlemont, offers four "420-friendly" rooms where guests can smoke outside on the covered porch or private deck.
"I have two rooms with a private entrance that have little decks on them," Whelden said. "So those are nice spots to sit and smoke. You have to be outside because I have people who stay here who don't smoke too."
The term "420 friendly" appears on the inn's website, Home Away, and Airbnb listings. She said over the past six months, 50 to 60 percent of her guests have been attracted by her cannabis-friendly accommodations, traveling from New Jersey, New York, Pennsylvania, Virginia, and even North Carolina.
Many of them visit the three marijuana dispensaries that are within an hour drive of her place: Berkshire Roots in Pittsfield, Insa in Easthampton, and New England Treatment Access (NETA) in Northhampton. Her location is ideal because of nearby seasonal offerings as well, she said, which include leaf peeping, skiing, and more.
Whelden said she's seen the biggest uptick during midweek and off-peak travel months. November is typically a slow month, but this year she's experiencing more midweek bookings, some of which were due to interest in visiting the nearby dispensaries.
Many Massachusetts hotels and rental accommodations have policies against using cannabis on their property, according to the Cannabis Control Commission, so the commission recommends checking the rules before consuming marijuana where you stay. The commission's jurisdiction is limited to licensed marijuana establishments and medical marijuana treatment centers, but it could begin issuing licenses for social consumption establishments pending a bill before the legislature that would allow cities and towns to opt in to hosting such facilities.
Melody's Place is also listed on budandbreakfast.com, which has been called "the Airbnb of marijuana-friendly lodging." Budandbreakfast.com, launched in Colorado in 2013, has more than 1,000 listings worldwide and about 25 in Massachusetts, according to CEO Sean Roby.
"I think, by this time next year, you're going to see 100 [listings in Massachusetts], at least," Roby said. "It's one state in the East where you have a very small amount of states, still, that have fully recreationally legalized [marijuana]. Massachusetts is setting the standard, and people love it."
On the site, travelers search for and book "420-friendly" inns, rooms, and bed and breakfasts. As with Airbnb, the host sets the rate, and budandbreakfast.com receives a cut.
"We pride ourselves in saying we list couches to castles," Roby said. "We have places where a hostel will list a room for 30, 40 bucks a night, and then we have places that are $3,000 a night."
So who are the travelers?
"We're seeing every type of traveler, from the Grateful Deadhead person to the lawyer to the doctor," he said.
Legalization in states such as Colorado and California has "opened up massive new tourism opportunities," according to Beej Das, president and CEO of Troca Hotels & Yachts, a New England- and Florida-based luxury lifestyle hospitality company that includes The Stonehedge Hotel & Spa in Tyngsborough, which bills itself as "Massachusetts' first cannabis-friendly hotel."
Das thinks Massachusetts is poised to follow in those states' footsteps.
"Right now we're at the beginning of that bell curve," he said. "There's going to be a point where we're part of a rare group of places where you can use cannabis in a luxury lifestyle setting. There's going to be a period where a lot of places allow it."
The Stonehedge launched a 420 experience package on April 20. For an added $175, guests can stay in one of two designated cannabis-friendly rooms with balconies, get a "munchie and hydration kit," unlimited flatbreads at the hotel's restaurant, and more. Das noted that cannabis is not included, and the package's vaporizer has been replaced with a gift card since the four-month statewide vape sales ban went into effect.
Das said cannabis opens up new tourism opportunities because, like alcohol and food, it provides an opportunity for people to socialize around an activity.
"What we realized fairly quickly is that the people who are socializing around cannabis are also the people that attract other people to socialize around them," said Das.
While there has been "some blowback" by guests who don't smoke, Das said the package has been well received, and more cannabis-friendly plans are in the works for 2020, he said.
"We're going to be working with a couple of different groups that have approached us to do dinners with edibles," said Das. "They'll bring a chef. They'll monitor the amount of cannabis in different dishes and entrees and desserts, and they will curate the experience for guests."
The hotel will create more space for smokers as well, he said, in the form of a villa that's not connected to the main building.
"The reason we're developing that is we're trying to integrate two communities here," he said.
Discretion is important, but so is social intermingling between those who consume cannabis and those who don't, he said.
"What we're seeing is, ultimately, the social mix that's created in our restaurants and lounges when you are able to integrate the two — it's magical."
If you go:
Melody's Place, 193 Main St., Charlemont, 413-337-4322
The Stonehedge Hotel & Spa, 160 Pawtucket Blvd., Tyngsborough, 987-649-4400