Travel
A Canopy by Hilton is coming to Boston in 2021
The second floor of the hotel will feature a retractable glass wall.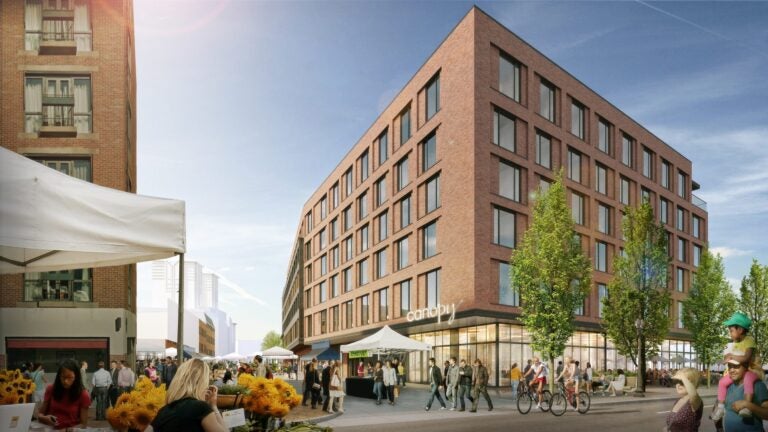 A Canopy by Hilton is coming to Boston in 2021.
Construction began this month on the $125 million mixed-use development project located across from the Rose Fitzgerald Kennedy Greenway, according to Olshan Properties. The project, a joint venture between Olshan Properties, CV Properties, and Harbinger development, will include the 212-room hotel, as well as 12,711 square feet of new retail and restaurant space.
The Canopy by Hilton brand launched in 2014 and debuted in the U.S. in Washington, D.C., in 2018. The hotels are "located in the most desirable neighborhoods across the globe" and designed as a natural extension of their surrounding neighborhoods, according to Hilton. The hotels have open, flowing spaces, with designs that incorporate local artists and materials, and offer locally sourced food, regional wine and beer, and signature cocktails made with locally distilled spirits. Hotel team members, called "Enthusiasts," provide guests with neighborhood recommendations for restaurants, shops, running paths, and more.
The second floor of the Boston hotel will feature a 2,000 square-foot bar and restaurant, complete with a retractable glass wall with views of the Greenway, according to Olshan Properties.
"We are confident that this development will become an integral part of the historic Blackstone Street Block and the nearby North End as a result of its incredible location along the vibrant Greenway circuit," said Andrea Olshan, CEO of Olshan Properties, in a press release.
There are currently 12 Canopy by Hilton properties open worldwide and more than 40 more in various stages of development, according to Hilton. Two of those projects are located in New England — the Boston location and a Portland, Maine, location, which are both due to open in 2021.