Travel
Take a look inside Norwegian's new cruise ship, coming to New England in 2020
The ship has a raceway and a waterslide that hangs 159 feet above the ocean.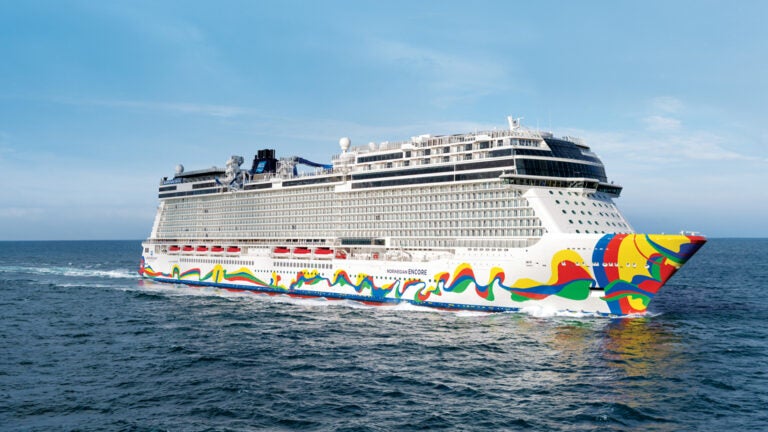 Norwegian Cruise Line's newest ship is cruising into New England in 2020.
The 1,094 foot Norwegian Encore, the company's 17th ship, has a gross tonnage of 167,800 and a guest capacity of 3,998. The ship includes a quarter-mile promenade full of restaurants and bars, an observation lounge with 180-degree panoramic views, 15 restaurants, an aqua park, fitness studio, virtual reality game room, casino, spa, open-air laser tag course, speedway, and entertainment offerings that include the Tony Award-winning musical "Kinky Boots."
The Speedway, which the company bills as the largest race track at sea, features more than 1,100 feet of track where "guests can zoom around hairpin turns in excess of 20 miles per hour."
"The Waterfront" is a quarter-mile promenade full of restaurants and bars. It features eateries such as Cagney's, an American-style steakhouse with indoor and outdoor seating.
Guests can choose from rooms that include spa staterooms mini-suites, which provide easy access to the spa and fitness center, mini-suite staterooms, balcony staterooms with floor-to-ceiling glass doors; oceanview staterooms, inside staterooms, studio staterooms designed for solo travelers, and luxury staterooms and suites.
Some rooms, like this suite, have an ocean view.
The staterooms in The Haven by Norwegian, home to the ship's most luxurious and spacious accommodations, have private balconies, luxury showers, and ocean views.
A bathroom inside a luxury suite.
The ship's 2,723 square foot Observation Lounge, complete with floor-to-ceiling windows, offers 180-degree panoramic views and a full-service bar.
The District Brew House offers floor-to-ceiling windows, live music, and more than 50 bottled and 22 draft beers.
The Sugarcane Mojito Bar is located on The Waterfront.
Guests can eat Italian food at Onda by Scarpetta. Onda means "wave" in Italian.
At American Diner, guests can "experience a slice of Americana, including classic American cars," while ordering comfort foods such as burgers, fried chicken, and pot pie.
The Manhattan Room is one of three main dining rooms aboard Norwegian Encore and serves specially curated modern and classic dishes.
Guests can stroll amid the ship's offerings in this public area.
Guests aboard Norwegian Encore can attend the Tony Award-winning musical "Kinky Boots," as well as "The Choir of Man," and "Happy Hour Prohibition: The Musical." 
Guests can explore a virtual reality world inside the Galaxy Pavilion, which offers immersive VR experiences, simulator rides, and an escape room featuring holograms and enchanted artifacts.
An open-air laser tag course, Norwegian Encore Laser Tag, features treasures that virtually come to life.
The Aqua Park aboard the ship features two multi-story waterslides. Ocean Loops is a double loop waterslide that hangs 11 feet off the side of the ship and 159 feet above the ocean.
Norwegian Encore's inaugural voyage from Miami to the Caribbean took place on Nov. 24, and the ship will offer Canada and New England itineraries from New York City beginning Apr. 22, 2020, stopping in Portland, Maine.