Travel
A 'designer hideaway in the woods' will open in Maine in 2020
The outdoor resort helped Maine snag a spot on Travel + Leisure's list of must-visit destinations in 2020.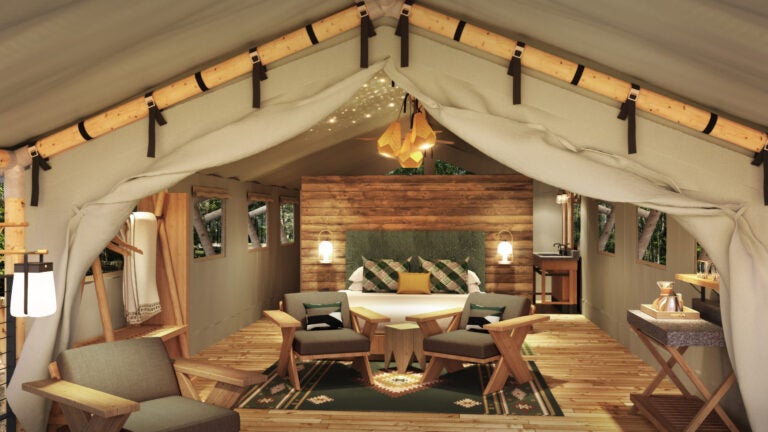 An outdoor resort opening in Maine next summer helped to land The Pine Tree State on Travel + Leisure's list of must-visit destinations in 2020.
Terramor Outdoor Resort, a new venture by Kampgrounds of America, Inc., will bring 64 luxurious tents to 60 acres of land west of Mount Desert Island in Bar Harbor in 2020. The company is calling the resort "a designer hideaway in the woods."
"Our vision for Terramor Outdoor Resort focuses on the heart of hospitality through upscale, yet authentic experiences that create a unique opportunity for travelers to explore and immerse themselves in the outdoors," Toby O'Rourke, president and CEO of Kampgrounds of America, said in a press release. "The name Terramor blends 'land' and 'love,' which reflects our approach to personalized hospitality and celebrating the benefits of time spent in nature."
The luxe tents will surround a lodge, called "the central hub of the property," complete with a restaurant, bar, and store.
The property will feature a nature-inspired pool and outdoor recreation area where guests can relax and socialize.
The "rustic-luxe tents" with exposed, finished wood beams will include premium beds and linens, verandas, and outdoor patios. Each tent is "designed to blend the aesthetics of the surrounding nature with the comforts of an upscale hotel room," according to the release.
The tents will include upscale amenities, such as in-room Chemex pour-over coffeemakers. The double-occupancy tents will have a queen size bed and the two-bedroom tents — designed for families and groups of friends — will feature one queen bed and a set of bunk beds. The sites will also have private campfire areas.
Nearly all accommodations will have en suite bathrooms, and some will have private outdoor showers as well.
The restaurant will offer seasonally inspired food, and the bar will serve wine, cider, and regionally sourced beer from rotating breweries such as Allagash Brewing Company and Atlantic Brewing Company in Maine and Lawson's Finest Liquids in Vermont.
Guests can grab a picnic at the lodge restaurant and take it on adventures to Acadia National Park, transporting the food inside a cooler backpack provided in each tent. An onsite concierge can help guests to plan activities. Equipment and gear rentals will be available on site.
There's also good news for pet owners: The resort is pet-friendly, and it has an onsite dog park.
Prices range from $218/night for a tent without a bathroom to $273/night for a tent with a bathroom, according to the destination's website. Reservations are available at terramoroutdoorresort.com.