Travel
An iconic Nantucket hotel is opening a Palm Beach outpost this spring
The White Elephant Palm Beach promises to combine a New England luxury resort with a historic South Florida hotel.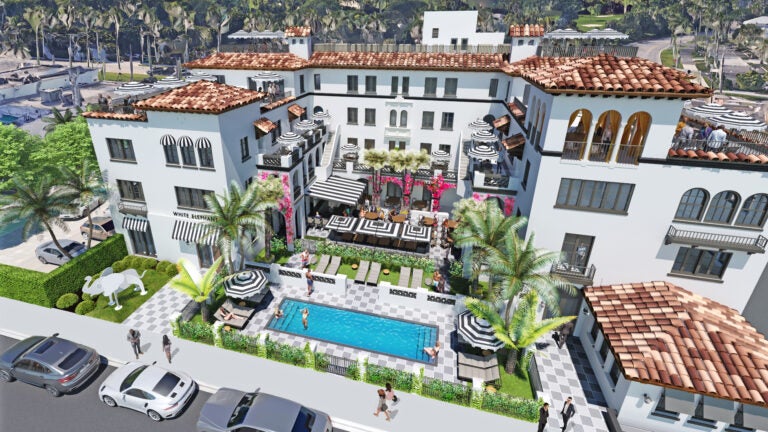 White Elephant Palm Beach is on track to open this spring after a meticulous restoration of a historic South Florida hotel.
"I would drive by the hotel all the time, and it looked so abandoned and so quiet over there," said Daniel Miller, White Elephant Palm Beach's general manager. "Now it looks so bright and welcoming."
The White Elephant, the iconic Nantucket resort, expands south by taking over the former 1920s-built Bradley Park Hotel in Palm Beach, Fla., one of the area's most glamorous properties during its heyday. The restoration of the building, which is listed with the Landmark Preservation Commission, kept the Bradley Park Hotel's original footprint and amped up its ornate Spanish Revival style, including adding a new terra-cotta tile roof. A new buttermilk and black trim exterior, flanked by black-and-white striped awnings, lends a contemporary twist. 
The lobby has massive windows overlooking the U-shaped courtyard, which is flanked by palms and hibiscus and has a newly installed seven-foot white elephant statue by Santa Fe-based artist Fredrick Prescott. The sculpture is one of around 100 pieces of art throughout the property. The lobby's original fireplace was restored as a centerpiece to its couch-lined social space, but most of the interior was gutted to update décor and install fiber optics, LED lighting, and water filtration stations. 
Guest rooms are spacious and tally 13 rooms and 19 suites across four stories. Like the lobby and public spaces, the color scheme pairs white with muted accents of natural colors pulled from the landscape, such as stony grey, pale blue, and sandy beige.
The building is capped by the top-floor Palm and Park Suites. The latter is the resort's most lavish, with three bedrooms and a 1,200 square foot private terrace.
"The feel is high-end residential with woven rugs on wood floors," Miller said. "The original artworks add to that luxury home feeling, too."
It's owned by Boston-based New England Development, which operates Nantucket's White Elephant and The Wauwinet resorts as well as the Palm Beach Outlets and SF Marketplace at the Outlets in West Palm Beach, Fla.
Notable perks for guests include complimentary use of Priority Bicycles, a BMW7, and exclusive access to Barton & Gray yachts for parties or excursions. A Mercedes van can shuttle guests around Palm Beach, including to the seaside, which is a block away.
Nightly rates start at $325, and the getaway is accepting bookings beginning in mid April.
Along with the hotel, Palm Beach already gained a branch of Lola 41, the popular Nantucket bistro. The Palm Beach restaurant, which opened in February, follows the island location's blueprint with sushi and burgers, and will provide the hotel's room service, breakfast, and courtyard bar and café service.
"It is already a major smash," Miller said. "The vibe of the restaurant fits Palm Beach. It has already created a lot of buzz."
280 Sunset Ave., Palm Beach, Fla.; 561–832-7050; whiteelephantpalmbeach.com.