Travel
Here's how much airlines have reduced departures from Logan Airport
JetBlue will have 28 daily departures in April, down from 165 in April 2019.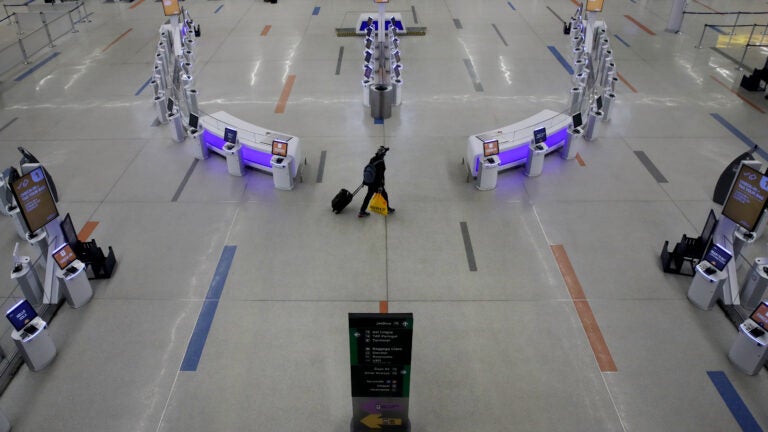 The number of departing flights at Boston's Logan International Airport has dropped dramatically due to the devastating impact the coronavirus pandemic has had on the airline industry.
The total number of departing passengers at Logan Airport for the week of March 30 to April 5, according to Massport, dropped from 410,688 in 2019 to 14,082 in 2020 — a 96.6 percent decrease.
JetBlue's typical 165 daily departures out of Logan in April have been reduced to an average of 28, according to the company. JetBlue is Logan's largest carrier.
Meanwhile, Delta Air Lines will average about 18 daily flights in April, an 80 percent decline at Logan, according to a Delta spokesperson.
JetBlue announced Wednesday that it will consolidate services in five U.S. metro areas between April 15 and June 10, including Boston. The airline will suspend services at T.F. Green Airport in Warwick, R.I. Both airports had a combined average of 180 daily departures, which has been reduced to an average of 28 daily departures solely at Logan. Customers whose flights have been cancelled will be notified via e-mail by the airline's customer support team, after which they can get a travel credit, refund, or rebook, according to a press release.
"The revised schedules are aimed at reducing excess flying during a time of unprecedented low demand for air travel while maintaining a critical level of service across the airline's network for those who absolutely must fly," JetBlue officials said in a press release.
The other areas where JetBlue is consolidating services are in Los Angeles, New York City, San Francisco, and Washington D.C.  JetBlue is also asking the U.S. Department of Transportation to allow the company to suspend service at Worcester Regional Airport.
"We face new challenges every day and can't hesitate to take the steps necessary to reduce our costs amidst dramatically falling demand so we can emerge from this unprecedented time as a strong company for our customers and crew members," said Scott Laurence, head of revenue and planning for JetBlue, in a press release.
<hr>