Travel
JetBlue's CEO on the one thing that's keeping him up at night
He also shared "very good news" with his 23,000 crew members.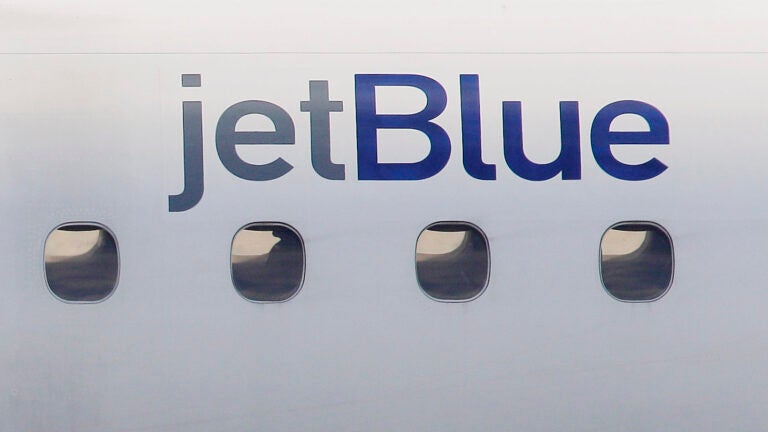 JetBlue's CEO shared what keeps him up at night during the coronavirus pandemic in a letter to his 23,000 crew members posted Tuesday to the carrier's website.
"There have been many things on my mind throughout this health and economic crisis, but one thing that really keeps me up at night is how we can protect our Crewmembers and preserve jobs at JetBlue," wrote Robin Hayes, CEO of JetBlue.
Payroll support under the CARES Act will help to secure jobs for the next few months, he wrote to his employees, which he called "very good news" and "the news you have been waiting for." JetBlue is Logan International Airport's largest carrier.
"This law does not solve the long-term problems that the coronavirus pandemic is creating but it buys us some much-needed breathing room," Hayes wrote. "I'm especially proud that we worked together to shape a solution where every dollar of these funds will go directly to salary, wages and benefits for our Crewmembers through September 30."
Read the letter from Hayes to JetBlue crew members:
Dear Crewmembers –

We have some very good news to share with you about payroll support under the CARES Act. After several weeks of working closely with our airline industry colleagues and our elected officials in Washington, we have reached tentative terms with the U.S. Government to accept funds that will secure jobs at JetBlue for the next few months as we weather this unprecedented crisis. I know this is the news you have been waiting for and I hope you'll join me in thanking the Trump administration, especially Treasury Secretary Mnuchin and Transportation Secretary Chao, as well as Congress, including our hometown Senator Chuck Schumer, for making sure that our 23,000 Crewmembers are recognized for the critical work you do.

There have been many things on my mind throughout this health and economic crisis but one thing that really keeps me up at night is how we can protect our Crewmembers and preserve jobs at JetBlue. This law does not solve the long-term problems that the coronavirus pandemic is creating but it buys us some much-needed breathing room. I'm especially proud that we worked together to shape a solution where every dollar of these funds will go directly to salary, wages and benefits for our Crewmembers through September 30.

Understanding the payroll support program
The money we receive will be split into two different portions, one which needs to be paid back and one that does not.

The portion that we do not have to pay back covers about 56% of what our payroll costs were during the same six months last year. The second portion will come in the form of a low-interest loan and will have to be paid back to the government starting in October. In addition, the U.S. Government will also receive a limited number of warrants, which are the right to buy shares in JetBlue at a pre-determined price. We must also continue to provide a minimum level of domestic air service in exchange for the funds, and I am grateful to every one of you for fulfilling this obligation with great diligence.

While I am happy we are receiving this much-needed cash for payroll now, it adds to the significant debt we are taking on as we burn through our cash reserves. Thankfully, we entered this crisis with one of the stronger balance sheets in the industry but we will come out of this with significant debt to pay down.

With flights below 150 daily and our aircraft now only about 10% full, we will have far less work and fewer hours for every salaried and hourly Crewmember. I know this adds financial stress at a time when we are also worried about each other's health and safety, but I am thankful we are in a position to provide some level of pay for everyone using the payroll support funds.

We have been working with the Values Committees, ALPA and TWU on the fairest way to allocate the CARES Act funds to you on behalf of the government. Each team at JetBlue is unique, and we will share CARES Act programs and pay models within the next day. Watch your email for details and information on virtual pocket sessions.

Continuing to Inspire Humanity
Now that we have some breathing room, we can turn our attention to how we get up and running again. What's important to our Customers will be different after this, and we are already working to be ahead of that. Our aspiration to become a travel brand that "brightens the journey" is more important than ever. Our low-cost structure will allow us to offer low fares and help people battered by the economy to make that trip and take care of them along the way.

I'm so proud of what we have been doing throughout this crisis to serve our communities and we will be here to power the economy back to life when the time comes. While we don't know when demand will return to 2019 levels, what I do know is our combination of inspired service, great product, more space, and low fares will be more appreciated than ever. JetBlue has been shaking up this industry for 20 years and that will continue to be key to our success.

Every time I see our Inspire Humanity livery, it reminds me of what's important. In times like these, we need to double down on our mission. This has been an unprecedented time. We have lost some of our Crewmembers, and our thoughts are with their families and friends, and we are supporting them through this difficult time. We also have Crewmembers who are fighting coronavirus or have family members who are sick. Please keep them in your thoughts.

Thank you for everything that you are doing at work to care of each other and our Customers while you look after yourself and your loved ones. You are an inspiration to me every day.

Best wishes,

Robin Hayes
Chief Executive Officer