Travel
5 ways flying could change in the future
Backwards seats, in-flight janitors, and more proposed ways to keep passengers safe while flying in a post-COVID-19 world.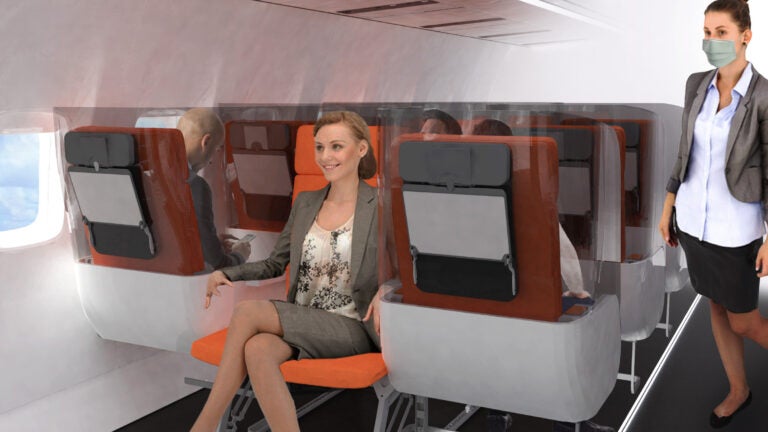 Will air travel in the post-COVID-19 world include backwards middle seats and touchless cabins with in-flight janitors?
Those are some of the ideas proposed to keep flyers safe. The airline industry has been hit hard by the coronavirus pandemic, with travel down an estimated 95 percent. When the industry recovers and people begin to fly again, safety is a priority for airlines and the companies that serve them.
"Airline travel is going to look and feel different going forward," said Paul Hartshorn Jr., national communications chairman for the Association of Professional Flight Attendants.
Here are five ways air travel could change, as announced by airlines or proposed by companies that work with them.
1. Continued social distancing measures
On May 4, the U.S. Travel Industry released new health-focused guidelines for travel, called "Travel in the New Normal" and developed with the help of a task force of physicians and travel leaders. The guidelines focus on six main areas for travel businesses: adapting operations or redesigning public spaces for the protection of employees and customers, implementing touchless solutions, enhancing sanitation procedures, promoting health screening measures for employees, establishing procedures for when employees tests positive for COVID-19, and following best practices for safe food and beverage service.
"We want political leaders and the public alike to see that our industry is setting a very high standard for reducing the risk of coronavirus in our businesses, and that the practices in place to achieve that standard are consistent through every phase of the travel experience," said Roger Dow, U.S. Travel Association President and CEO, in a press release. "As travel reopens, travelers need the confidence that safety measures are in place from their departure to their return home."
Airlines have already been implementing social distancing and cleaning measures this spring. Several airlines, such JetBlue, Delta, and Southwest, are limiting the number of passengers on each flight. Delta has blocked middle seats, United is limiting seat selections, and both are boarding from rear to front. Airlines such as Delta and Southwest have released videos demonstrating new procedures for disinfecting planes. United is testing touchless kiosks for printing bag tags and checking bags, and Southwest is installing shields at ticket counters and gate podiums. Frontier Airlines will begin temperature screenings June 1, using touchless thermometers.
2. Face coverings will be required
The CDC recommends people wear cloth face coverings in public settings to slow the spread of the virus. As a result, many airlines have mandated that staff and passengers wear masks. JetBlue was the first major U.S. carrier to require that all passengers wear face coverings when flying, launching the policy May 4. After that, several other airlines followed suit, announcing mandatory face covering policies of their own beginning in May.
Hartshorn, an American Airlines flight attendant, said he is relieved that passengers will have to wear masks on his airline beginning May 11.
"I don't think we'll get back to the normal that we knew last year," he said, "But if we continue covering our faces, wearing gloves, [and] social distancing to the extent possible on an aircraft, then I think that, hopefully, we'll get back to some semblance of normalcy," he said.
3. Seating could be modified
Italian company Aviointeriors has proposed social distancing solutions for airline seats. The "Janus" seat is a backwards middle seat (pictured above) that ensures "the maximum isolation between passengers seated next to each other," the company wrote in a press release. The seat is surrounded on three sides by a high shield that "prevents the breath propagation to occupants of adjacent seats," the company wrote.
The company also proposed "Glasssafe," a three-sided shield (pictured below) made of transparent material that attaches to existing airplane seats. The shield, the company wrote, works by "creating an isolated volume around the passenger in order to avoid or minimize contacts and interactions via air between passenger and passenger."
4. More sanitation throughout airports and onboard
Airline marketing strategy firm SimpliFlying has mapped out how the entire flying process can be made cleaner in a report called "The Rise of Sanitised Travel." The changes include touchless cabins with sealed meals, in-flight janitors, immunity passports, disinfection tunnels, and "sanitagged" bags, in which luggage undergoes a fogging or UV disinfection process.
The report details how an immunity — or health — passport would be required to fly, said Shashank Nigam, founder and CEO of SimpliFlying.
"It's literally something that says you are fit to fly today — it's not a guarantee that [COVID-19] will not happen to you again or that you won't be a carrier again," he said.
When passengers get to the airport, they would go through a disinfection tunnel curbside where they'd "get sprayed by a mist — which is not harmful to you at all — but it ensures once you are through this, you do not carry any germs," he said.
Passengers would have their temperatures checked.
"I expect, in the future, when we go through the disinfection tunnel and our temperature is automatically taken, our boarding pass on the mobile phone will be automatically updated with our temperature visible right next to the boarding pass," Nigam said.
Touchscreens at kiosks will be a thing of the past as passengers use their mobile phones when checking in, he said. Passengers would board individually, rather than congregating at the gate, he said, and then social distance on the jet bridge, which could also become a second disinfection tunnel.
Airlines would appoint an in-flight janitor on planes, Nigam said, whose sole focus is cleaning high-touch areas such as lavatory handles. Touchless cabins will emerge, he said.
"People will not want to touch the screen in front of them or the inflight magazines," he said. "We expect the end of the print inflight magazine and everything is going to go digital."
Meals in the air will be pre-packaged, Nigam said.
"Airlines will want to reduce the literal interaction between customers and their crew, so they are more likely to package meals individually," he said.
A lot of the recommendations in the report are already being implemented at various airports worldwide, Nigam said, from sanitizing bags to temperature checks to airline crews wearing personal protection equipment.
"We expect most of them to be adopted to varying degrees," he said. "Some airports might adopt 90 percent of it, some airports might adopt 50 percent of it. But we do expect a large majority of them to be adopted in some form or another."
A newly formed Transport Health Authority would oversee it all, he said.
5. Ticketing and rates may change
Liana Corwin, consumer travel expert for flight tracker app Hopper, said airlines will need to consider the new mindset of future travelers.
"Flexibility is going to be very key to travelers going forward," she said.
According to a recent Hopper study on how COVID-19 has impacted leisure travel, flexibility has become a "critical factor" for travelers when deciding to fly. More than 50 percent of travelers indicated that the ability to cancel a trip or change the date after booking with a minimum penalty was most important when booking.
"We may see airlines act in ways that we haven't seen them before as they adapt to the new demands of the customers," she said. "And we're already seeing that."
During the pandemic, airlines extended their cancellation and change fee waivers in an unprecedented way, Corwin said. For example, Delta is allowing passengers to rebook travel for up to two years, she said.
While airfare prices traditionally climb this time of year, airfare is down 27 to 33 percent, she said. For example, travelers can find airfare from Boston to San Diego for $226 roundtrip in late June and early July and from Boston to Tampa, Fla., for $156 roundtrip in late August, Corwin said.
"We definitely expect these prices to continue to stay low, at least in the near-term," Corwin said. "It's hard to say for certain exactly what it will look like at the very end of the year, given that there's so much unprecedented uncertainty in the market."