Travel
What to know if you're making a trip to Six Flags this summer
You'll need to make an online reservation, wear a face mask, and more.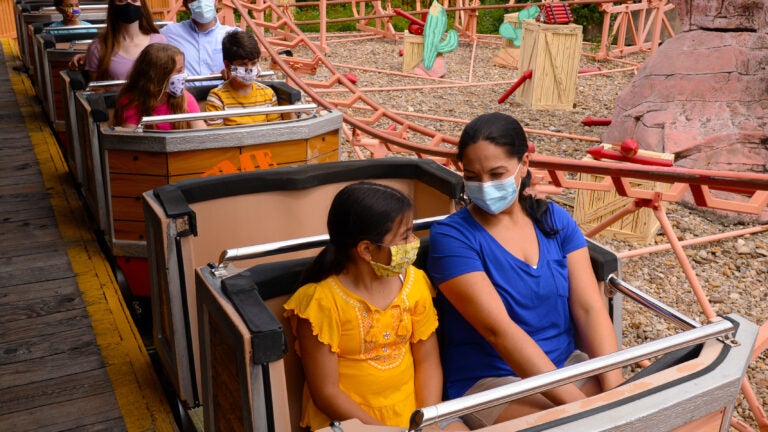 Six Flags New England, the region's largest theme park, will reopen May 14.
The park's announcement Wednesday comes a day after Gov. Charlie Baker gave the green light for the second step of Phase 4 of the Massachusetts reopening plan to proceed on May 10. The move allows the state's amusement parks, theme parks, and outdoor water parks to reopen at 50 percent capacity and with safety protocols in place.
"We are beyond thrilled that we can reopen our theme park with a full complement of our more than 100 rides, attractions, and unique experiences," Pete Carmichael, president of Six Flags New England, said in a statement. "Now more than ever, families need an escape that is safe, accessible, and fun."
The park will open to members and season pass holders on May 14 and to the general public on May 15, with new health and safety measures in place due to the coronavirus pandemic.
If you're planning to visit Six Flags this summer, you'll need to make an online reservation, wear a face mask, undergo a temperature check, follow strict social distancing guidelines, and more.
All guests will have their temperatures checked via thermal imaging upon entering the park, and their bags will be searched by a new touchless bag check system. Once inside, visitors will notice plenty of signage outlining safety measures and social distancing.
When it comes time to board a ride, guests will be separated by empty rows and/or seats on all roller coasters, rides, and attractions, according to the company. Guests viewing outdoor entertainment and game play will be separated by six feet, and capacity at indoor venues and on some attractions will be reduced to meet social distancing requirements.
Guests can expect an expanded the use of mobile food ordering and increased emphasis on cashless transactions. Also, self-service buffets and salad bars will be reconfigured to eliminate guest contact with food.
Workers will also step up cleaning efforts in high-traffic zones such as restrooms, dining areas, ride seats and restraints, and queue line railings. Hand sanitizer and hand-washing stations will also be located throughout the parks.