Travel
Here's how Boston.com readers feel about staying in hotels in 2020
Answers ranged from "Hell no" to a resounding "YES!"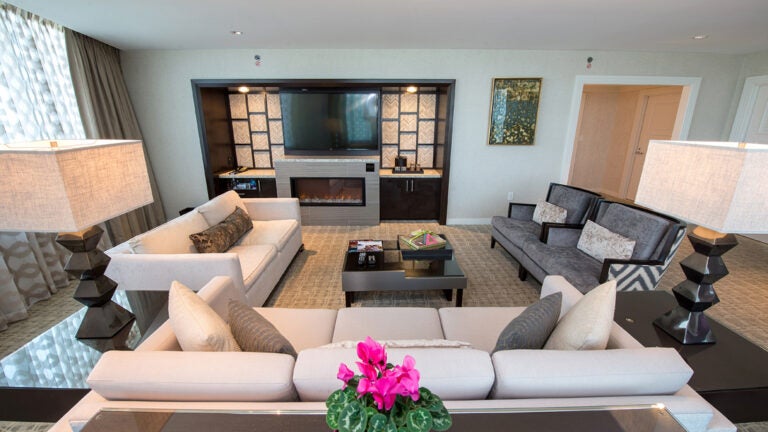 When Boston.com asked readers how they feel about staying in a hotel room this year due to the coronavirus pandemic, the responses poured in.
Though the American Hotel & Lodging Association announced industry-wide safety guidelines in May and Massachusetts hotels have been following health and safety guidelines that include cleaning and disinfecting, social distancing, and hygiene protocols since reopening June 8, readers are divided over whether they'll book hotel rooms in 2020.
Ahead, Boston.com readers share how they really feel about renting a room during the pandemic.
'Hell no'
Dozens of Boston.com readers said there's no way they'll stay in a hotel this year because of the global health crisis. While several answered with a succinct "No," others explained why, many citing cleanliness as a top concern.
"Hell no," wrote Carly Hudson. "Um, cause of that whole deadly pandemic."
"No way," wrote Robbin Mason Walker.
"You won't see me in one this year," wrote macruder. "Unless I'm cleaning and disinfecting my own place, I can't really feel confident that hotels are fully cleaning properly."
"Gross," wrote Paula A. Miller. "No way."
"Staying away," wrote Neal Bloom.
"Any risk (and there's one in this scenario) is not worth the chance at the cost of death to me, or anyone else," wrote Pete Rob Legere. "I've been near death before, and never thought it'd happen to me."
"I'm not comfortable staying in a hotel right now due to the shared spaces such as elevators, hallways and lobbies, and the recirculated air," wrote Ellen Bordman. "I am more comfortable staying in a rented vacation home, which I have done recently, where I can avoid contact with others outside of my immediate family."
"Nope, don't know who was there before and how well the room was cleaned and if it was even sanitized. How many maids didn't show up for work today and, if they're short staffed, do they take shortcuts," wrote David Seltzer. "No we'll wait for a vaccine. We did cancel our Vineyard vacation for the summer! No way I'll get on a plane or be in an airport till it's safe! I am 66 and have lung issues!"
"No, I don't want to risk it," wrote Darcy Dorwart. "Why?"
"NO!!!" wrote V Benny.
"No plans of going anywhere anytime soon," wrote ReggaeInHerHead. "Maybe next spring? Or later."
"Not after I saw an expose on Inside Edition last night," wrote Marina Lombardi. "They never changed the sheets. That would make me not want to stay at those hotels before or after a pandemic."
"No, I won't stay in a hotel," wrote Maureen O'Brien Crocker.  "I've had enough experiences with problems in the past which leads to the logical conclusion that trusting someone else to clean for me and my family where I will be sleeping is not essential."
"Not a chance," wrote caloway. "The continuing outbreaks in China and Europe are all either residential or work clusters where people share common spaces and touch common surfaces. The last thing I want to do is push an elevator button that's been pushed 100 times since the last disinfection or share common air vents with random people in the room next door."
"You could not pay me enough," wrote Self-Isolating Since 2006. "Well honestly, you probably could 'pay me enough,' but I'm not inclined to take that trade-off."
'YES!'
Dozens of Boston.com readers said they'd absolutely stay in a hotel room this year, and some already have. While some readers answered with a resounding "yes," others elaborated about what makes them feel confident right now sleeping away from home.
"YES!" wrote Anna Sowinski. "I love hotel rooms, room service, big fluffy towels and nice staff on-site. I would LOVE to be in a hotel room with a tub and a shower, and would feel very safe there."
"If they are open I'm going," wrote Daniel Jellison. "We went before. What's the difference now?"
"Just took an east coast road trip," wrote Robert DeBank. "Stayed in a bunch of hotels. Not dead yet."
"I would have no problem staying at a motel or hotel right now," wrote Arlene Hill. "This land has never been as clean as it is now."
"If I do some research and see which ones are taking all this seriously," wrote Spiro Grigoropoulos.
"Sure, I'd feel comfortable," wrote Tommie Devon Jones. "Only after I turned off the lights and saw no stains anywhere under a blacklight. If I see something, I just pack up and go."
"Absolutely would stay at any branded hotels, as guidelines are clearly known and followed by staff," wrote Richard Lafrance.
"Yes, spent 2 nights at Mohegan Sun and the safety protocols they have are great," wrote Jenn Gainey.
"I'm staying at one this weekend," wrote Brian McDonnell. "Didn't even think about it. Room was really clean."
"Just booked a hotel," wrote mr33. "Not flying yet or leaving the country for now."
"We stayed at a B&B last week and it was very 'safe,'" wrote Emma Schweitzer. "I would feel safe staying at a hotel that undertook regular cleaning precautions. Coronavirus is spread by hanging out in close proximity to people for extended periods of time, so I don't see any issue with staying at a hotel. I might skip the continental breakfast. But I think most have done away with that for now anyhow."
"Depends on where it is," wrote Jezmund. "Upstate NY, sure. Miami, no effin' way."
'I have assembled my own cleaning supplies'
Of the readers who said they'd absolutely check into a hotel this year, some made it clear they'd be armed with their own supplies.
"I plan to visit Falmouth at the end of the month," wrote Karen Sirois. "We will be staying for 6 nights. I am quite confident in our innkeeper, but I have assembled my own cleaning supplies and will give the room a once over before we enter. There will be no housekeeping services so there should be no one entering my room while I am there."
"Yes, I would be comfortable, but would be more vigilant in wiping down surfaces and would be much more selective in the activities and dining environments while there," wrote Wilfred Pelletier.
"I would, but would bring sanitizing cleaner, paper towels, gloves & lots of hand sanitizer," wrote Marie Daly. "I would clean hard surfaces to start, wear a mask upon arrival, then go out for several hours to make sure air circulation has time to work."
"Of course!" wrote Lex MacKinnon. "Been to 3 [hotels] during Covid. It's not that hard to quickly sanitize a room myself. We also have a little air purifier we bring with a HEPA filter and UV-C sanitizer."
"We've learned a lot about Covid transmission over the past 3 1/2 months," wrote Rita Kirsch Thieme. "And what we've learned is that it doesn't transmit all that well on hard surfaces. So I wouldn't be afraid of a hotel room. Nevertheless, I would still wipe those surfaces down for the traditional reasons (poor cleaning overall and 'other' kinds of contaminants that might be on them). And I guess for a while I would probably brace the door open and open a window for maybe 10 minutes or so, if possible. Just to get some fresh air into the room."
'We have hypothetical conversations'
Finally, there are some readers who are still on the fence when it comes to booking a room.
"My wife and I are continually trying to talk ourselves into booking a hotel room this summer," wrote Sean Conway. "We have hypothetical conversations that begin with, 'Well, if we were to stay somewhere…' and usually the discussion includes how we'd have to sanitize the room ourselves with wet wipes: door handles, light switches, a/c controls, the entire bathroom. We agree we'd probably avoid the TV remote altogether. I'm not sure how much of this is necessary from a practical standpoint, but there is a psychological barrier to overcome. For instance, we also would probably splurge and stay somewhere recently updated, someplace bright and modern, even though that really has nothing to do with its cleanliness. But it might help us psychologically."
"If I brought my own sheets and Lysol, maybe," wrote Orvil Matthews.
"Maybe a lodge way up north, and not until fall," wrote Shayne Hanley. "Even then, I doubt it."
Responses have been lightly edited for clarity and grammar.