Travel
Delta Air Lines talks Boston growth, what passengers want most right now
"We are definitely committed to growing in Boston."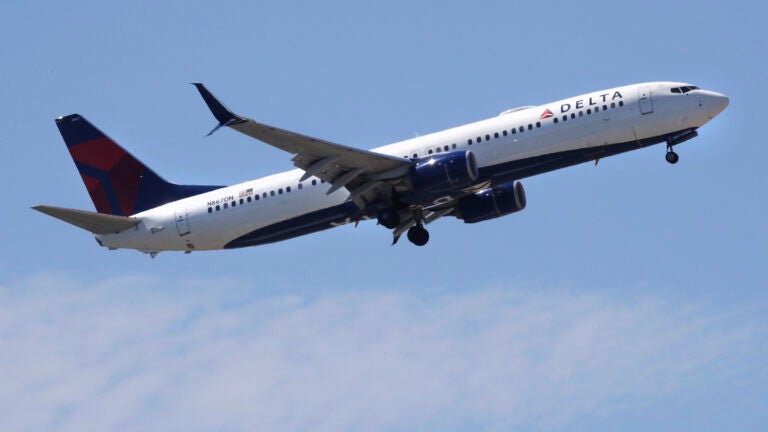 As Delta Air Lines beefs up service at Logan International Airport this summer, the company says one of its biggest challenges during the past few months has been fighting the perception that traveling by plane is unsafe.
"I think that's been the biggest thing, just trying to get through that perception that a plane is now viewed as a place that's unsafe when it really is one of the safest places," said Charlie Schewe, director of sales for the New England region for Delta. "Planes have never been cleaner."
The airline industry, devastated by the coronavirus pandemic, is slowly welcoming passengers back with many health and safety regulations in place. The Transportation Security Administration screened 709,653 travelers on Thursday after topping 600,000 late last month for the first time since March 19. Atlanta-based Delta is adding 1,000 flights this month systemwide and, in August, expects to operate 43 flights per day at Logan, up from 25 flights per day in July, said Schewe. In February, before the global health crisis, Delta operated 144 flights per day at Logan, with plans to increase to 200 flights a day, he said.
"Boston is a very important city to Delta," said Schewe. "We've designated Boston as a hub. We are definitely committed to growing in Boston."
The airline's growth depends a lot on traveler confidence, he said. Passengers say they are most concerned with cleanliness and social distancing in the air, he said, and Delta has taken considerable measures toward both.
The airline has added 23 minutes to each flight's turnaround time for additional cleaning, he said. Every Delta aircraft is cleaned before each flight with an electrostatic sprayer, and high-touch areas are wiped down. Flight attendants and gate agents then spot check the plane and, if deemed unacceptable, hold boarding to bring the cleaning crew back on, he said.
"We're changing our HEPA filters twice as often as recommended," Schewe said.
The plane's bathrooms are getting extra attention too.
"We are absolutely cleaning [the bathrooms] with an electrostatic sprayer before the flight," he said. "Our flight attendants are wiping down the handles on the door to the lavatory."
Flight attendants are continuously cleaning the bathroom's sink, faucet, and flush button/lever throughout each flight as well, he said.
Blankets and bedding are laundered after every flight, Schewe said, and pillows are disposed of after every use. Food and beverage service, temporarily reduced to limit human interaction, consists of bottled water and two snacks presented in a plastic bag by a gloved flight attendant, Schewe said. However, earlier this month, Delta resumed serving beer and wine to First Class and Delta Comfort + customers on all flights greater than 500 miles. The alcohol is offered in cans and single-serve containers.
At the airport, customers can have a touchless experience using the Delta app during check-in and at the gate, Schewe said. Passengers must follow social distancing measures at the gate, board 10 at a time from the rear to the front of the plane, and masks are required, he said. Delta is blocking middle seats through Sept. 30. During that time, if a route increases in popularity, Delta will use additional or larger planes, he said.
"People really talk a lot about that with us," he said. "It's a big debate out there because you are limiting your revenue. But we feel strongly that it's the most important thing that people have that comfort and confidence in what we're doing. We're committed to the public and their traveling safety, and we're willing to forego that additional revenue."
The cleaning measures implemented on Delta planes will remain in place even after the global health crisis is over, Schewe noted.
"It's now part of our DNA," he said. "It's who we are. We are not just doing this to get through this. We are doing this as part of our brand and who we are as a company."