Travel
The Fairmont Copley Plaza reopens with reimagined dining
The iconic hotel turns 108 years old this weekend.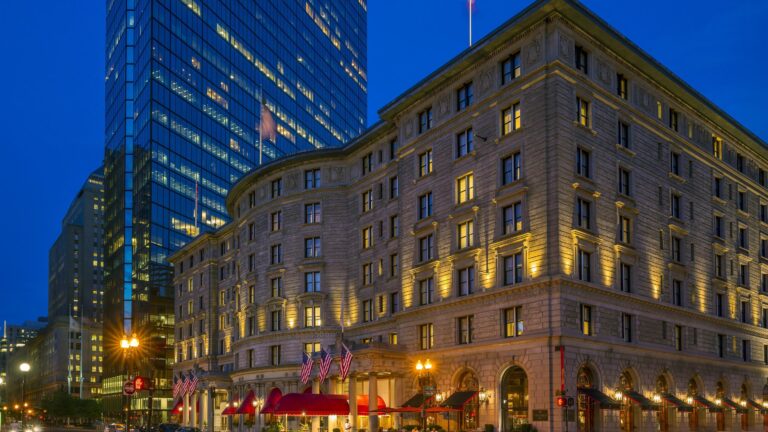 Empty and dark: During lockdown, the Fairmont Copley Plaza Hotel was conspicuously closed for four months. Now, just in time for its 108th birthday on August 8, the hotel reopens Friday for overnight guests and diners. 
"We'd been plotting what date to reopen, and it didn't take long to connect the dots," said George Terpilowski, the Fairmont Copley Plaza's general manager. "It feels absolutely wonderful and exciting on so many levels, both commercially and emotionally."
With COVID-19 precautions in place, things will look a bit different, especially for dining and drinking. OAK Long Bar + Kitchen will have physically distanced tables, partitions, and no bar seating, and its small patio overlooking Trinity Church on the square is expanded around to Dartmouth Street. 
"I can't tell you how many times we have reset the furniture over the last few weeks," Terpilowski said.
The reopening sees new chef Zaid Khan at the helm. 
"I am very excited. I had the opportunity to work with him in one of our properties in Bermuda," Terpilowski said. "He has a great love of seafood and he's already forged relationships with local farmers. It's a nice time to have a fresh menu with all the lovely local summer ingredients."
There will be an expanded to-go menu and take-out cocktails, too: "We're taking advantage of the governor's new rules," Terpilowski said.
Designed by Henry Janeway Hardenbergh, who also created The Plaza in New York, the seven-floor Beaux-Arts style hotel is a popular wedding venue. Another lemonade-out-of-lemons marketing move is the newly added "minimony": a one-hour, small ceremony for up to 10 people in one of the property's scenic ballrooms. 
"Within 24 hours people were e-mailing and calling. We have 60 weddings booked. It's not the big wedding people may have wanted. Some are talking about coming back for that when things have settled down," Terpilowski said.
Optimism aside, Terpilowski said the four-month closure has hurt.
"No revenue for four months? Do the math: that's four months out of the year," he said. "I don't anticipate a quick recovery. If we take it slow and steady, it will come back.
"We have an advantage," Terpilowski added. "The architectural splendor of this hotel is incredible: just stepping through the door puts some pep in your step. It has stood here for 108 years and even if many other things have changed, for all this time it has been an anchor." 
A three-day flash sale is this weekend in honor of the anniversary. From Friday through Sunday, standard room rates are offered at $108 per night for use through the end of March 2021. 
"It's an amazing price," Terpilowski said,  "but we know we are going to have to nudge people into making that decision to book a stay." 
Normally, a Fairmont Room costs between $400 to $600 per night — just a tad higher than the 1912 opening cost of $3.50.