Travel
What it's like to open a hotel during a pandemic
Cambridge's 907 Main finally opened Wednesday after a four-month delay.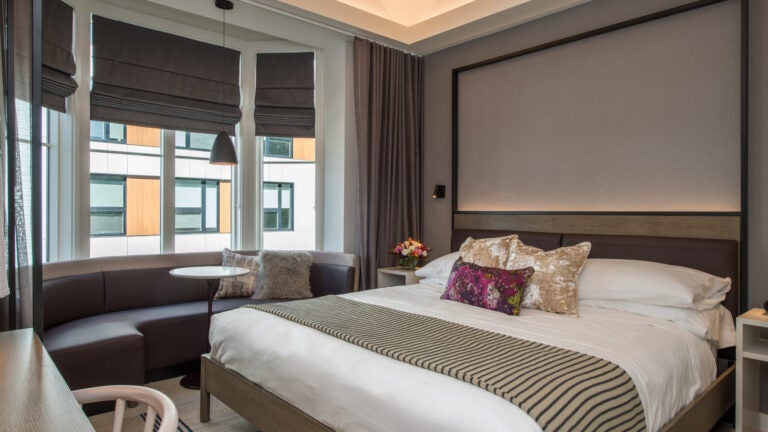 907 Main, a new boutique hotel in Cambridge's Central Square, finally welcomed guests on Wednesday after a four-month delay due to the coronavirus pandemic. The hotel was supposed to open in May.
"Nobody ever said it was going to be easy to open a hotel," said Kathryn Vallier, the hotel's general manager. "Doing it in a pandemic is probably, and I hope, once in a lifetime."
The travel and tourism industry was hit hard when the country went into lockdown this past spring, with airline travel down an estimated 95 percent and hotel business in the Boston area down as much as 90 percent. Several hotels temporarily closed, while others housed essential workers only. Cambridge issued a construction moratorium in March to lessen the impact of the virus and protect workers. That's when it became clear that the hotel's opening would be delayed, Vallier said.
"Coping with the change, and trying to figure out how are we going to get through this and keeping the team looking forward to the future, I would say, has probably been one of the biggest challenges," Vallier said.
During that time, the team turned to its Facebook page to provide an "insider view into the 907 Main team during quarantine," introducing team members and sharing their hobbies, favorite recipes, and ways they were giving back to the community. The hotel also launched an essential workers' sweepstakes, and in May gave away a free overnight stay and breakfast to an essential worker nominated by the public. The hotel currently offers 50 percent off rates for first responders and educators.
"You can only control what you can control," Vallier said. "I can't control that occupancy in the world and country is suffering. But we can control our audience of who we are offering things to and to be a little bit kinder to each other."
Opening a hotel in the COVID-19 era meant securing PPE (personal protective equipment) — gloves, safety glasses, face masks — for her team. And hand sanitizer.
"If I woke up worrying at night, that would be [the reason]," she said.
Vallier said she was told hand sanitizer orders placed in March wouldn't arrive until August or September. So she was relentless, placing six different orders to secure it sooner.
It feels like we have been waiting FOR-EVER to say this – but we are two weeks from opening our doors! The journey has…

Posted by 907 Main on Tuesday, August 25, 2020
Once work resumed inside the building, the workflow changed dramatically due to new restrictions, Vallier said.
Only one worker at a time was allowed inside a guest room, Vallier said. Pre-pandemic, a typical construction day involved "an army of folks with all these different talents that are following each other just to get things done quickly, like an assembly row," she said. For example, electricians could move in and out of guest rooms completing their tasks while other professionals hung wallpaper and painted the walls.
"So instead of an assembly row, it turns into a section," she said. "One day, wallpaper [professionals were] on the floor, for example. The next day, the painters would be on the floor, versus all at the same time."
Once the hotel's 67 guest rooms and two-bedroom penthouse were ready for furniture, that process took longer as well, she said. Furniture installation took about eight weeks instead of the projected six, she said.
"That's kind of the story with everything," Vallier said. "Everything takes a little bit longer because you have to do it a little bit differently. So everything kind of falls into that idea of, we're relearning what we need to do in a new world."
The hotel's restaurant, The Dial, which is due to open by month's end, will also have outdoor seating, Vallier said. Securing outdoor furniture was another challenge due to the high demand because of the pandemic. The furniture should have taken two weeks to arrive, but instead took eight, she said.
There are aspects of the hotel that did not open on Wednesday, Vallier said. Toscanini's Ice Cream and Praliné French Patisserie will open at a later date, she said. And the Blue Owl, the hotel's rooftop bar, will not open at all this season.
From the concept of the property, to today – the day before we open, we would not have traded this journey for the world. The team is ready, the rooms are ready – all we need is you. See you when you are ready.

Posted by 907 Main on Tuesday, September 8, 2020
The hotel, which is developed and managed by Hay Creek Hotels, has worked hard implementing health and safety measures, Vallier said, which include vigorous cleaning methods using an electrostatic disinfectant sprayer, social distancing signage, hand-sanitizing stations, mandated face coverings in public spaces, contactless check-in, digital messaging between staff and guests using Kipsu, and the elimination of amenities such as robes and shoe shine kits from guest rooms (though they are still available).
"You know that each time you enter one of our guest rooms, it's as clean and as safe as possible," she said.
Inside the rooms, visitors will discover a contemporary style that still honors the building's 19th century architecture, with rooms done in purple and gray and boasting original brick accent walls, full wall sheers, dimmable lighting, Simmons pillow-top king sized beds, 55-inch smart TVs, and whitewashed hardwood floors.
"It has definitely been a challenge, although an absolute pleasure," Vallier said. "The pleasure is being able to come in today and be able to make the bed with a crisp new sheet and put a pillow case on the pillow and walk through this building and see where it came from and now what it is."
"It's really happening," said Vallier. "We're really opening. It's one little milestone. It's just one day. But we did it."
Get Boston.com's browser alerts:
Enable breaking news notifications straight to your internet browser.