Travel
Boston.com readers share their airport love stories ahead of Valentine's Day
"I asked my future wife to marry me at the baggage claim at Logan in the summer of 2015."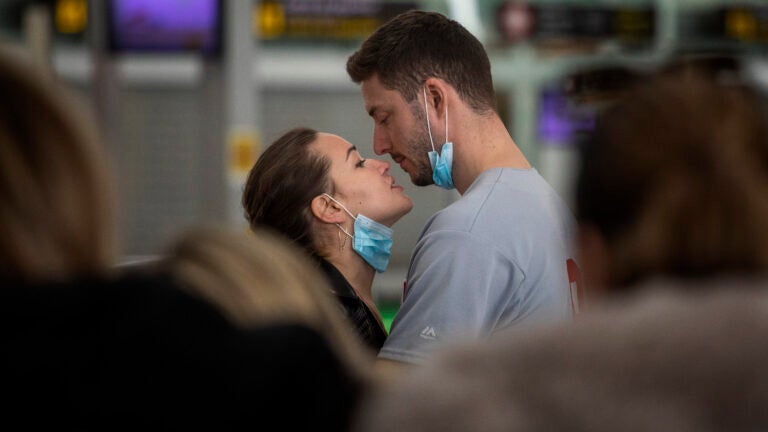 When former South Bend, Ind. mayor and presidential candidate Pete Buttigieg was nominated by then president-elect Joe Biden for the job of U.S. transportation secretary late last year, he shared a love story.
"Travel in my mind is synonymous with growth, with adventure — even love," Buttigieg said when accepting the nomination. "So much so that I proposed to my husband Chasten in an airport terminal. Don't let anybody tell you that O'Hare isn't romantic."
Boston's Logan International Airport is quite romantic as well, according to Boston.com readers. When we asked readers to share their airport love stories, several sent  stories detailing love found at Logan. Ahead, find out how readers met their special someone during air travel.
A New England couple's engraved wedding bands say it all
"Back on 12/22/06 I was flying from Chicago O'Hare to Hartford, CT to be with my parents for Christmas. About 45 mins after take-off, we lost cabin pressure and the pilot came on the loud speaker and told us, we needed to get on the ground within minutes. The next thing I know, we are sitting at a gate in Detroit, MI and United Airlines has no idea how to get a plane full of people to Hartford as it's 3 days before Christmas, everything is booked and that plane is out of commission. As I wait in the voucher line for food tickets, I met a handsome guy, who was also headed back to CT for Christmas to see his family. Ultimately, United charted us a flight back to Hartford in the morning, and when I got off the plane in Hartford, that handsome guy had waited for me and handed his me card — hoping to maybe catch up for a drink once we were both back in Chicago. The rest is history, as we did get that drink and now in 2021, we have been married for 9 years and have two daughters. Our wedding bands are engraved with ORD-DTW-BDL, which is the fateful flight path we took that allowed us to cross paths." — Sara King from Needham
A proposal in the sky
"My husband and I met on a flight and he proposed on a flight mid-air over a speaker." — @thekatiegirl__
Love at Logan
"I met my boyfriend in Sept. 2016 at Logan Airport. We were both traveling alone and ended up sitting next to each other at Beer Works in Terminal C. He actually scooted over closer to me once the tables between us emptied out. He made up an excuse to start chatting with me and we talked for about 45 minutes. My flight was first so I left. He ended up missing his flight because of a changed gate. I found him on social media and we started chatting and became friends. Fast forward several months, I moved from Maine to live with him in June of 2017. We reside on the South Shore and have 2 pups from Aruba. He's an electrician at the MFA and I am the director of development for The Greg Hill Foundation. Now when he travels alone to Buffalo (like he was doing the day I met him), I tell him not to talk to anyone at the bar! It's worth mentioning a year to the day from when we met we were in Buffalo together and had flown through Terminal C the day before. We obviously had to visit and take a picture." — Ashley
A surprise in baggage claim at Logan
"I asked my future wife to marry me at the baggage claim at Logan in the summer of 2015. I was living in Phoenix at the time, but interning with the Nashua Silver Knights. She was visiting my family in New England for the first time. My sisters and nieces and nephews helped me plan the whole thing. They made signs and welcomed her to the family. It was the best day of my life! Cheers!" — Michael Shimkus from Kenosha, Wis.
They boarded the same flight to Boston and were engaged a year later
"I have to start this story by telling you that I had a consistent 10 years of bad travel luck. No matter the airport, no matter the time or year or weather, I was getting delayed or canceled every time I attempted to fly anywhere. On June 18, 2018, I expected the same as I was flying back to Boston from visiting my parents in Indiana for Father's Day weekend. I dropped my rental car off at O'Hare and headed to the terminal, only to get an email letting me know my flight was delayed — no surprise. Luckily, I was at the airport early enough, and thought I could get lucky and get on standby for an earlier flight out. I found the next flight out to Boston, put my name on the standby list, and looked for a place to sit. The entire airport was a madhouse that day due to thunderstorms. So I found a place next to the window and stood to wait for my name to be called. An announcement was made, neither one of us recall what it was or who was the first to speak, but the handsome man sitting on the floor next to where I was standing and I started up a conversation. After several delays, gate changes, and about 6 hours of conversation later, that man and I boarded the same flight to Boston. We exchanged numbers when we landed at a little past 3 a.m. A little over a year later, we were engaged and were married just this past November. I haven't had a single flight delay or cancellation since I met this man of my dreams. And I will never speak badly about O'Hare airport ever again." — Carrie Sylva from Marblehead
A fateful seat assignment
"Flying home for Christmas (I hate to fly) I sat next to my now husband and father of our son." — @yabaconmecrazy
She found 'Cute Airport Guy' on LinkedIn
"My boyfriend and I met at the airport on December 23, 2013. I flew to Ireland to spend Christmas with my now ex-boyfriend. Things had been rocky between us, but I made a last-minute decision to book a non-direct flight from Boston to Philadelphia to Dublin. I noticed Ronan immediately as we lined up to board at Gate B8 in Boston Logan International Airport, but I forced myself to focus on my crumbling relationship. Ronan noticed me too and spent our connecting flight to Philadelphia plotting how to talk to me. Windy weather in Dublin delayed the flight to our final destination. Since Ronan arrived at the gate before me, his big opening line when I walked by was, 'Excuse me, weren't you on the flight from Boston?' to which I simply replied with a stunned, 'Yes.' He then informed me of our delay and we made small talk. I told him that I was visiting my boyfriend, but we talked for hours. Ronan had just moved to Boston from Ireland and was heading home for the holidays. After landing in Dublin, Ronan waited for me to get off the plane. He walked me to immigration, waited for me to endure the long non-EU line, and then was waiting for me in baggage claim before we parted with an awkward goodbye. Months later, I broke up with my boyfriend. I had never stopped thinking about 'Cute Airport Guy.' Months later, I found Ronan on LinkedIn and reached out 'professionally.' We started emailing and after mentioning I was single, he didn't waste any time. After our first date, he kissed me in the parking lot with an, 'I've been waiting to do that since Christmas.' — Anonymous
An introduction in Paris
"Met my soulmate at the Paris airport when moved to Boston one year ago. Destiny." — @annb_lo
After meeting in an airport, a first date during a layover
"I met my future husband in an airport in Aruba. My friend and I were standing in line at the airport to return to the States and being quite silly. He and his friend were right behind us and started to make fun of us, playfully of course. We got to chatting. I was a flight attendant, had a layover near his town a week later, and we had our first date. Two years went by and we didn't see one another, dated others until we reconnected one day. He came to visit me a couple months later and we've been together ever since. Five years later he planned a two-week long trip for us but didn't tell me where we were going until we got to the airport. He surprised me with a trip to a place that was a lifelong dream of mine, the Maldives. He proposed while we were there." — Gigi from New Bedford
Family love story in the air
"My parents met at the airport. They were on the same flight and sat next to each other." — @zoe.cubanksi
Meeting your future husband at Logan
"My husband and I hit it off at Logan airport" — @solanogj
A cozy movie in the air with a stranger
"Not necessarily romantic because it didn't lead to love. But I was flying home to Massachusetts for Christmas from Colorado, and it was my first time ever flying alone (mind you, this is shortly after a terrible breakup and my first time being single in a long time). Of course I got stuck in a middle seat, but no one was in the window seat and we were almost done boarding, so my fingers were crossed. Then an attractive guy walks down the aisle and I think to myself, there's no way I would get that lucky, but lo and behold — he has the window seat next to me. I have my headphones in and am fairly shy so I wasn't going to say anything first, but an announcement came on so I remove a headphone and pause my music. The announcement is that we are delayed on the tarmac for a bit — no biggie. But next the attractive guy next to me turns to me and says sarcastically, "First the flight gets delayed, then I get seated next to YOU, and now it's delayed again?! Ridiculous." Thankfully for him I am fluent in sarcasm because if I wasn't then that was a risky statement that could have led to a long, awkward flight. But it opens the door to some joking and conversation. He ends up buying me a drink, we watched a movie together, and ended up making out, and then after a nap on his shoulder (red eye flight), he hands me his phone and asks for my number. Literally it was like a movie. Not bad for my first flight alone as a single woman. Of course now my family has a joke that when I'm nervous I make out with strangers but it was worth it. #jetblueandchill" — Becca from Stoneham
Responses have been lightly edited for clarity.