Travel
Boston.com readers share their thoughts on traveling after vaccination
"Booked the trip immediately after booking my vaccine, flight is one month after receiving 2nd dose."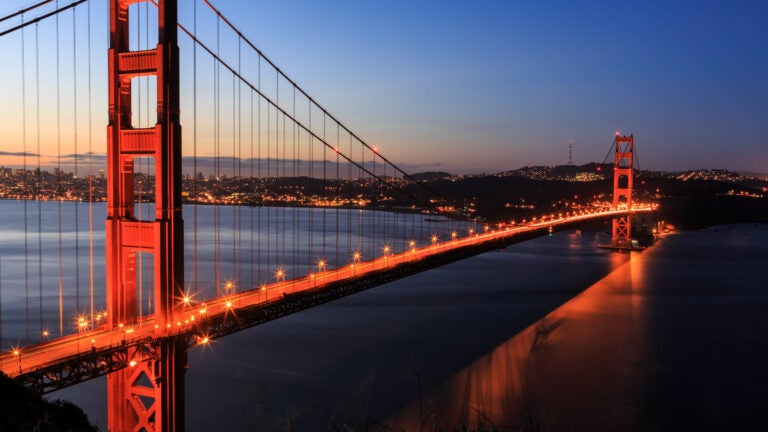 As the coronavirus vaccine rollout continues this spring, we asked Boston.com readers if they feel comfortable traveling this year once vaccinated.
Nearly 500 readers responded by survey, email, and social media and the majority of them said they will travel. The Centers for Disease Control and Prevention (CDC) updated its guidance on Friday to say fully vaccinated people can travel within the U.S. without getting tested or quarantining. When it comes to international travel, the CDC says travelers must follow all airline and destination requirements when it comes to testing and quarantine.
Readers who are vaccinated say they have booked long-awaited trips to visit parents in places like Florida, Ireland, and Germany, and grandchildren in places like Atlanta, South Carolina, and Houston. Others are booking trips to celebrate milestone birthday celebrations.
"Absolutely will travel," wrote Carol. "Haven't decided yet but Hawaii, Santa Fe, Seattle, San Francisco, San Diego, and Los Angeles are under consideration. Need to travel, tired of these same 4 walls. Traveling helps keep me sane."
Some readers say they will travel regardless of their vaccination status. Others say they do not feel safe traveling at all.
"No," wrote B.A. Mahrab. "No. NO. It's not 'safe' to travel. I won't travel until I see Fauci himself, maskless, hugging strangers."
Ahead, discover how readers feel about post-vaccine travel.
Yes: 'I am vaccinated and can't wait to travel again'
Many readers are excited to finally visit family.
"Like many others, we have already planned our first and second trips, by car, to be with grandkids once again," wrote George E. Lewinnek.
"My fully vaccinated wife is going to visit family in NC later this month and next year we have a family trip to England planned!" wrote John Beston.
"I'm living in GA and haven't seen my family since 2019 due to Covid," wrote Rachel Cyr. "I have both my shots so I'll be visiting Boston next month. Still wearing a mask and using hand sanitizer all the time though."
"Going to Atlanta to see my four grandchildren for the first time in over a year," wrote Kathy.
"Yes and leaving Saturday to hug my grandchildren in SC," wrote Dianne Caristi-Keough.
"I'll travel to Arizona in October when my 2nd grandchild is born," wrote Hethmarie Pickwell.
"HOUSTON — to visit son, daughter-in-law, and two grandchildren," wrote Peter.
"Germany, to visit my mother which I have not seen in over a year," wrote Angela.
"Traveling to Colorado Springs the end of April to see daughter finally!" wrote Cheryl. "It will be almost a year and a half and her husband is currently serving in Afghanistan. Both my husband and I are fully vaccinated!!!"
"Belgium, to see my parents that I have not seen in almost 2 years," wrote Valerie.
"Finland, to see family for the first time since the pandemic started," wrote Anna.
"I am going to Florida to visit my elderly parents," wrote Gloria. "I haven't seen them in over a year."
Others are just plain excited.
"A beach resort in the south, Freedom!" wrote Kevin.
"Haven't decided yet but Hawaii, Santa Fe, Seattle, San Francisco, San Diego, and Los Angeles are under consideration," wrote Carol. "Need to travel, tired on these same 4 walls. Traveling helps keep me sane."
"Yes!" wrote S De Jc Deizy. "I am vaccinated and can't wait to travel again."
"Yes, anywhere…I'd even fly to Kansas to see a Nickelback concert at this point," wrote Joshua Alejandro.
"Absolutely," wrote Gary Gorny. "Turkey, Europe, and Costa Rica! Already vaccinated!"
"Vaccinated and booked," wrote Marc Wikina.
"Yes, Puerto Rico to enjoy vacation with family, can't wait, next week we fly," wrote Larry.
"Getting my second dose in a week, and heading to Austin a month later to see friends who are all also vaccinated," wrote Julie Connally.
"At the beginning of 2020, we booked a family trip to Disney World for late summer," wrote Mitch. "Obviously we had to postpone it as spring 2020 wore on and it became apparent that travel would be a terrible idea. Somewhat optimistically, we rebooked for the end of May 2021. We weren't sure for a long time whether it would happen. But now my wife and I are both on track to be fully vaccinated by then, and you bet your hiney we are going. I am confident in the precautions we'll be taking both on the airplane and the parks themselves. Frankly, I cannot wait. If there's one thing we've learned over the past year, it's to take advantage of opportunities like this when you have them. You never know when they might disappear."
"In February, we booked a trip for late August," wrote Christine from Holbrook. "We'll be in Oregon to taste wine, support regrowth after the fires and explore a part of our country we haven't been to yet. Hedging our bets that most Americans will have received their shots by that time. Both my husband & I have each received our first and are just so, so ready."
"YES," wrote Jeff. "The airplanes are less crowded and studies have shown they have very safe air filtration systems. I can't think of a better time to fly. I will travel to the West Coast to visit family and friends."
Kirstin wrote that she'll travel "ANYWHERE" because she has "severe COVID fatigue."
Some readers have booked trips for milestone birthdays.
"Yes to Asia for my 60th at the end of 2021!" wrote Paul Fahey.
"We've already got a cruise booked for my 40th birthday in December," wrote Leen Bean. "I hope it's still going to happen."
Others said that, while they will travel, they'll remain cautious.
"Traveling to San Francisco, 1-week trip to visit family," wrote Samantha. "Booked the trip immediately after booking my vaccine, flight is one month after receiving 2nd dose. Will double-mask on non-stop flights. Will take COVID test after returning to Boston, and quarantine after returning. I am no longer worried I will become gravely ill if I contract COVID-19. I am still worried about causing someone else to become gravely ill or die because I unwittingly transmitted the virus to them, so am taking the same precautions as I did during lockdown."
"I am already vaccinated, but I will not travel outside of New England until the fall," wrote KC. "I am waiting for more people to become vaccinated before I get on any mass transit. I am confident that things will be better in the coming months.
Brian Moulton booked a trip to Savannah and Hilton Head for April break.
"We were confident we would receive the vaccine before April vacation," he wrote.  "We both got the Pfizer vaccine and while we only have one dose and will not get the second dose until after April vacation, we are fine with at least 80% protection heading to Hilton Head. We will wear two masks while at the airport and on the plane but will only wear one while at stores or eating outdoors.  We will not eat indoors and will be careful while down in Hilton Head."
"Going to Maine later in the month by car," wrote Heather. "My husband and I are both vaccinated but my teenage daughter is not. We're going to stay in a cabin and still wear masks and social distance. Why? Because I haven't left a one mile radius of my city home for over a year. I desperately need to get away for even a few days."
"Heading to New Orleans in May, should be fully vaccinated by then, but will continue to mask up so I don't spread it to others," wrote Kim Marie. "This will be my first trip in over a year, so I'm super excited about it."
No: 'It's not 'safe' to travel'
— BrrrrPenguin (@BrrrPenguin_Pro) April 1, 2021
"No," wrote B.A. Mahrab. "No. NO. It's not 'safe' to travel. I won't travel until I see Fauci himself, maskless, hugging strangers. I will keep my circle TINY, vaccinated, and at a minimum until that time. I wish others would do the same so we can finally end this."
"Probably not," wrote a reader about the likelihood of traveling after getting vaccinated. "But I will be more confident going to indoor/outdoor dining. Not ready for a plane or train just yet."
"No," was how one reader responded.
"Not for quite a while unless I have to for work," wrote Tracey Gauthier-Pete.
"No travel for me until 2022, at least," wrote Tina.
"No, I'll stay home," wrote Luigi De Socio. "It's difficult for me to trust in vaccines not provided with medium and long term studies."
"Probably not for the foreseeable future," wrote Dan. "Not until I'm certain things have calmed down."
"The only way I will travel using public transportation is if vaccine passports are required," wrote Mark Wm Smith.
"I would be more inclined to travel at a later date," wrote Britney Broderick.
"Not yet looking maybe in the fall???" wrote Katie O'Toole Batten.
"No airline travel for a very long time, if ever and yes I'm getting vaccinated ASAP," wrote Nancy Foster.
"I will be waiting until the infections, hospitalizations and deaths go way down," wrote Marybeth Crowley. "I care too much for my family and friends to catch the virus or to spread it around. I would not to be the cause of others getting sick or dying."
"Not really, but to be fair I didn't really travel before the virus either," wrote Tina White.
Maybe
"Maybe," wrote Alex from Lexington. "It depends if the numbers (cases, positivity rate and deaths) locally and across the country significantly drops. Also, the I need to see variants all covered under the vaccine. If this happens then I might consider driving somewhere this Summer, but the big vacation will happen in 2022."
"I think it depends on the destination and safety of the people in it," wrote Christine Dolan. "I think it's incredibly selfish of Americans to travel simply because we feel comfortable doing so. Other countries need to be in a good place with health, vaccinations, etc and welcome us in. As much as I adore and miss traveling, this isn't about my pandemic inconveniences. It's about the greater good of all people which makes it quite easy to make sacrifices."
Been traveling all along
"I've traveled the entire year, even over seas," wrote a reader. "So did my family. We are not getting the vaccine, if it becomes mandatory to fly I guess the airlines will lose out on people like myself."
"I went to St Lucia last April, Jamaica in September and leave for Turks in a month and I'm not vaxxed," wrote Elisabeth Tuffo. "I've been traveling and eating out all along enjoying the upgrades."
"Just got back from Aruba on the 9th," wrote Michael Zuppio. "Not vaccinated. Trip was great! Followed protocol. Back at work with no issues!"
"No vaccine and I've continued to travel and continue to test COVID negative," wrote Yvette Sullivan.
"I have been this whole time!" wrote Tim Decareau. "I've been to Vermont, New Hampshire, Las Vegas, South Carolina, Georgia, and Pennsylvania! I am going to Florida in a few weeks!"
"Will be traveling to Boston end if this month, would travel with or without the shot but got my first today," Eric Mashl.
"I will travel without being vaccinated," wrote Lauren Wyke. "Cause I live in a free country."
"I already traveled during 2020 safely and responsibly, having never contracted COVID," wrote Nellie. "I will continue to travel safely during 2021, before and after I receive the vaccine. Next stop, the Bahamas!"
"Been traveling either way, domestically obviously and haven't been on a plane," wrote Tim Kelly. "No real desire to while they require masks. Wash your hands and stay home if you are sick besides that don't live in fear. Life is short. Just my opinion and if someone feels differently fine but don't tell me how I should live."
"Life is too short — already traveling before getting vaccinated," wrote Joe. "Went to Orlando for a week and planning to go to the Southwest in April. Also have a trip booked to Europe in the fall."
"Yes I will travel once vaccinated (next month)," wrote Cindy. "Actually, I have been on a plane 12 times during the past year, never got COVID and it was completely safe and normal (minus the mask). I will travel anywhere I feel like going because I love experiencing new places. I already have 2 more trips booked with more to follow."
Responses have been lightly edited for clarity.
Get Boston.com's browser alerts:
Enable breaking news notifications straight to your internet browser.