Travel
Do you like to hike? This Mass. competition may reward you for it.
More than 500 hikers have already signed up for the Trustees of Reservations' challenge.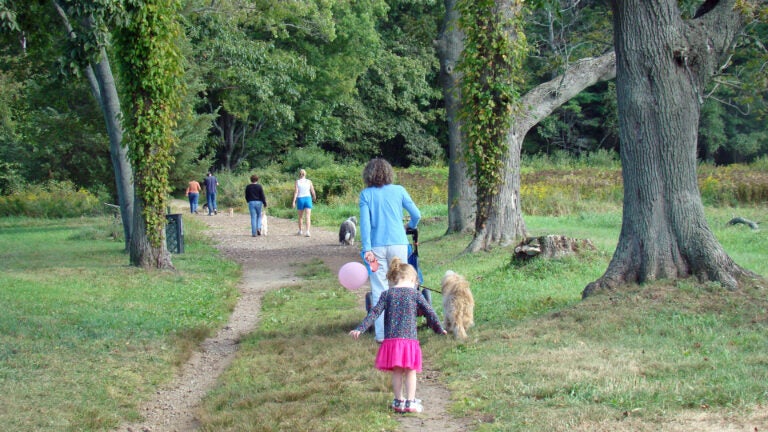 Attention, hikers: If your chosen escape from quarantine has been to tackle wooded trails across Massachusetts, you can now be rewarded for your efforts.
The Trustees of Reservations has relaunched its "Hike Trustees" program after a one-year hiatus because of the coronavirus pandemic. The program, which began in 2016, is a free contest that challenges people of all levels to record their hikes at Trustees' properties around Massachusetts for a chance to win monthly prizes. The program has had record participation in 2021 so far, according to the Trustees, with more than 500 hikers visiting 110 properties and hiking 5,545 miles since Jan. 1.
"It's a fun way for people of all abilities and skill levels to get outside, explore some of the state's most beautiful places, and engage in some friendly competition all at the same time," Jennifer Klein, director of outdoor experiences for the Trustees, said in a statement. "Our special places have been a safe oasis for people reconnecting with nature during COVID, and this is just one more way to continue offering people inclusive, accessible spaces for renewal and respite."
Participants do not have to be Trustees members to explore the hundreds of miles of trails on the nonprofit conservation organization's 120 natural and historic properties across the state.
Interested hikers can visit hiketrustees.org and create a profile, then simply log their miles within three days of a completed hike. The miles and sites visited are tallied and saved, and a leaderboard is updated in real time. Prizes such as Trustees' merchandise, and gift certificates are awarded monthly to those who take the most hikes and log the most miles.
There are improvements to the program this year, such as monthly and yearly challenge options, new challenge categories, an updated logging system, new prizes and incentives to reach milestones, and curated hikes and tips emailed to participants. A Facebook group with nearly 2,000 members also inspires participants to log more miles and reach personal health goals.
The program is on track to more than double its most popular year in 2017, according to the Trustees. Here is a list of Trustees properties.
Get Boston.com's browser alerts:
Enable breaking news notifications straight to your internet browser.