Travel
5 things to know about booking a summer rental
Property owners, agencies, and management companies are predicting a busy, if not outright bonkers, summer.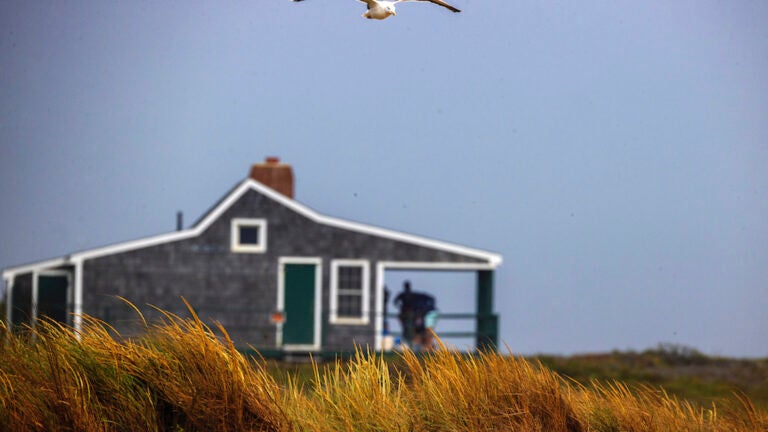 Travel is rebounding in the United States with gusto, as vaccination rates rise, restrictions loosen around the country and would-be travelers act on their eagerness to reunite with family and friends. The surge has already left its mark on the vacation rental market, where property owners, agencies and management companies are predicting an extremely busy, if not outright bonkers, summer.
"This is probably contradictory to what a lot of people may think, but it's really one of the most exciting times in the industry right now," said Carrington Carter, co-founder and managing partner of Getaway Society, a luxury vacation rental company with properties in Martha's Vineyard, Massachusetts, and Hilton Head, South Carolina, as well as other markets.
Looking to rent a vacation house this summer? Here's what we know.
You might already be too late
By the end of March, 90% of vacation homes on the Jersey Shore and Cape Cod listed on VRBO were booked for July. Compare that to 2019, when more than 30% of homes in those markets were still available in March for the following July.
"It's crazy. There's so much pent-up demand," said Noelle Randall, the founder of Nuurez, a crowdfunded short-term-rentals company that lists its properties on sites like VRBO. "We have bookings through August on almost every property — like, totally booked up: all of June booked up, all of July booked up."
Thanks to a confluence of the pandemic, wildfires and storms, Yosemite National Park has been half-open and half-closed for the better part of a year. Yet reservations at The Redwoods In Yosemite, a company that operates more than 120 vacation homes in the park, are running well above normal. As of April 11, bookings for May were up 35% over the same date in 2019; June is up 37% and July is up 27%.
Similar patterns are materializing on Homes & Villas by Marriott International, a home rental platform, where the booking lead time for summer stays is 147 days this year — up from 34 days last year.
"We're beginning to see increased long-term confidence in booking summer travel in 2021," said Jenny Hsieh, the company's vice president. "We're also seeing lower cancellation rates as demand grows. Consumers are less willing to give up what they booked since homes are getting filled up quickly."
At Barkwells, a cluster of dog-friendly vacation rentals in North Carolina's Blue Ridge Mountains, bookings for the rest of the year are up almost 30% over what the forecast looked like in April 2019.
"It's a combination of people being cooped up from home and being desperate to get out," said Michael Winner, who co-owns Barkwells with his wife, Ellen. "I think vaccinations are making us more comfortable."
You're competing with everyone, for anything
Another factor driving demand: the COVID-fueled surge in second-home buyers who actually want to use — if not live in — their weekend houses.
"With the flexibility of remote work, owners are finding that they have more time to enjoy their second homes and are renting them less, or not at all," Carter said. "This reduction in the supply of available homes to rent, coupled with increasing demand, are also factors that are driving rate increases in destinations across the country."
Rental companies are also seeing the usual search metrics take a back seat to the bald need to find a place.
"Your large houses always book up way in advance, because those are usually two and three families, so they have to plan," Randall of Nuurez said. "But what's surprising is that every type of property, even the studios and one-bedrooms, are booked."
One potential downside to being booked solid for the summer, she said: "Last-minute bookings are definitely one of the ways that you increase your bottom line. This year, we may not have that opportunity at all."
Unlike last year, when many property owners experienced mass cancellations in tandem with ever-changing state and local restrictions, this summer is likely to bring a wave of guests. Many rental companies are still offering flexible cancellations on paper, but few are worried about needing to put them to use in practice — or filling a spot, should a renter indeed cancel at the last minute.
The demand presents an operational challenge: making the gears run smoothly with few, if any, gaps between stays.
"There are a lot of operators and owners who aren't accustomed to being fully booked, and it can be tough to make sure they're sorting out cleaning schedules and things like that," said Jeremy Gall, a veteran of the vacation rental industry and the chief executive and founder of Breezeway, a property care and cleaning operations platform.
But, he added, "I think it's all generally good news, especially in the context of the last 12 months. I don't think there's an owner, host or manager who would trade off the uncertainty that they felt this time last year for a fully booked summer."
You'll probably pay more than you did in 2019
According to Transparent, a vacation rental data company, the average nightly rate for Airbnb vacation rentals in July and August is expected to be $220. Last year, it was $194; in 2019, it was $185.
At Evolve, a hospitality company that manages more than 14,000 short-term rentals around the United States, nightly rates are up 27% in July and 19% in August over those same months in 2019.
"I'd be remiss to say that we didn't raise our rates significantly," said Jon Mayo, whose Airbnb in Palm Springs, California, has more nights booked this summer than ever before, despite the sure-to-be-sweltering desert temperatures. "I'm renting at rates I wouldn't have even dreamed of three years ago."
Across the 1,000 vacation homes managed by Twiddy & Co., a hospitality and asset management firm in North Carolina's Outer Banks, weekly summer rates have risen 8% since 2019, from $8,406 to $9,152.
On StayMarquis, a luxury vacation property management company, average rates in the Hamptons this summer — around $1,360 a night — are up 12% over 2019.
Nightly rates across the 270 rentals managed by Hawai'i Life, a luxury brokerage and rental management company in Hawaii, are up 11% from 2019.
You'll probably stay for a while
The elongated travel patterns that emerged last summer, from monthlong stays to four- and five-night "weekends," are back in full force this year.
"We have more multiple-week guests this year than ever," Winner of Barkwells said. "Guests may be vacationing for some of the time, but they can also check in with the office."
Across Evolve's portfolio, the average length of stay this summer has increased from 3.7 days last year to 4.9 days. HomeToGo, a large vacation rental search engine, is reporting that the average domestic traveler with a check-in date between May 1 and Sept. 1 will stay for 11 days, a 14% increase from 2019.
"We're seeing an emerging trend of 'slow travel,' with travelers wanting to spend more time immersing themselves in a destination than they did pre-pandemic," said Mahendra Roopa, HomeToGo's director of product.
For homeowners like Mayo, longer stays mean fewer annual "turns": sunk costs like housekeeping and laundry between stays. The benefits to the traveler are also clear.
"People delayed so many trips last year, and part of taking longer trips this summer is just: 'I really want to get away,'" Gall said. "It might really be that simple."
If you're looking for a nonurban destination, you're not alone
Jim Prugh owns nine properties in Lindsborg, Kansas, a city of less than 4,000 known as "Little Sweden USA" for its Scandinavian heritage and culture.
"When thinking of vacation rental destinations, central Kansas might not be on everyone's list," he said. "But I'm already seeing that pricing and lead times will be increasing very soon in tandem with the demand for overnight stays."
Prugh's numbers have been up all year, and he expects his third-quarter occupancy rate to top 61%, up from around 53% last year.
That tracks with new findings from AirDNA, a data firm that analyzes 10 million vacation rentals worldwide: Cities — with the exception of small, rural ones — are generally down in summer bookings compared with 2019.
Meanwhile, July, August and September bookings for coastal destinations across the country are up around 18% over 2019, according to AirDNA, and destinations with mountains and lakes are up 14%. The AirDNA data shows regions like the Poconos and Adirondacks pacing well above 2019.
But even markets where summer isn't usually high season are seeing a boom this year, including Broken Bow Lake, Oklahoma, and the North Georgia mountains, whose summer rental bookings are up around 68% percent and 46% percent, respectively, over this point in 2019, according to AirDNA.
And new Airbnb survey data shows that travelers feel comfortable with the idea of venturing beyond their comfort zone this summer. Rural properties between 1,000 and 3,000 miles from home comprise the second largest share of searches for Memorial Day Weekend trips, after searches for rural rentals within a 300-mile radius.
"With occupancy so high, at a certain point you just won't be able to find a place," Gall said. "So people who might have gone to Martha's Vineyard or Nantucket are not going to do it. They're going to find a quiet lake somewhere else."
Get Boston.com's browser alerts:
Enable breaking news notifications straight to your internet browser.