Travel
Las Vegas is seeing a surge of visitors again: 'It's like somebody turned on a light switch'
Tourists are enticed by cheap rooms and flights, and a sanitized Strip is welcoming them.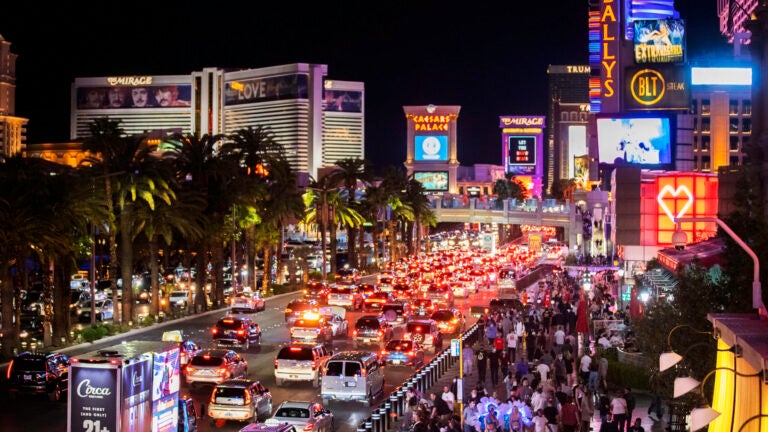 After a year of battling the coronavirus on the front lines, health-care workers Charmaine Lamsin and Dennis Bowman were overdue for a vacation when they spotted a cheap flight to Las Vegas in March.
For just $33 per person, the husband and wife could fly from their Seattle home to the entertainment capital of the world, where hotel prices were as unbelievable as the airfare. They booked a reservation at ARIA Resort & Casino, a luxury property, for $85 a night.
"It was their premier suite. . . . It was facing the Strip, and we had a great view," Lamsin says. "It was like the best Vegas vacation I've had actually."
Lamsin and Bowman are not the only people returning to the city after a hiatus from travel. According to hotel and flight booking data from Priceline, Las Vegas has been one of 2021′s most popular domestic travel destinations. The number of visitors has been climbing consistently for months, along with the Strip's gambling revenue.
The influx of business comes at a critical time for the hospitality-reliant city. With a quarter of the state's jobs in the tourism industry, Nevada faced the highest unemployment in the country (and U.S. history) during the height of the pandemic.
UNITE HERE Culinary Workers Union Local 226, which represents 60,000 hospitality workers, pushed for health and safety protocols in May for casino employees. That fight led to getting legislation passed by Gov. Steve Sisolak, D, on Aug. 11, says Bethany Khan, a spokeswoman for the union.
Named after a Caesars Palace employee who became infected with the coronavirus after returning to work in June and died later that month, the "Adolfo Fernandez Bill" required hotels and casinos to implement new pandemic procedures.
Khan says passing the bill was a win for those who work in Vegas and those who visit it.
"When you protect workers, you protect tourists," Khan says.
During their recent trip, Lamsin and Bowman experienced the new law in action. They said Vegas had never felt cleaner. Room service – available at limited hours instead of 24/7 – was delivered in a box to their hotel room door. At the poker table, players sat between plastic partitions instead of elbow to elbow.
"We've even put chip cleaning in the tables," says Joe Yalda, vice president of guest experience at Red Rock Casino, Resort & Spa, a luxury property off Strip in the Vegas suburbs near Red Rock Canyon. Gamblers can now skip cash handling at the table and purchase chips directly with a credit or debit card.
But that isn't to say there haven't been crowds. In March, Nevada casinos took in $1 billion in winnings for the first time since February 2020. During spring break and the NCAA tournament, one of Vegas's busiest times, pools and streets were more packed than they had been in months. Casino capacity went from 35 percent to 50 percent in mid-March. On May 1, Nevada will remove social distancing mandates and reopen nightclubs and buffets.
"Now that the virus has been reduced and there's vaccine solutions in place and everyone has availability to it by May, that means that you're starting to see the floodgates open up," says Lori Nelson-Kraft, a spokeswoman for the Las Vegas Convention and Visitors Authority. "That pent-up demand, you can just really feel it."
Nelson-Kraft says Vegas began to look more like its former self with each passing month of 2021, particularly when March Madness and spring break crowds poured into town and as live entertainment returns.
NASCAR is back. Cirque du Soleil announced it will perform again beginning in June. The city's first big conference, the World of Concrete, is scheduled at the Las Vegas Convention Center in June. In time for that milestone, Tesla CEO Elon Musk's $52.5 million underground transportation system with all-electric vehicles beneath the convention center is expected to debut.
The first passenger station of that tunnel is about two miles away at the $4.3 billion project Resorts World, opening its doors on June 24. It will be the first built-from-the-ground-up resort on the Strip to open in more than a decade. When it opens, it will have 3,500 rooms to fill.
Opening a behemoth project like Resorts World – which required more than 3,000 construction workers to build – would have come with plenty of hurdles in normal times; the pandemic wasn't one the team saw coming.
Scott Sibella, president of Resorts World Las Vegas, says it has been a tough year, but he is optimistic about how the city is recovering with the current leisure travel boom. Until domestic and international business travel returns, however, the hospitality industry will continue to struggle with low weekday visitor numbers.
"You can't survive on [leisure traveler] forever. We know that this city's all about conventions and the other segments," Sibella says.
The city is banking on the third and fourth quarters of 2021 when more conventions and concerts should bring visitors back in droves. In the meantime, local businesses are already feeling relief after the nightmare of 2020.
Restaurateur Elizabeth Blau of Honey Salt has lived in Vegas for 23 years, through 9/11, the financial crises, the 2017 mass shooting and now the pandemic.
"We've definitely had our share of extraordinarily devastating events in this city, and the pandemic was something like no other," Blau says.
Blau did everything she could think of to keep Honey Salt afloat, from taking personal protective equipment (PPE) loans, launching new takeout offerings and turning the restaurant into a marketplace selling cocktail kits and hard-to-get-items such as toilet paper. She also joined the Delivering With Dignity initiative, which provided 375,000 meals to vulnerable individuals and families in the Las Vegas Valley. The endeavor helped save 57 restaurant jobs while many, many more were lost.
"I will not lie; it was a very, very difficult time," Blau says. "Trying to contend with your own problems while watching what was going on in our community was just heartbreaking."
Now, Blau is preparing for record numbers this summer. Ryan Doherty, founder of the bar and restaurant group Corner Bar Management, says his businesses are starting to do better than they did in 2019. Most of Corner Bar's customers are locals, so even though most tourists may stay on the Strip, their return has been a positive impact for his off-Strip spots.
"Vegas is full of hospitality workers, so when it's busy, everyone here is making money and they're going out and spending money," Doherty says.
Makers & Finders, a Latin-inspired coffee shop and bar is seeing both local and tourist business skyrocket even though its locations in downtown Las Vegas and the city's arts district are off the typical tourist track
"About four to six weeks ago, there was definitely a clear kind of shift in the energy," says Josh Molina, founder of Makers & Finders. "It's like somebody turned on a light switch."
Molina has been watching tourism expand beyond the Strip for years, but he thinks the pandemic is accelerating the evolution. He believes that as Vegas reopened, more visitors gravitated to new neighborhoods and experiences while properties on the Strip remained closed.
Tourists "discovered" small bars and restaurants, hiking at Red Rock Canyon and Mount Charleston, he says. And they're appreciating what they have found.
"They were forced to go beyond the Strip," Molina says. "I think we're going to see the impact of that in the next coming years since that awareness happened."
Get Boston.com's browser alerts:
Enable breaking news notifications straight to your internet browser.