Travel
An award-winning hotel door attendant on why travelers 'are hooked' when they come to Boston
James "Jimbo" Leahy has worked at Boston Marriott Long Wharf for 40 years.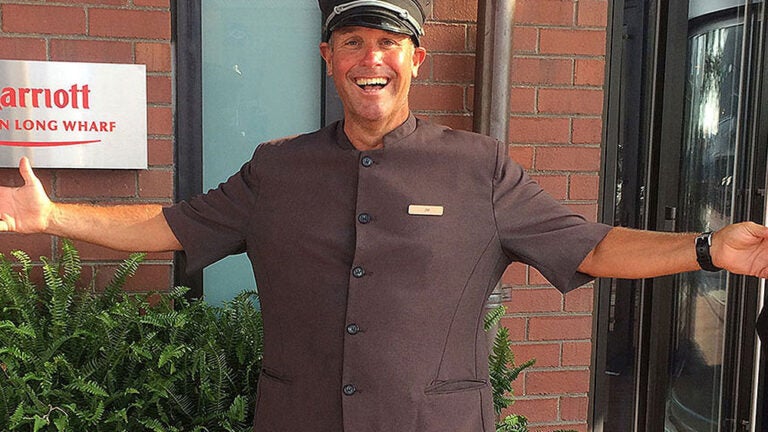 A longtime Boston door attendant who calls himself "an ambassador to the city" was awarded the American Hotel and Lodging Association's highest honor this spring.
James "Jimbo" Leahy, 61, of Hull, a door attendant at Boston Marriott Long Wharf, winner of the Massachusetts Lodging Association's Outstanding Employee of the Year award, went on to win the AHLA's prestigious North Star Award out of nearly 300 nominees, part of the organization's 2020 Stars of the Industry Awards.
The North Star Award "recognizes someone who demonstrates leadership and extraordinary devotion to this industry," wrote the AHLA.
The organization described Leahy as follows: "Known for his warm smile and thoughtful leadership, his love of his property is palpable, working extra hours to support his team over the past year and going above and beyond to make his guests and team feel special and appreciated every day."
We caught up with Leahy, the father of twins who met his wife Michele on the job decades ago when she was selling trolley tickets, to ask about his win, his job, and what makes Boston a special travel destination.
Boston.com: How long have you worked at Marriott? 
Leahy: I've been at Marriott Long Wharf for 40 years, except for the nine months they gave me off for bad behavior back in 1989.
Boston.com: Wait, what? 
Leahy: I was doing too much partying as a kid back in the '80s. Alcohol was involved. When I put down the alcohol, my troubles seemed to go away and my life turned around. And it's been wonderful. Part of the fabric of who I am is … recovery. I'm a sober guy. It's a big part of my story.
I got fired in 1989 and nine months later the general manager said, 'How's Jimbo doing?' Jimbo's doing good [the manager was told], he quit drinking and he turned his life around. The general manager said, 'Tell him to come on back,' and they rehired me. That particular general manager, he was given a second chance. There was a rude guest to him 17 years earlier out at the Newton Marriott and he did something where he was fired and they brought him back. He vowed to give someone a second chance, and he gave me a second chance, and I made the best of my second chance.
Boston.com: How does it feel to be recognized for your work in this way?
Leahy: It's wild. To be nominated by the Marriott Long Wharf — there's close to 300 associates at our hotel, extraordinary hospitality industry people — and for me to be recognized by the Marriott Long Wharf alone, that was unbelievable. And then to win Massachusetts, I mean Nantucket, Martha's Vineyard, the Berkshires, the city of Boston, there's just so many extraordinary people in the hospitality industry. So for me to win the Massachusetts Lodging Association [award], that was crazy in itself.
Boston.com: Tell us about your job.
Leahy: I greet people at the front door. I walk them into the hotel, help them with their luggage upstairs, and tell them about the city. I'm an ambassador to the city. I help them with restaurant recommendations. I just want people to have a great time in our wonderful city.
Boston.com: Why do you love your job?
Leahy: It's my passion in life. It's helping people. I'm a very gregarious person. I love people. … It makes me happy when I make people happy. I just found what I love to do. I don't get up and say, 'I have to go to work.' It's not a job for me. I go in and it's like, hanging out on the street corner, helping people, and talking to people. It's been a great life for me.
Boston.com: What is your favorite part of the hotel?
Leahy: I like being out front in the sunshine. It's a public access area, so people can walk from Waterfront Park through the hotel, through the lower lobby. So it's not just like I'm a doorman for the Marriott, it's almost like I'm an ambassador to the city out front. Because people are consistently walking back and forth and through. It's a very vibrant area. People are taking boats from Charlestown over to Boston, people are taking water taxis, and the trolleys and the Duck Tours, and people are walking down to the water.
Boston.com: What's the most common question you get asked?
Leahy: 'Where's Faneuil Hall?' And they usually mispronounce it. 'How long does it take to get to the North End?' They'll ask me to just keep on talking. I'll say, 'Are you checking in?' And they'll say, 'No, we just want to stand here and listen to you talk with your harsh Boston accent.' They take videos of me talking. They'll say, 'Say park your car in the garage.'
Boston.com: And do you oblige them?
Leahy: Of course I do.
Boston.com: Do you think you have a harsh Boston accent?
Leahy: Oh yeah. I got a wicked harsh Boston accent.
Boston.com: What makes Boston a special travel destination?
Leahy: This is the cradle of liberty. This is where it all started. The Freedom Trail. There's so much history. It's not an overwhelming city. You can walk from Long Wharf to Fenway Park in 45 minutes, maybe an hour. Us Bostonians, we're pretty special people. I hear it over and over again: people just love the city. We have so much pride in our city, we have so much love for our city that people just want to come back to our city. They're hooked.
Boston.com: What do you tell guests when they ask what they should do in Boston?
Leahy: I ask them if they enjoy history. Because I don't want to recommend the Freedom Trail to teenage ladies who want to go shopping with their mom down to Newbury Street. So I have to get a feel for what they want to do, first of all. … I ask them how many days they are in town. Because if they're only in town for maybe one day, I might recommend they do one of the trolley tours, which are great, or the Duck Tour.
Walk the Freedom Trail, for sure. Quincy Market, for sure. The North End for dinner. Maybe the Seaport for seafood. The neighborhoods are what make the city of Boston wonderful: Chinatown, the North End, the Bay Bay, the South End. And every neighborhood is different. There are so many museums. You could spend a week at the Museum of Fine Arts alone. And then you have the Isabella Stewart Gardner Museum and the Institute of Contemporary Art. It depends on what the people are really into. I try to get a feel for that.
Boston.com: Have you encountered any celebrities on the job?
Leahy: I've been in the room with Michael Jordan. I've talked to Julius Irving. I've talked to Larry Bird out front. I've checked in Tony Curtis and Sugar Ray Robinson. So I've checked in all these people and they're all wonderful people. Because all the hockey teams and the basketball teams used to stay in the hotel back in the '80s. Ol' Blue Eyes [Frank Sinatra], and I've checked in Eric Clapton.
Boston.com: It's been a tough year in your industry. Your hotel closed for nearly four months because of the coronavirus pandemic. What was the most difficult part of that for you?
Leahy: The uncertainty of everything that's going on. I got called back in July, early on. And the hardest part is just seeing my friends, my colleagues still out of work. And a lot of them still are out of work. But there's light at the end of the tunnel. More and more people are getting called back and the hotel is getting busier.
Boston.com: How has your industry changed due to the pandemic?
Leahy: We can't smile at each other. We're smiling with our eyes. We can't touch. The distance that we have to have between people, that's the biggest thing. The personal connection doesn't seem to be the same. We're doing our best and we're getting there. We're taking all the safety precautions to keep people safe and we want them to know that.
Get Boston.com's browser alerts:
Enable breaking news notifications straight to your internet browser.