Travel
'Be ready to pay the consequences': Vaccine passports leave Boston.com readers divided
"It's all about returning life to normal," wrote Boston.com reader Dan Braun.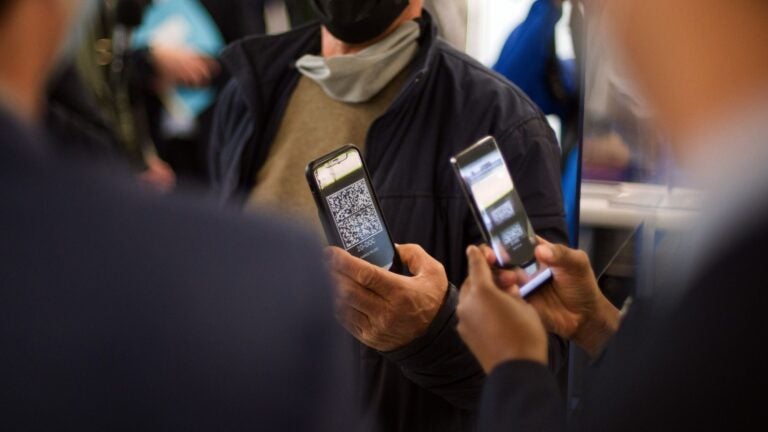 When we asked readers how they feel about carrying a digital passport to COVID-19 vaccination, we received more than 1,000 responses via survey and social media. What we learned: readers are divided on the issue.
Passport programs are in development and being rolled out nationwide and worldwide. The White House said in March that it will not create a central vaccination database or mandate vaccine passports and Gov. Charlie Baker said he's focused on vaccinating people right now and doesn't want to talk about vaccine passports. In New York, an app called "Excelsior Pass" displays proof of vaccination or a negative COVID-19 test and has been used at restaurants, weddings, and venues such as Madison Square Garden and Yankee Stadium, according to The New York Times.
While about half, 53 percent, said they welcome vaccine passports for peace of mind when traveling and attending crowded events, 44 percent of our survey respondents said they are against using a vaccine passport because it infringes on their rights. The remaining three percent said 'it depends.'
"It's unbelievable that people don't see the dangerous precedent this would set," wrote B from Watertown. "Once having to 'show your papers' starts, when will it end? Will you need to show you've never been treated for mental illness, or never been arrested or incarcerated to enter a venue? After all, some would say the mentally ill or those with a criminal record are 'dangerous.'"
"It's fine if you don't want to get vaccinated," wrote Dan Dever. "But be ready to pay the consequences when you start getting refused airline boardings, restaurant reservations, and basically anything that has to do with mass gatherings. Cuz, it's coming! Then what will you do?"
Ahead, readers explain their stance on vaccine passports.
'Without hesitation'
"Quite frankly, sharing any indoor space with other people should require proof of vaccination," wrote John from Acton. "So work, school, dining, entertainment, etc."
"Kindergartners have to be vaccinated to attend school," wrote Freedomfan. "This is similar. It's a public health issue, not a political one. Why should people have 'freedom' to infect other people."
"Yes," wrote Dan Braun. "Without hesitation. It's all about returning life to normal."
"Airports, concerts, bars, everywhere that large crowds gather!" wrote Kevin of East Boston. "Since vaccines are free and available to everyone, I have no problem with requiring proof of vaccination for entry. Maybe it will convince more people to get vaccinated if they find out they can't enter The Garden without it!"
"I would be thrilled to have vaccine passports required for boarding airplanes, going to concerts or any other large, crowded events," wrote Caroline of Boston. "I would also like to have assurance that people I come into close contact with at my workplace and my gym are vaccinated. I think these public health documents are a great idea as part of a comprehensive program to ensure our safety going forward, and I will definitely be signing up if and when one becomes available."
"I'd use it anywhere that would accept it — music venues, restaurants, travel, etc.," wrote Adam Chelmsford. "Let's have a vaccinated only section! No vaccine, no entry."
"Will be more than happy to use this!" wrote Victoria of Lexington. "Proud to be able to protect myself and people around me."
"I have no privacy concerns with someone knowing I have been vaccinated, and am proud to be vaccinated to protect not only myself and loved ones, but anyone else I come into contact with," wrote Mike in North Reading. "This is a deadly disease."
"I feel fine about them," said Julie Connally. "Our kids need vaccines to go to school and summer camp. This is not any different."
"Again we live in a pandemic," wrote Emmanuelle Sizensky Schaeffer. "Vaccine passport is fine with me, and should be the norm for travelers!"
"If I eat inside at a restaurant, I'd want to know that everybody else eating inside with me (ie: at other tables and at the bar/counter) is vaccinated. Keep the unvaccinated eaters outside," wrote Martin of Newton.
"Sure, whatever helps the country get back to normal," wrote Kathryn Loughlin Sala.
"You don't have to get vaccinated, but businesses and people need a reliable source to verify who is vaccinated if they choose to," wrote Andi SC.
"The requirement to show proof of vaccination for school, jobs, or travel is not new, and certainly not unreasonable," wrote Sarah Jean. "This is just a new method of showing proof necessitated by the current situation."
"Here in the US, it will probably be mandatory to be vaccinated in a lot of cases (this fall most colleges are requiring both students and faculty to be vaccinated, for example)," wrote Mark Hatch. "If you don't want to go or want a job there, then that's your freedom. It is NOT your freedom to give a potentially fatal disease to anyone. So therefore, the rest of us can restrict what you can do. That's called OUR freedom to be safe from YOUR choices."
"Do you like participating in society like a cooperative adult? Or are you prone to self-indulgent tantrums?" wrote Chloe Mulderig. "That's pretty much the breakdown on whether or not you'll use the passport."
"I'm fine with personally having one, but I would like it to only be used to allow increased capacity and not to exclude access," wrote Christina Prested.
"If that is what it takes to travel internationally, I don't have a problem," wrote Alan A. Hale. "The juice is worth the squeeze."
"Yes to protect me plus you!!" wrote Nancy Woolhiser.
"Sure, as long as it doesn't expose personal info beyond who I am and the fact that I'm vaccinated," wrote Ryan Casey.
'HELL NO!!'
"Not just no…..but HELL NO!!" wrote Steve Lyons.
"NOPE!" wrote Stacey Abbott. "Violation of my Rights on so many levels!"
"No thank you!" wrote M. Flowers. "For so many reasons. Not least of which is this c0vid jab is still in the experimental stage."
"It's nobody's business who is vaccinated and who isn't," wrote Michael MacPherson.
"I am not using one," wrote Vigo from Mansfield. "Stay out of my body. My body my choice."
"While I'm very pro vaccine, the idea of a vaccine passport makes me extremely uncomfortable and I would avoid using one if at all possible," wrote Chelsea from Newburyport.
"I have allergies to a common vaccine ingredient and have to consult with my health team to weigh the risk of any vaccine," wrote Jae of Hingham. "Although I have a specific reason, overall the idea of a passport seems like another barrier to equity. A passport or a mandate for a vaccine that has not been fully tested and approved? No."
"I will not go into any place that requires a vaccine passport," wrote John from Brockton. "Live free or die!"
"I had Covid and am not getting a vaccine. I have natural immunity," wrote a reader. "I should have the same access as someone who is vaccinated. This is getting insane!!"
"Since there is no reliable database for determining who has been vaccinated, vaccine passports can not be trusted," wrote Rob from Westford. "The vaccination cards can be easily counterfeited by anyone with a rudimentary knowledge of technology. Unless we are willing to spend billions of dollars to put in a secure system that is reliable, I would not trust them or any business that relies on them. For example, how would I know if the person next to me at a concert that required a passport for admission obtained theirs over the Internet or legitimately?"
"Literally the dumbest idea on planet earth," wrote Tom Hamill. "It our fundamental right to be free, requiring some sort of vaccination passport is the most ludicrous idea in the world. This is unscientific, unethical, and promotes fear, separation and arguments. Let's just freaking get on with life. Covid is here to stay forever as will be vaccines. Just move on. This is all just so crazy. You are all out of your mind."
"As a fully vaccinated person. No. That is un-American, unlawful, and unconstitutional," wrote Lee Lamontagne.
"No," wrote Joey Fahey. "And for what reason? I can and still will do whatever I want even without one. This is America. If a store requires a mask once this nonsense is all over, there are other options to shop at."
"I'm not an anti-vaccer but I'm not a supporter of 'having to show my papers' to live my life!" wrote Susan Wilson Laplante.
"I do not agree with a vaccine passport," wrote Erika Urdiano. "The people should have the CHOICE to decide if they want to get vaccinated or not. Not mandatory. Even if it is to travel."
"It's a gross government overreach," wrote a reader. "I'm an American citizen and shouldn't need to show my medical information in order to live my life and have normal societal interactions with others."
"Nope, that would require me to get vaccinated and that won't ever happen," wrote Julie Olson. "I don't need to travel that bad."
"Absolutely not," wrote Quartarone Winter. "No society should force medical procedures on its citizens."
"Hell no," wrote David Saucier. "No person has the right to tell another person where they can and cannot go. Every single day of your life you have the risk of dying. Every day for thousands of years there have been diseases and there will be until the end. If you want to be safe, then you stay home. We'll go enjoy life. To deny a person's right to not get vaccinated and then not travel is disgusting."
"On a universal level, probably not," wrote Drew Castronovo. "But individual airlines should be able to require them at their own discretion"
It depends
"I'm more for the vaccine passport in regards to travel," wrote Libby from Boston. "In our day to day lives in the city, I don't think it's necessary."
"Appropriate for certain things, like visits to assisted living facilities, if and only if the vaccine becomes available to all people," wrote Ellem Childress. "Also appropriate for things like foreign airlines, and cruise ships not registered under the US flag. Staff on [the] ships live in very crowded quarters. I can see them also as a requirement for sports such as wrestling. Certainly private corporations should have the right to require them at some point."
"For travel, but not in favor," wrote Susan from Woburn. "A lot of people do not have the means to have digital confirmations."
"Should not cost money to applicant…," wrote a reader.
"If it allowed me to get into an event that would not allow me if I did not have one," wrote John from Abington.
"Schools, both grade schools and colleges, should require along with other childhood vaccinations unless there is a documented medical reason," wrote a reader.
"It would depend on whether the transportation or business required it and if the vaccinations would have to be boosted every year," wrote a reader. "I believe the vaccination should be given to all, unless medically unable."
"I'm not sure how I actually feel about this one," wrote Sue McIntyre. "However, when you see what's happening in India wouldn't that country have any say about people traveling over there who may not be vaccinated? They DO have every right to protect their citizens don't they?"
Responses have been lightly edited for clarity.
Get Boston.com's browser alerts:
Enable breaking news notifications straight to your internet browser.