Travel
Porter Airlines returns this fall with service to 4 U.S. cities, including Boston 
Boston service begins Sept. 17.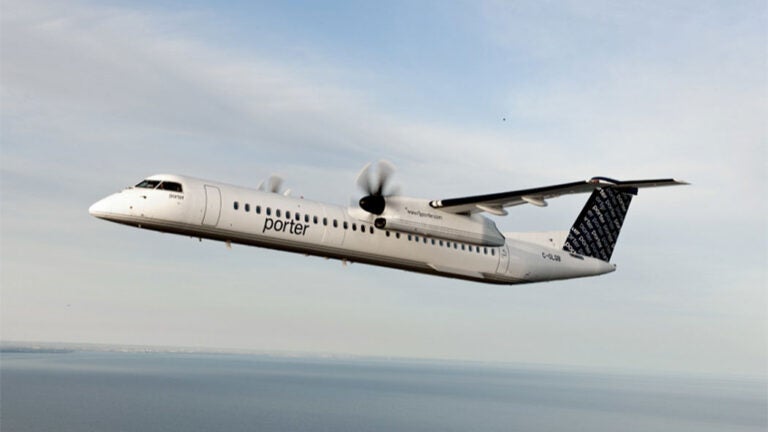 After suspending operations for 18 months due to the coronavirus pandemic, Toronto-based Porter Airlines announced Monday that it will begin service to four U.S. cities, including Boston, in September.
The airline will resume flying in phases, with service to select Canadian destinations beginning Sept. 8, followed by service on Sept. 17 to Boston, Chicago, New York, and Washington, D.C. There will be three daily trips between Boston's Logan International Airport and Toronto's Billy Bishop Toronto City Airport.
Operations were suspended on March 21, 2020, and the airline has announced several tentative dates for restarting flights prior to the latest announcement.
"This is the moment our team members, passengers, and the communities we serve have been waiting for," said Michael Deluce, president and CEO of Porter Airlines, in a statement. "The pandemic has progressed to the point that we can now begin restoring service across our network, focused around our main base at Billy Bishop Toronto City Airport."
About 500 Porter Airlines team members will be recalled to active status when the first phase of flights in Canada are introduced, according to the carrier, and more staff will be added as flights and destinations are added.
To give travelers "peace of mind," all fares purchased by July 20 for travel through Dec. 15 are fully refundable, with no fees, according to the airline. Travelers can learn more about the airline's safety program, called Healthy Flights, on the company's website.
The initial group of Canadian destinations beginning Sept. 8 are Halifax, Moncton, Montreal, Ottawa, Quebec City, St. John's, Thunder Bay, and Toronto.
Other year-round destinations will be added Oct. 6, according to the company.
How to Boston
Sign up to receive our essential guide to the city. Delivered to your inbox weekly.