Travel
Here's how Logan Airport ranked in an airport satisfaction study
The three most important factors examined in the J.D. Power study: terminal facilities, airport arrival/departure, and baggage claim.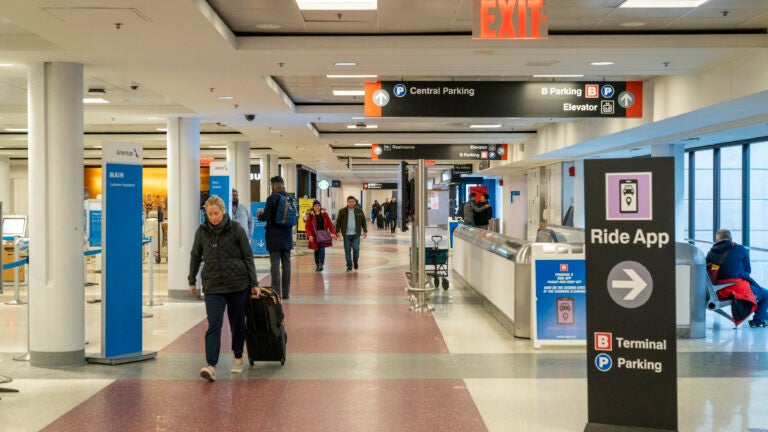 Traveler satisfaction at Logan International Airport could use some improvement, according to the annual J.D. Power 2023 North America Airport Satisfaction Study released on Wednesday.
Logan Airport ranked No. 16 out of the 20 mega airports ranked in the study, defined as airports with 33 million or more passengers per year. It earned a score of 762 out of 1,000, tying with Fort-Lauderdale Hollywood International Airport. Last year, Logan ranked No. 17 with a score of 754.
The No. 1 airport for customer satisfaction on the mega airport list is Detroit Metropolitan Wayne County Airport, with a score of 800 out of 1,000.
Traveler satisfaction was determined by examining six factors (in order of importance): terminal facilities; airport arrival/departure; baggage claim; security check; check-in/baggage check; and food, beverage, and retail.
"We continue to make investments to support economic growth, increase efficiency throughout the airport, and provide an elevated customer experience," a Massport official said in a statement to Boston.com. "Repairing our aging infrastructure in order to modernize our facilities at Boston Logan is crucial to meeting the future needs of our travelers. As always we appreciate our passengers' patience during this time."
Recent improvements to Logan include the expansion of Terminal E with four new gates to meet international passenger demand and a roadway project that will reduce congestion slated for completion this fall, noted Massport.
Overall satisfaction at airports has increased by three points this year, up to 780 from 777, according to the study, due to improvements in terminal facilities; food, beverage, and retail service; and baggage claim.
"It has not been an easy year for North American airports, but major capital improvements they've made over the last several years and new investments in getting food, beverage and retail operations back up and running at full capacity have helped them manage the crush of passengers," said Michael Taylor, managing director of travel, hospitality, and retail at J.D. Power, in a statement. "While airports are doing a good job coping with the current issues, there is still more they could do to improve passenger experience while also improving their own bottom lines. Happy passengers spend a lot more money at the airport, so ongoing efforts to spread passenger volumes throughout the day and deliver superior service at all customer touchpoints will be critical."
The study, now in its 18th year, was based on 27,147 surveys of departure and arrival experiences (including connecting airports) completed by U.S. or Canadian residents who traveled through at least one U.S. or Canadian airport and was conducted between August 2022 and July 2023.
Check out the J.D. Power 2023 North America Airport Satisfaction Study.
Need weekend plans?
The best things to do around the city, delivered to your inbox.