Travel
5 things to do when visiting Topsfield
Check out trails, festivals, and the Topsfield Fair.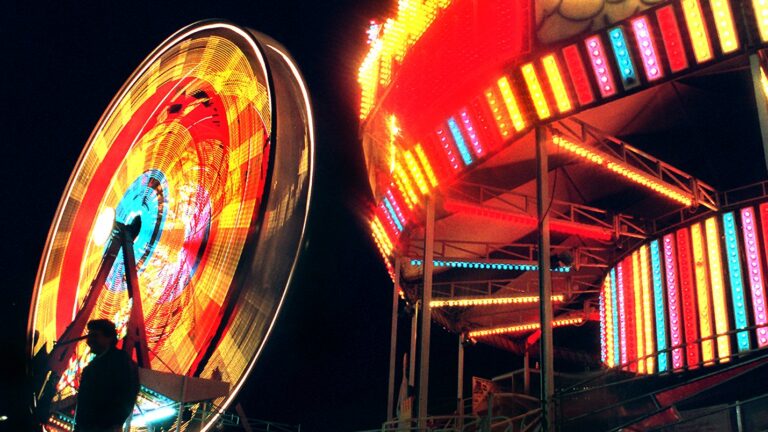 Topsfield is a small rural town with a big presence when its comes to natural beauty, said Erin Merrill, assistant town clerk and a resident for nearly 20 years.
"I absolutely love living here," Merrill said about the Essex County destination located about 25 miles north of Boston.
The town, established in 1680, has a population of about 6,500 residents and is perhaps best known for The Topsfield Fair, America's oldest agricultural fair. But Topsfield has great events and programs all year long, Merrill said.
"There's the farms, there's the fair, it's pretty, it's convenient to the ocean, we have a lot of open space," Merrill said.
Ahead, Merrill shares her picks for what to see and do in Topsfield.
The Topsfield Fair, America's oldest agricultural fair, is currently in full swing. The annual fair kicked off Sept. 29 and wraps up on Oct. 9.
The fair, which has been running for more than 200 years, brings vendors, animals, carnival rides, food, contests, and live entertainment to the Topsfield Fairgrounds every fall.
"It's very country," Merrill said. "There's a lot of agricultural stuff."
The Beekeeping & Honey Show at the Topsfield Fair is the largest in North America. There's a rodeo, horse and oxen pulling contest, Budweiser Clydesdale hitch demonstration, goat, sheep, and poultry shows, awards for fruits and vegetables, baked goods, livestock, the popular giant pumpkin weigh-in, and more. The fair is also home to New England's Premier Flower Show.
Hungry fairgoers have many food options, such as the "Gobbler," a Topsfield Fair favorite described as a Thanksgiving dinner in a sandwich, apple crisp, deep-fried Oreos, German fries, chocolate-covered bacon, and more.
Merrill said her children have always loved the rides at the fair, which range from carousels to rollercoasters. A new ride, The Vertigo, seats three riders across on a chair swing high in the sky.
"My favorite thing is when it's cool and you walk around and you get a hot cider and enjoy the smells and the sights," Merrill said.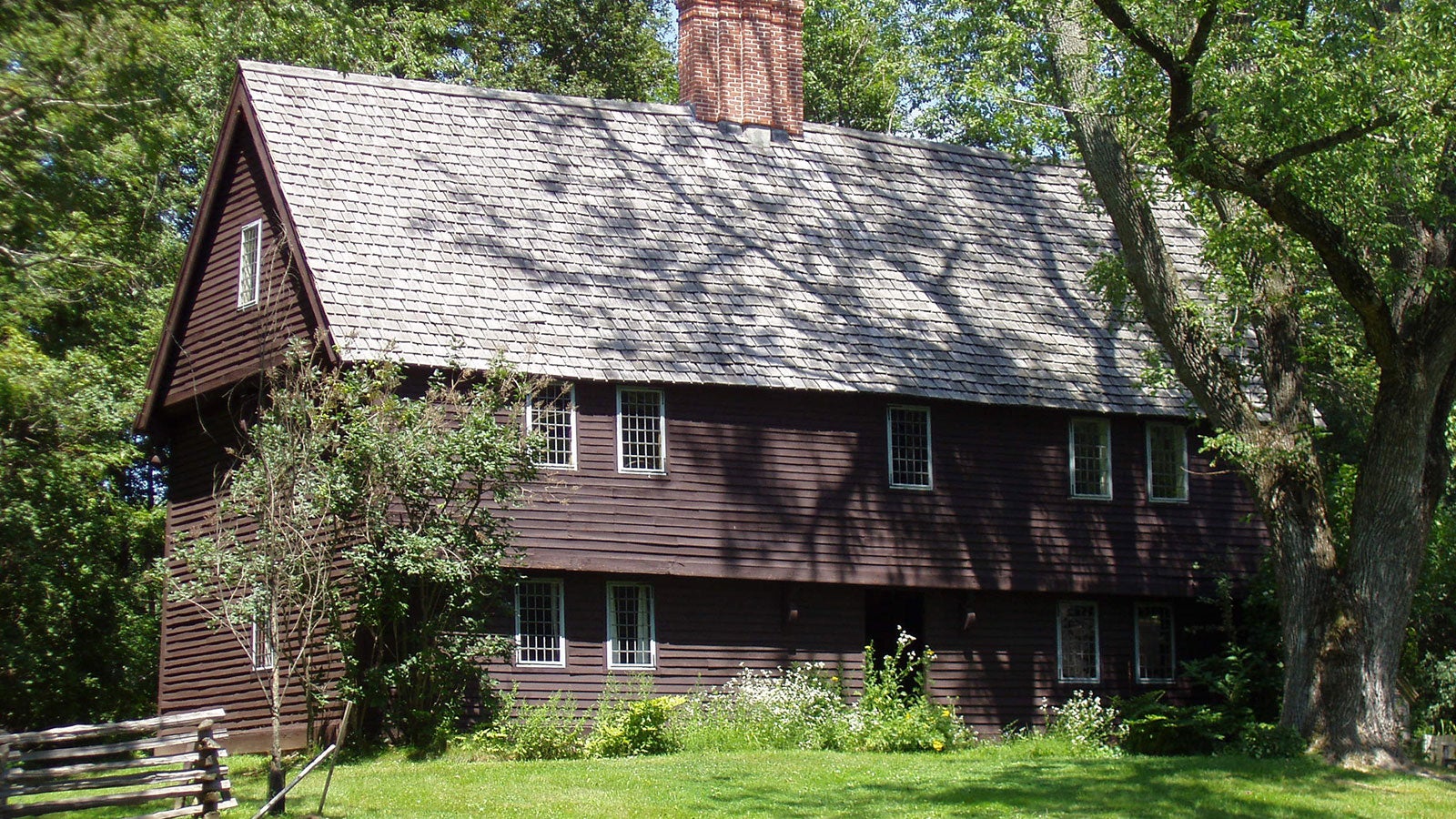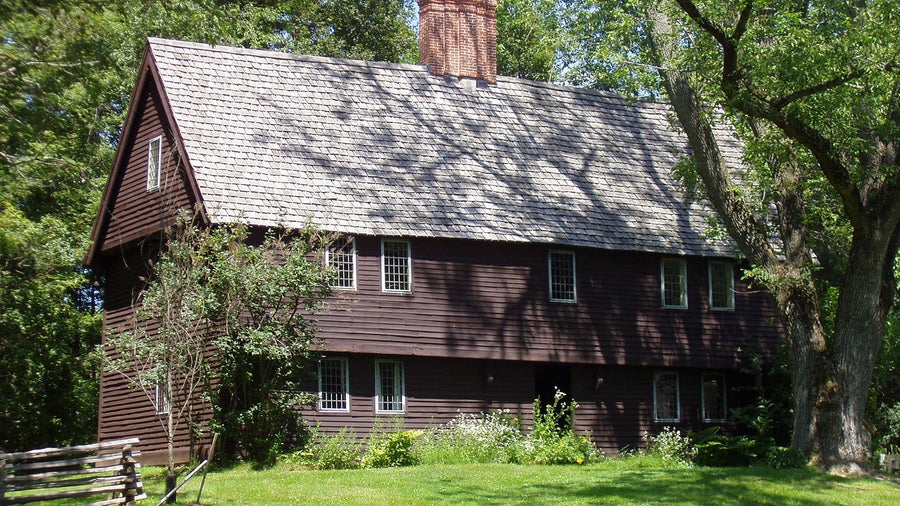 The Parson Capen House in Topsfield. Town of Topsfield
Do yourself a favor and take a tour of the Parson Capen House, Merrill said.
The Topsfield Historical Society, which owns and maintains the home, calls it "one of the finest surviving example of Elizabethan architecture in America."
"It's pretty neat," Merrill said about the house.
It is the former home of Reverend Parson Capen, the town's minister from 1684 to 1725. He built the home, now a National Historic Landmark, in 1683.
Capen was minister during the Salem witch trials in 1692, and members of his congregation were hanged for witchcraft, according to the Salem Witch Museum.
"Capen, who led his congregation for forty years until his death in 1725, appears to have been a calm and reasonable voice during the dramatic and tragic events," according to the museum's website.
The 1710 Gould Barn, also located on the property, houses weddings and special events. It was built by the Goulds, one of the founding families of Topsfield.
"They have events there and they do historical talks," she said.
3. Attend a festival
Topsfield hosts several festivals throughout the year, and Merrill's favorite is the annual Holiday on the Green, held in December.
The free event features the lighting of the Town Common, an Artisan Village, food trucks, musical performances, live animals, Santa's Workshop, a dog pageant, decorated wooden snowmen, a bonfire, and Santa's arrival by firetruck. There's also a Holiday Walk involving town businesses.
"Area businesses open up on Main Street and they have snacks, and you can walk in and say hello to everyone," Merrill said.
Another popular festival is the annual Topsfield Strawberry Festival on the Town Common. The June event brings more than 60 fine artisans selling everything from art to jewelry to clothing. There's also food and music, children's games, tours of the Parson Capen House, and plenty of strawberry shortcake.
"People come from all around for that," she said.
Topsfield also hosts a Tomato Festival on the Proctor School grounds in September, with games, a farmers market, live music, a downtown scavenger hunt, art stations, a homegrown tomato contest, tomato eating contest, tomato recipe tasting contest, and more.
4. Lace up and hit a trail
For exercise and fresh air, there are plenty of options in Topsfield, including the Topsfield Linear Common/Rail Trail, Merrill said.
"It goes right through downtown," Merrill said. "You can safely ride your bike downtown and get a slice of pizza or go to Gil's, our little country store."
The four-mile trail is part of the larger Border to Boston trail that will stretch from Boston to the Salisbury, N.H., border when completed, she said.
Another excellent outdoor spot is Bradley Palmer State Park, Merrill said, a former estate on 721 acres with extensive trails, a pavilion, picnic areas, a spray deck, and more. It is situated along the Ipswich River in the towns of Topsfield and Hamilton.
At Mass Audobon's Ispwich River Wildlife Sanctuary, folks can explore 12 miles of trails that wind through forests, meadows, and wetlands and include features such as a vernal pool, observation tower, boardwalks, and a popular Rock Grotto built in 1905. Visitors can also explore the Ispwich river by canoe or kayak.
"There's a lot of nature programs," Merrill said.
During the spring and summer, Merrill enjoys spending time at the HomeGrown Market.
The market, which takes place every third Thursday of the month between June and September, offers fruits, vegetables, handcrafted items, and more.
"It supports local farmers and businesses," Merrill said.
The market, organized by Topsfield Recreation, supports Topsfield and North Shore businesses and also features food trucks, beer and wine tastings, performances by local musicians, information booths by nonprofit organizations, and other activities.
"We think of the North Shore as our backyard and there are so many wonderful small businesses and talented individuals who deserve to show off these talents and thrive!" organizers wrote on the event website.
What readers recommend:
"All the great activities for families," wrote @erica.dexter4
Ipswich River Wildlife Sanctuary — @jessie.sigler
The Topsfield Fair — @vee.nick, @jeanabeling, @mish_amato, @kristenmulkerin
Need weekend plans?
The best things to do around the city, delivered to your inbox.