Food
You haven't eaten cider doughnuts like these
Here are five reimagined cider doughnuts to try this fall.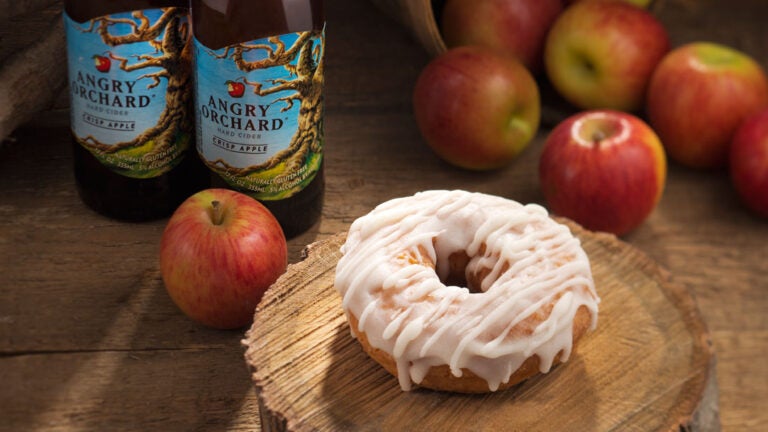 We will begin by saying that there is absolutely nothing wrong with a good ol' fashioned cider doughnut, that ubiquitous New England treat that signals the onset of fall. You won't find any cider doughnut hatred here.
That said, if you have already had your fair share of the traditional variety and want to consider changing it up this season, these five desserts have flipped the script on cider doughnuts with their creative reinterpretations.
The boozy cider doughnut
Throughout the month of October, Kane's Handcrafted Donuts is selling an Angry Orchard Hard Apple Cider Donut, a booze-glazed variation sold at both the Boston and Saugus locations. The cake-style apple cider doughnut is made with apple cider and cinnamon, then dipped in a honey glaze infused with Angry Orchard Crisp Apple hard cider. (90 Oliver St., Boston and 120 Lincoln Ave., Saugus; kanesdonuts.com)
The cider doughnut ice cream
FoMu, a vegan ice cream shop that uses a coconut milk base, has brought back its seasonal apple cider doughnut ice cream, available in stores until mid-November. The creamy dessert is infused with apple cider and chunks of homemade cider doughnut, and is worth a couple scoops on even the chilliest of afternoons. (Multiple locations; fomuicecream.com)
The cider doughnut cupcake
Sweet Bakery takes one dessert and molds it into another with its seasonal apple cider doughnut cupcake — a dessert within a dessert, if you will. The treat starts with a base of apple cider doughnut cake, which is then topped with spiced apple cider buttercream and finished with a dusting of cinnamon sugar. (Multiple locations; sweetcupcakes.com)
The luxury cider doughnut
Executive pastry chef Joshua Livsey will kick things up a notch at Harvest on Saturday, Oct. 20 with a Harry Potter-themed doughnut pop-up, one that will include Butter Beer, Golden Snitch, and Pumpkin Pasty flavor doughnuts, as well as an elevated apple cider doughnut. That last one will be saturated with apple cider that has been reduced down from apple butter, and will be served warm with Calvados Caramel poured on top. It will come with an apple-shaped vanilla semifreddo dipped in white chocolate for a seriously luxurious finish. Even better: The doughnut will be available on the menu even after the Harry Potter pop-up ends. (44 Brattle St., Cambridge; harvestcambridge.com)
The cider doughnut margarita
Dubbed the "spiced apple margarita," this tequila drink is about as close as you can get to a cider doughnut in cocktail form. Served at Lolita Cocina and Tequila Bar, the drink uses Lolita Reposado tequila, peach liqueur, muddled cinnamon apples, lime, and cane sugar, and is garnished with a cinnamon sugar rim and diced cinnamon apples. Bottoms up, fall. (253 Summer St., Boston and 271 Dartmouth St., Boston; lolitamexican.com)