NFL
Bills arranging for experts to advise Damar Hamlin on NFL future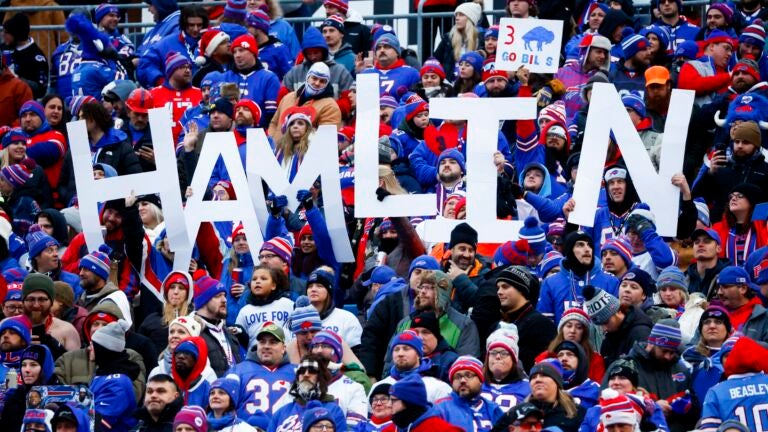 PHOENIX – The Buffalo Bills and their medical staff are arranging for safety Damar Hamlin to receive additional opinions from experts to assist Hamlin in making a decision on whether to resume his football career, the NFL's chief medical officer said.
Allen Sills said in a videoconference Friday with Washington Post editors and reporters that he does not know at this point if Hamlin, 24, will seek to play football again after being resuscitated by medical personnel during a Jan. 2 game in Cincinnati.
"This is about a player and a patient and about getting the very best care," Sills said. "And, again, I do want to protect the privacy of those involved. But what I would say is I know that the Buffalo Bills have already engaged a number of outside consultants and will continue to do so. And they'll gather opinions and then, [with] all of those opinions, they'll sit down with Mr. Hamlin, his family, his agents, all the people that love him and lay that out. And that's what we do in medicine every day is say, 'Here's our understanding of risks. Here's our understanding of the situation. Let us make sure that you have all the information and make a good decision.' And ultimately that is the decision."
The process is "not a league-led function," Sills said, and the decision will be made by Hamlin and his advisers without further clearance required by the NFL and the NFL Players Association.
"It's his decision," Sills said. "And he is the person that will need to drive that decision, and then we'll all line up and support that. So I think that's something to happen down the road. I think right now the focus is on his recovery and his continued improvement. And then there will be another day and time to discuss all that. But it will be strictly led by him and those that are close to him. And the Buffalo medical staff, I know, has, as I said, already engaged and will engage a lot of experts to help provide input and opinions into that process."
Hamlin collapsed after making a tackle during the Week 17 Bills-Bengals game and suffered cardiac arrest on the field. He was transported by ambulance to the University of Cincinnati Medical Center and proceeded to make what his doctors called a remarkable recovery. He later was transported to a Buffalo-area hospital and then released to continue his recovery at home and under the supervision of the Bills.
He has not said whether he intends to resume his career with the Bills. His doctors previously said it was premature to address that topic.
"At this time we are only focusing on Damar's health and ensuring that he makes a full recovery," Ira Turner, one of Hamlin's agents, said in an email Saturday. "Any decisions as it pertains to football will be made by Damar when he is ready to do so."
The Bills did not immediately respond to a request for comment.
Hamlin was in Phoenix this week for Super Bowl activities. He appeared at the NFLPA's news conference Wednesday and was given the union's award, named for former NFL great Alan Page, for community service. Hamlin received a standing ovation when he appeared onstage Thursday night at the NFL Honors awards show at the Super Bowl media center.
"My vision was about playing in the NFL and being the best player that I could be," Hamlin said that night. "But God's plan was to have a purpose greater than any game in this world. . . . I have a long journey ahead, a journey full of unknowns and a journey full of milestones. But it's a lot easier to face your fears when you know your purpose.
Thom Mayer, the NFLPA's medical director, said on SiriusXM Doctor Radio this week, "I guarantee you . . . that Damar Hamlin will play professional football again."
Sills said Friday that no final diagnosis has been made as to the cause of Hamlin's cardiac arrest. NFLPA medical officials previously have said that commotio cordis, a rare condition in which an impact to the chest causes an abnormal heart rhythm and cardiac arrest, was suspected as a working but not final diagnosis. One of Hamlin's doctors in Cincinnati previously called commotio cordis a possibility but said it was too early in the process at that point to make a determination.
"The club has not announced a final diagnosis," Sills said. "I think they're still doing some degree of testing. Obviously they have ruled out a number of different issues. But they're going to continue to do testing. We'll let the player and his family and the club take the lead in announcing that when all that testing is completed. So the answer to your question is no, we don't have a definitive diagnosis. And I will tell you again as a physician, there may not ever be a definitive diagnosis. Sometimes with cardiac arrest you're not ever able to say, 'Well, this was the exact cause.' You can say, 'We think this was most likely.' But I think they'll have more to say about that when they do complete all of the various tests that they want to do."
Hamlin made his appearance Thursday with his caregivers, including those who implemented the emergency action plan that each NFL team prepares and practices.
"All of that preparation just goes into those moments," Sills said. "I hope and pray you never see any of it in action. But when you do, I have a high degree of confidence, again, in our medical staffs, our independent staffs who are prepared for just those types of events. I think that's what you saw on the field that night. It's not an exaggeration to say their decisive and their skilled action saved Damar's life. And that's really the message is that being prepared and having the right equipment, the right people, the right training makes a huge difference in outcome."
Get the latest Boston sports news
Receive updates on your favorite Boston teams, straight from our newsroom to your inbox.