NoPrimaryTagMatch
Patrick treats Monson kids as 'neighbors'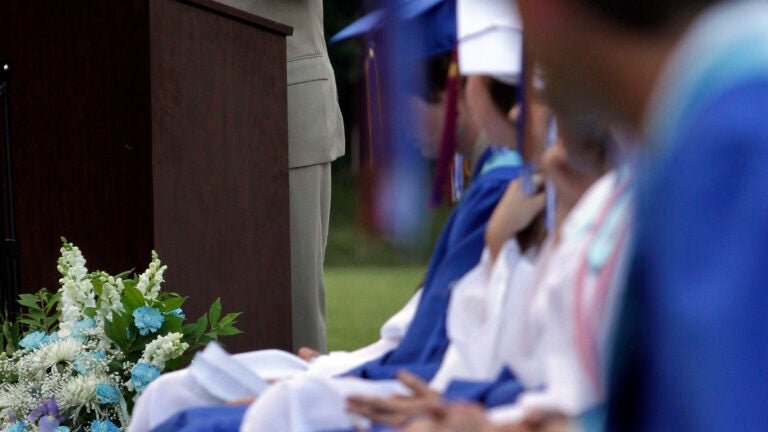 Random thoughts while working through the inevitable issues with a computer upgrade that will make "Political Intelligence'' a more dynamic blog for following local, state, and national politics. Promise.
—
A week ago, Governor Deval Patrick pledged to help the residents of western Massachusetts rebound from a series of deadly tornadoes not just because they were constituents, but because they were "neighbors.''
The leader with a vacation home in the Berkshires and a lieutenant governor from Worcester pledged early on to be "governor of the whole state,'' and he's proved that to be no hollow political promise during his first 4 1/2 years in office.
Last night, Patrick underscored his commitment to the tornado recovery when he showed up at the graduation ceremony for the 103 students at Monson High School. The community of 8,500 was one of the hardest-hit communities by the tornadoes that randomly pureed a path across 19 communities.
"Hello, Monson,'' the governor told the graduates after attending an interfaith prayer service in Springfield. "I wanted to crash the party.''
Patrick branded the graduates the "tornado class,'' according to an Associated Press account of his visit, and said that in an uplifting twist, the tornado had brought out the best in them and the rest of their community.
"We will rebuild. We will renew. We will rebound,'' the governor told his audience.
—
To underscore his commitment, Patrick has put one of his most conscientious aides on the task.
Kenneth Brown, an attorney who has put his law career on hold to serve as Patrick's aide de camp the past 4 1/2 years, has been tasked with staying on top of the tornado recovery and ensuring the governor remains connected to activities out of the view of Beacon Hill.
Patrick's attendance at the graduation was but one piece of his handiwork.
It can also be seen in today's schedule for Lieutenant Governor Timothy Murray:
-At 1 p.m., he will visit the Southbridge Storm Assistance Center.
-At 2 p.m., he will visit recovery efforts in Brimfield with a tour starting at
55 Haynes Hill Road in Brimfield.
-At 3 p.m., Murray himself will visit Monson to review recovery efforts.
-At 3:30 p.m., he will visit the Monson/Palmer Storm Assistance Center.
-At 5 p.m., Murray will stop by the Springfield Storm Assistance Center.
Crisis response can often be the defining moment – and the undoing – of a political administration.
In words, deed, and personnel, the Patrick administration is working to ensure the tornado recovery efforts help the affected citizens while proving its governmental competence.
—
The recent events with US Representative Anthony Weiner have prompted questions about his personal morals, smarts, and decision-making.
One issue largely absent has been a discussion about how Weiner's actions could have potentially compromised him as a public representative.
Here you had a married member of Congress, admittedly shooting off sexually charged messages and photos to women he had never met.
Imagine if one of them decided to bundle the information and threaten to blackmail the congressman?
Wouldn't, then, his personal indiscretion cross into a breach of his fiduciary responsibility as a member of Congress?
Weiner nonetheless insisted at Monday's news conference that he had done nothing to violate his oath to uphold the Constitution.
One piece of evidence about how he didn't consider the political consequences of his decisions was a story posted Tuesday by The New York Times.
It said that Weiner carried on even though he had been told some outsiders were monitoring his social media use because they had detected his proclivity for interacting with young, attractive women.
Another story yesterday suggested his personal and political Achilles heel was evident even to those who hadn't spent much time with him.