NoPrimaryTagMatch
Prosecutors, 'Whitey' Bulger spar over claims of judge shopping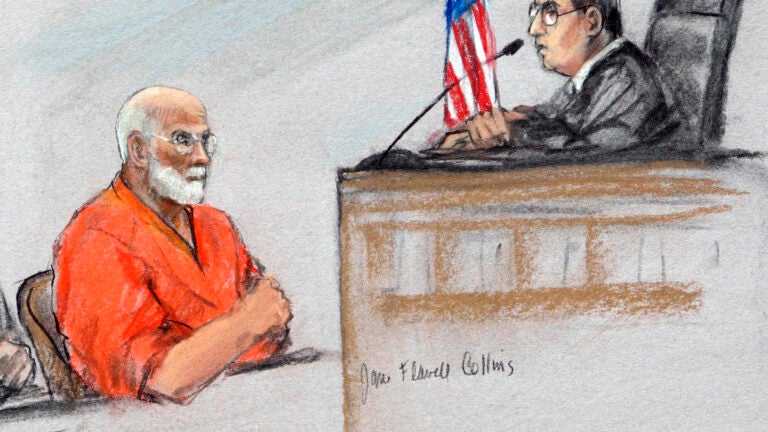 James "Whitey'' Bulger's attorney has asked a judge to consolidate the two cases against his client, arguing that federal prosecutors are "forum shopping'' as they seek to drop an earlier, less serious case against his client.
Prosecutors, said attorney Peter Krupp, are attempting to "game the system.''
"Such forum shopping is disfavored,'' Krupp wrote in a court filing today in which he attempted to get both cases consolidated under US District Chief Judge Mark Wolf, a judge known for shining a spotlight in the late 1990s on the cozy relationship between Bulger and the Boston FBI office.
Prosecutors shot back that Bulger's request was "unprecedented and entirely without legal basis, and it should be denied.'' They also suggested that Bulger himself was shopping for a sympathetic judge.
Bulger visited the federal courthouse today, where he was expected to meet with Krupp to discuss his case, in preparation for two hearings on Thursday. He has been housed as a pretrial detainee at the Plymouth County jail facility.
An alleged crime boss who allegedly participated in 19 murders during a vicious reign in Boston's underworld, Bulger was captured last Wednesday in Santa Monica, Calif., where he had been living a quiet life in an apartment several blocks from the beach.
He was returned to Boston on Friday and prosecutors and the defense have sparred vigorously since then, first over whether he should get a court-appointed attorney and now over prosecutors' decision to drop one of the cases against him.
Prosecutors said Tuesday they wanted to drop 1995 charges against Bulger so they could focus on charges brought in 2000. They said the latter case was stronger, involved more serious allegations, and would bring justice sooner to the families of murder victims.
The 1995 charges, which did not contain murder allegations, were assigned to Wolf. The 2000 charges were assigned to US District Judge Richard Stearns.
Krupp has suggested that prosecutors are attempting to avoid having the case heard by Wolf, whose hearings in the late 1990s uncovered the fact that Bulger had served as an FBI informant while he committed his alleged crimes.
Krupp, in a filing today before Wolf, said that after Wolf had raised "difficult questions'' in those hearings, prosecutors had chosen not to amend the 1995 charges but to include a new set of allegations in a later indictment. The prosecutors intended, Krupp argued, to get the case assigned to a new judge.
Saying the more recent case should instead be consolidated with the earlier case before Wolf, he argued that the 2000 charges "are directly related'' to the 1995 charges and "involve the same time period, overlapping defendants, and, in many cases, identical or effectively identical allegations.''
"The government's apparent forum shopping is contrary to the public interest and undermines public confidence in the judicial process,'' he said.
Krupp also argued that consolidation would save "considerable judicial resources,'' noting that Wolf is familiar "with the relationship between the parties and much of the factual predicate underlying the allegations'' in the more recent case.
Prosecutors said the 1995 and 2000 charges "allege different enterprises and different patterns of racketeering activity.''
They said that joining the cases together would create "additional legal issues and ultimate confusion for any jury hearing the case.''
"Rather than providing a cogent legal argument supporting his motion for consolidation, the defendant alleges that the government is 'forum shopping,''' prosecutors wrote in their filing. "In fact, the only logical explanation for the defendants counter-intuitive strategy of opposing dismissal and requesting that he be prosecuted for additional offenses is that the defendant is enaging in forum shopping.''
The consolidation issue is slated for debate at a 1 p.m. hearing Thursday before Judge Wolf. Magistrate Judge Marianne Bowler will hear arguments on Bulger's bid for court-appointed counsel at 3 p.m.
After reviewing the testimony of 46 witnesses over 80 days in 1998, along with 276 exhibits, Wolf ruled in 1999 that the FBI had for decades protected Bulger and his associate Stephen "The Rifleman'' Flemmi because they were considered valuable informants, tipping them off to investigations and ignoring their crimes.
"The evidence in this case raises questions concerning whether the FBI has consistently made its best efforts to apprehend Bulger,'' Wolf said in the 2-inch-thick, 661-page ruling, issued at a time when Bulger, tipped off by a corrupt agent, had already been on the run for four years.