NoPrimaryTagMatch
Grammy-nominated folk artist Bill Morrissey dead at 59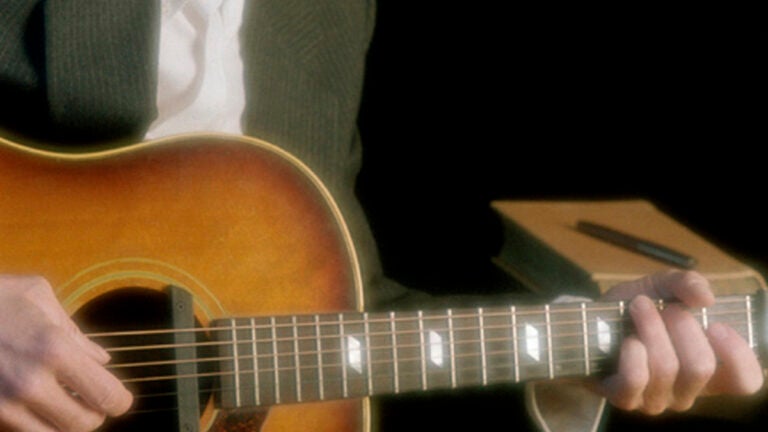 Bill Morrissey may have plied his craft nationally, but he never lost his New England sensibility.
Mr. Morrissey, who was a Grammy-nominated folk musician, lived in Connecticut, Pennsylvania and Massachusetts earlier in his life, but the move to New Hampshire provided roots from which sprung a wealth of material. His work reflected the human condition, whether it be life in a crumbling mill town, complex love relationships or a tale that elicited a deep belly laugh.
"He was the first person I ever saw who did a show that would include a hysterical story, then follow it with a heart-breaking song,'' said Cliff Eberhardt of Williamsburg, a fellow performer and friend of more than 30 years. "We all learned how to set up a song on stage, but not give away the power of the song.''
Mr. Morrissey was on a tour of southern states and about to return home when he was found dead Saturday in his room at a motel in Dalton, Georgia, said longtime companion, road manager and ex-wife Ellen Karas, now living in Australia. She said an autopsy showed that he died of complications of heart disease. He was 59.
Karas had known Mr. Morrissey since 1989, when they met at a friend's party and immediately clicked.
She became a close friend, then road manager, lover and eventually wife. Mr. Morrissey proposed to her by writing the song "Off White,'' which has since been performed at dozens of weddings, she said.
Mr. Morrissey's music was distinctive, as he combined a growl of a voice with impeccable guitar picking, all supported by lyrics that reflected his strong literary background. His music had diverse influences, from Bob Dylan and Dave Van Ronk to the old bluesmen, especially Mississippi John Hurt, whose music Mr. Morrissey featured on one of his two Grammy-nominated recordings.
In addition to his 11 released recordings, Mr. Morrissey penned a best-selling novel, "Edson,'' which was recently translated to french and released in Paris. A second novel, "Imaginary Runner,'' is ready for publication, Karas said, and Morrissey was working on his memoirs.
Mr. Morrissey was born in Hartford, Conn., one of three sons of the late Joseph Morrissey, who worked in the insurance business, and his wife Marion. The family lived in Wethersfield, Conn., then moved to Easthampton and eventually Acton. Mr. Morrissey graduated from Acton-Boxborough High School in 1969.
His brother Thomas, of Harleysville, Pa., said Mr. Morrissey bought his first guitar at 13 and taught himself to play. Showing an eclectic streak even at that age, Mr. Morrissey would enter his jug band in the high school Battle of the Bands, competing against the heavy metal guitarists, in an era when rock ruled. One year, he won, Tom said.
"Bill would go over to Concord record shops to buy music, then he started traveling into Cambridge and Boston for the music scene there,'' his brother said.
A voracious reader, he studied literature at Plymouth State College in New Hampshire but found that unsatisfying and hit the road at age 19. "He thumbed across the country to Alaska, where he got a job on a fishing boat, then went down to California, where he tried to get gigs, eventually coming back east and settling in Newmarket (N.H.),'' said his brother.
It was there that he worked in a local mill, providing material that fueled his first album and gave voice to working people. "When Bill told a story, he would tell it directly, not too wordy, so even if you weren't a folk aficionado, you could follow,'' Tom said. "He made his point in a deliberate way.''
Concert organizer Deb McWethy of Harrisville, N.H., said, "He could paint a picture of his life with words that we could see – words that we lived and breathed every day. His songs were above and beyond anyone's writing.''
Friends of Bill Morrissey usually remained so for life. Guitarist Ed Gerhard of Strafford, N.H., moved across the street from him as a boy in Pennsylvania, took guitar lessons from him as a teenager, met up again in the New Hampshire Seacoast folk scene and kept up a 40-year friendship. "He was like a big brother to me and showed me that excellence is worth working for.''
Songwriter/performer Cormac McCarthy of S. Berwick, Maine, met Mr. Morrissey when both went to Plymouth State and was in "nearly constant communication ever since. We could always call the other guy and get a pep talk. We had shared interests, and he always got my jokes.''
A side of Mr. Morrissey that was sheltered for many years was his longtime fight against alcoholism.
"His substance abuse was a long and hard struggle and very private for a very long time,'' said Karas. "As soon as he was of legal age, he drank. Working in bars, you didn't get paid much, but you got free drinks,'' she said. In later years, living in Tamworth, N.H., he was diagnosed as being bipolar and began to take medication, but the drinking resulted in missed gigs.
"It came to the point that people were so concerned about him that he finally made a public statement to explain his absences and being unreliable. Once he did that, the outpouring of support from friends and fans helped him by showing how much his music meant and his struggle gave strength to others,'' Karas said.
They divorced after he could not meet her ultimatum to stop drinking, even after several stints in rehabilitation programs. Even then, they continued to live together and after she remarried a few years later, Mr. Morrissey was a welcome guest in their home. Karas continued to help with his business until his death.
McWethy said he once failed to show at a house concert where 62 patrons waited for naught and the result was not anger, but worry and concern over his health.
McCarthy said, "We saw it all coming and all tried to help for many years. His will and his spirit is what kept him alive so long.
"He was fearless, he wasn't blessed with a big singing voice but he was a very good musician and relied on the strength of his songs and his wits to make his shows what they were.''
Since news of his death, "I'll start to cry, then I'll laugh – just like one of Bill's shows,'' McCarthy said.
Karas said that in the last few years, Mr. Morrissey had felt more optimistic about his future. "He had found a peacefulness about his life and place in the music business and was happy to be on the road touring. He was frail of body, but his spirit was stronger than it had been in many years, which makes it more of a shock.''
In addition to his younger brother Thomas, Mr. Morrissey leaves his mother, Marion of Lansdale, Pa., and his older brother Joseph of Medford, N.J.
Private services are planned, but Eberhardt said a memorial concert is being planned for the Boston area in the fall. Details will be posted on Facebook.
Mr. Morrissey's fans and friends would find it poetic justice if he were now enjoying the fruits of the afterlife, as described in his song, "Letter from Heaven'' from his album Night Train (1993):
"And me, I couldn't be happier.
The service here is fine.
They've got dinner ready at half -past nine.
And I'm going steady with Patsy Cline.
And just last night in a bar room, I bought Robert Johnson a beer.
Yeah, I know, everybody's always surprised to find him here.''