NoPrimaryTagMatch
Political Intelligence COVERING POLITICS IN BOSTON, NEW ENGLAND, AND THE NATION | BY GLEN JOHNSON, GLOBE STAFF As politicians feud, Main St. feels pinch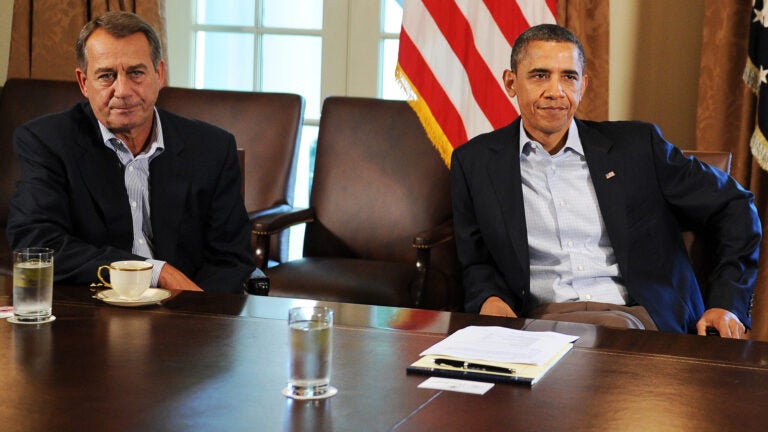 *This particular posting appeared in the July 24 edition of the Boston Sunday Globe. Subscribers had the opportunity to read it first. Check the newspaper each Sunday for another fresh "Political Intelligence'' column.
WORCESTER – Kae Austin had just pulled a gas nozzle out of her Dodge Avenger when she looked up at the pump and blanched at what she saw on the screen: $57.85 for 15.22 gallons.
For the unemployed truck driver, it was a body blow, and just the latest example of the pocketbook issues that are affecting Americans far more than the lingering – and nebulous – debate in Washington about addressing the federal budget deficit and the national debt.
Austin, 34, like others interviewed in Worcester last week, feels that her financial situation and the nation's are interconnected, of course. But to her, the Beltway debate seems far removed from the financial strain confronting average Americans each day.
"I wish I understood more how this whole process worked, because I can't think that the government can't do something to make things better for all of us,'' Austin said. "I think it goes hand-in-hand, but they're not focused on us. Instead, they're focused on what the lobbyists tell them to focus on.''
Like a stop at the gas station, the weekly trip to the grocery store offers another perspective on the Main Street cost index.
Turkey breast from the deli that cost $6.49 per pound two weeks ago now costs $6.99. Dried pasta that sold for $1 per box now sells for $1.25. A dozen eggs that sold for as little as 89 cents a year ago now cost $1.39.
Those jumps far exceed the rate of inflation, with cost increases of 8 percent, 25 percent, and 56 percent, respectively.
Austin is about to start school for biomedical engineering – "I tried working hard; I'd like to work smarter,'' she says – but school costs provide a third angle on the Main Street index.
Last month, trustees at the University of Massachusetts approved a plan to increase average tuition and fees by more than $800 this fall. That's a hike of 7.5 percent and will leave the average in-state undergraduate paying $11,838 during the coming academic year.
Tack on room and board and the state's flagship public education institution, UMass Amherst, will cost students over $20,000 this year. That's about what Harvard cost in 1991, just 20 years ago.
For reference, wage growth in the Greater Boston area was closer to 2 percent between the first quarter of 2010 and the first quarter 2011, according to the US Bureau of Labor Statistics.
Lincoln Plaza, just down Route 70 from the Gulf Express where Austin filled up, offers an array of receptacles for American disposable income.
There's a Stop & Shop grocery store. A Lowe's building store. A Target department store. A Dick's Sporting Goods. A Barnes & Noble bookstore. A Papa Gino's pizza shop. A Staples office supply store. And a MetroPCS cellphone retailer.
One patron, Natalie Rivard, said she is especially attuned to unyielding price increases because she does her family's grocery shopping each week.
"I haven't noticed any real reduction in the price of summer produce,'' she said. "It's the season, but we haven't gotten the usual drop.''
Coupled with a jump in gas prices, Rivard says her family's feeling the pinch.
"It affects us travelwise,'' said the 57-year-old health care worker. "Not that we do a lot of traveling, but we have a lot of older relatives in Springfield who we visit every week, and the cost of doing even that is up.''
Kevin Deignan, another regular grocery shopper, said he's been forced to explain similar price hikes to customers he services for a janitorial supply company.
The price tags on paper, cleaning chemicals, and trash can liners (made from petroleum products) are all up. An e-mail last week from Osram Sylvania announced a jump in the price of light bulbs.
Deignan wants the president and Congress to realize that they are not engaging in an academic or partisan discussion, but a macro debate that affects the microeconomy in each household.
"People are afraid,'' the 61-year-old said. "They've cut back on everything. And if this gets much worse, they won't have any more to give.''