NoPrimaryTagMatch
Nantucket scrimshaw artist sentenced to 30 days in prison for smuggling ivory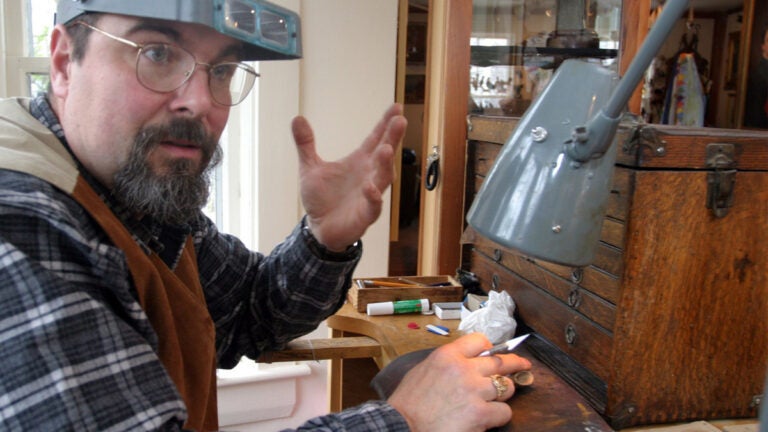 A popular scrimshaw artist from Nantucket was sentenced to two years of probation and must serve 15 weekends in a county jail for smuggling the ivory of sperm whale teeth into the United States, in violation of federal animal protection laws.
US District Court Judge Nancy Gertner said this morning that she had no choice but to order jail time for Charles Manghis, saying she was balancing his standing in the community and his commitment to his family with this conviction for smuggling.
Gertner also said she found that Manghis lied during parts of his testimony in trial.
Manghis, 54, is a scrimshaw artist who makes etchings into ivory, a form of folk art dating back to Nantucket's whaling heyday. He is not accused of obtaining ivory taken from an animal since wildlife protection laws were enacted in the early 1970's.
But Gertner sided with prosecutors who argued that unlawfully obtaining ivory and smuggling it into the country will only encourage the black market for ivory, which is currently drawing on "stockpiles'' of ivory from elephant tusks in Africa.
"If we don't enforce these rules, the law will be upended,'' Gertner said. "Being a fabulous artist, being a well respected artist … can't excuse the running afoul of these regulations.''
Manghis will have to spend the first six months of his probation in home confinement and must wear an electronic monitoring bracelet.
He also must serve at least 30 days in jail, with Gertner ordering he do it two days at a time.
He must report to the Barnstable House of Correction at 7 p.m. on Fridays and leave at 7 p.m. on Sundays. The US Probation Office will decide which weekends he must report to jail.
Manghis must also pay a $50,000 fine.