NoPrimaryTagMatch
After doomsday weekend, White House race heightens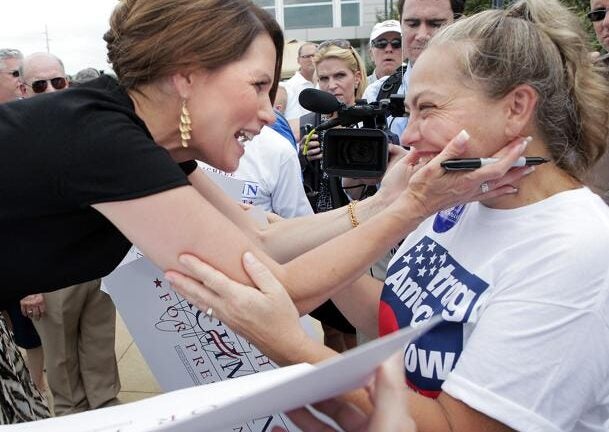 After a weekend with headlines that read as if from a doomsday movie, President Obama and the Republicans vying to replace him are launching into a hectic week of campaigning amid an uncertain – and potentially apocalyptic – stock market opening.
The Republicans are converging on Iowa in advance of a debate on Thursday and the quadrennial Iowa Straw Poll in Ames on Saturday.
The GOP front-runner, former Massachusetts Governor Mitt Romney, is skipping the poll but will start his week with three appearances today in the other lead-voting state, New Hampshire.
Meanwhile, Obama is heading on Thursday to Michigan, a battleground state, to visit a battery maker helping automakers improve fuel economy. He ends the day in New York City, where he is speaking at a pair of fund-raisers.
This week, there may also be more clarity about the potential candidacy of Texas Governor Rick Perry.
The Republican won't be in either Iowa or New Hampshire, but on Friday he's speaking to the Alabama Republican Party and on Saturday, he will be in another pivotal early voting state, addressing a convention of conservative bloggers in Charleston, S.C., on Saturday.
There's little doubt much of the campaign trail rhetoric will stem from last week's news, in which Congress approved an eleventh-hour debt ceiling deal, a drop in the unemployment rate was overshadowed by a reduction in the nation's credit rating, and a helicopter loaded with Navy Seals was shot down in Afghanistan.
The developments touched the scope of domestic and foreign policy issues sure to be at the core of the 2012 White House race: rampant partisanship in Washington, and how to resolve it; the president's job-creation record, and how to improve upon it; and U.S. commitments overseas, and how and where best to continue them.
Standard & Poor's decision to lower the nation's credit rating from AAA to AA+, one tick down but the first time the country has not held the agency's highest rating since 1941, was the freshest piece of campaign fodder since it came out late Friday.
Former Utah Governor Jon Huntsman, who will be appearing in his first debate with the rest of the field on Thursday, set the tone with a statement saying, "Out-of-control spending and a lack of leadership in Washington have resulted in President Obama presiding over the first downgrade of the United States credit rating in our history.''
Former House Speaker Newt Gingrich said via Twitter: "The Obama disaster continues. Highest food stamp level and lowest credit rating in history in the same 24 hours.''
Romney followed up a statement Friday with another this morning noting an improvement in the Bay State's credit rating from Standard& Poor's.
"The president's failure to put the nation's fiscal and economic house in order has caused a massive loss of confidence that resulted in an embarrassing downgrade. In the Carter era, it was called 'malaise.' Under President Obama, it's called 'meltdown.'''
Obama aides spent the weekend questioning the validity of the economic analysis that prompted the rating reduction, but Standard & Poor's countered as strongly.
Today, Romney starts his day by addressing the Concord, N.H., Chamber of Commerce. At noon, he speaks to the Manchester Rotary Club, before holding an evening town hall meeting at a VFW Post in Nashua, N.H.
Former Minnesota Governor Tim Pawlenty, battling an unexpected challenge from his homestate US representative, Michele Bachmann, will be campaigning in Iowa, as will the Minnesota congresswoman and a third candidate, former Godfather's Pizza CEO Herman Cain.
Romney will head to Iowa on Wednesday and then the GOP candidates will meet for a debate Thursday at Iowa State University – located in Ames, scene of the Straw Poll.