NoPrimaryTagMatch
Brown to seniors: Social Security, Medicare could be cut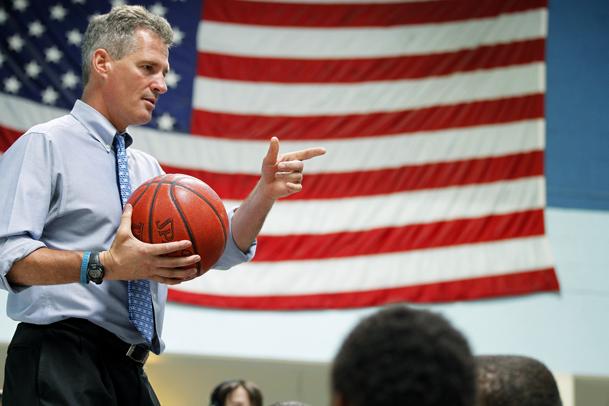 US Senator Scott Brown today warned seniors worried about Medicare and Social Security cuts that their benefits could be slashed because "we're in a financial emergency right now.''
"We have some very, very real challenges,'' the Massachusetts Republican told about 100 Russian and Chinese seniors gathered in an auditorium at Jewish Community Housing for the Elderly in Brighton. "If anybody's telling you that 'Everything's OK, and don't worry about it, and you're going to get all your benefits, and everything's fine,' then they're not really telling you the truth.''
The truth, Brown said, is that unless major entitlement programs are overhauled, "they won't be there for your family.''
Brown did not offer a specific remedy to fix the programs. Instead, he urged a general spirit of cooperation in Washington.
US Senator Scott BrownYoon S. Byun/Globe Staff
"It's going to take me, and others like me, in Washington to work together to solve the problems,'' the lawmaker from Wrentham said. "There's no Republican answer. There's no Democrat answer. There's going to be an answer where we have to work together to get out of this fiscal mess we're in.''
Brown was visiting Jewish Community Housing as part of a weeklong "jobs tour'' of several locations throughout Massachusetts. Earlier in the day, he changed out of his tie and shirt, put on shorts and a National Guard T-shirt, and played full-court basketball with teenagers at the Boys and Girls Clubs of Dorchester.
The general public has not been allowed in to the events to question the senator, leading to criticism from Democrats who say Brown is too insulated from voters who might disagree with his positions. The state Democratic Party has accused Brown of not holding an open town hall meeting since his election in January 2010.
At Jewish Community Housing, Brown was questioned by Nina Allen, an organizer with the liberal group MoveOn.org, who slipped into the audience. She pressed him to support taxes, in addition to spending cuts, to solve the nation's budget woes.
"I would really like from you a yes or no answer,'' Allen told Brown. "Would you be willing to support closing tax loopholes on big oil… Would you be willing to raise revenue on the wealthiest 1 percent?''
Brown said he had voted to close some loopholes, such as a tax subsidy for ethanol. But he said he was not inclined to support any more taxes.
"We're in a 2 ½- to 3-year recession right now, and raising taxes is an absolute job killer,'' he said.
Brown spoke for about 25 minutes, and fielded questions for about 19 minutes.
The immigrant audience, which listened to Russian and Chinese translations of his remarks, seemed mostly supportive, applauding Brown when he said he was a supporter of Israel, and when he called for more bipartisanship in Washington.
"We love you, we voted for you, and I think we'll vote you next time also,'' Lyubov Sokol, a 77-year-old originally from Moscow, told the senator. "Thank you for your explanation of what is going on in Congress, because the media is not good.''
Sokol then switched into Russian to ask him about the potential for Social Security cuts. Brown responded that "it was difficult to say'' what might be cut until a new deficit-reduction panel in Congress releases its recommendations later this year. But he said his job was "to try to push them toward looking at everything in a thoughtful, structured manner.''