NoPrimaryTagMatch
Kerry: Entitlement cuts, tax increases likely hard truths of 'supercommittee' work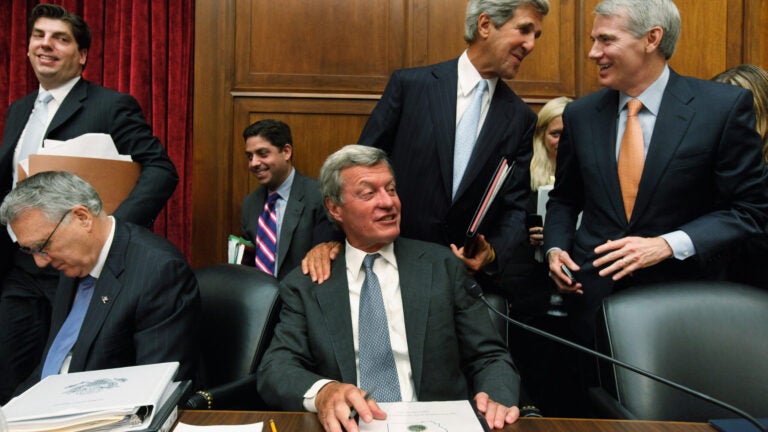 *This particular posting appeared in the Sept. 11 edition of the Boston Sunday Globe. Subscribers had the opportunity to read it first. Check the newspaper each Sunday for another fresh "Political Intelligence'' column.
WASHINGTON – The old joke is that robbers hit banks because that's where the money is.
If Congress hopes to resolve the nation's budget deficit problem, it's going to have to go after entitlement spending for the same reason, says Senator John Kerry.
That is one of the hard truths the Massachusetts Democrat offered up as he settles into his role as one of 12 members of the congressional "supercommittee'' charged with cutting an additional $1.5 trillion from the deficit during the next 10 years.
The panel was created as part of this summer's nearly $1 trillion deficit-reduction deal between the White House and Congress. That deal broke a logjam that threatened to send the federal government into default for the first time in the country's history.
The supercommittee held its first meeting last week, but it really gets down to business Tuesday. It must come up with an agreement by Nov. 23, and Congress must approve its plan by Dec. 23, or else $1.2 trillion worth of cuts in defense and social spending will automatically take effect in January 2013.
At first blush, it's a new role for Kerry, who most recently has been seen as auditioning for secretary of state with an array of diplomatic missions.
But in addition to being chairman of the Senate Foreign Relations Committee, he is also a member of the Senate's Finance and Small Business committees.
His idea for creating an infrastructure bank to finance public construction projects was part of the job-creation package proposed by President Obama last week.
And after 26 years in the Senate, Kerry is the 10th-most senior member overall in the chamber, and the fifth-most senior Democrat.
"Here's the bottom line,'' Kerry told the Globe last week in his first extensive interview on his committee role. "In 13 years, the only thing we're going to be able to pay for, at the federal level, is Medicare, Medicaid, Social Security, and debt service, interest. That's it. Everything else we try to do is going to be with borrowed money. It's an unsustainable path,'' the senator said.
Against that trajectory, the panel has to go where the money is, he says, surely to the disdain of some of his fellow Democrats.
Under the nation's current budget, roughly 70 percent of existing government spending is for "transfer payments,'' the reallocation of tax receipts to such programs as Medicare, Medicaid, Social Security, and senior citizen prescription drugs.
Another 20 percent is set aside for defense spending, while the remaining 10 percent is for all the remaining goods and service consumed by the government.
For that mathematical reason, the supercommittee must consider changes in entitlement spending to avoid the looming prospect of a country that finances all its non-entitlement spending with borrowed money.
"You can't do it on goods and services,'' Kerry said. "You have to look at the transfer payments, and there you're going to have to figure out – if you're going to be serious – how you do this without affecting the benefits, without hurting people. And there are ways to do some of those things, there really are. And that's where we have to look.''
For his Republican colleagues preaching fiscal discipline, Kerry says they have their own hard truth: some tax increases are necessary to prevent draconian cuts.
The senator says that to put the country on a truly sustainable fiscal course, the supercommittee should aim for $4 trillion in deficit reduction during the next decade. When the president aimed at that target, he proposed reaching it, in part, with revenue generated by the expiration of George W. Bush-era tax cuts for the wealthiest Americans.
The Tea Party caucus in the GOP vehemently opposed that.
"The single biggest question for this committee, in my judgment, is are people prepared to make tough decisions and show some political courage and step up to do things that some other people in their party may not want, at first blush, but is the only way to get an agreement,'' he said.