NoPrimaryTagMatch
Obama aide Axelrod acknowledges hurdles to president's reelection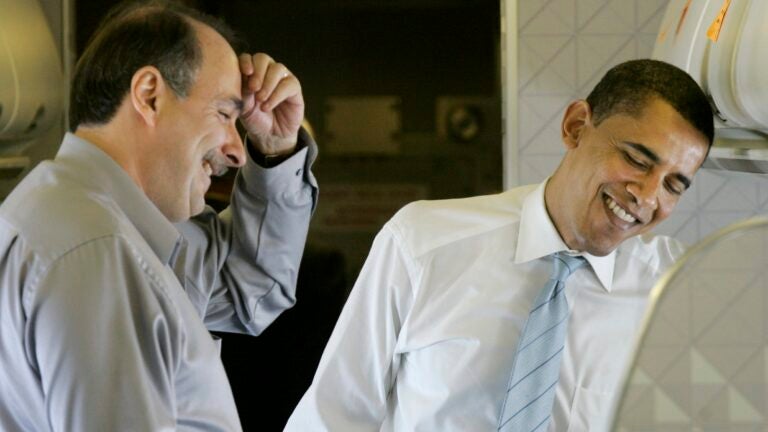 GOFFSTOWN , N.H.- With a still-foundering economy and Americans increasingly fed up with the government, President Obama's top campaign strategist today acknowledged the difficulties the incumbent president will face.
"We don't have the wind at our backs this election,'' said David Axelrod, a former senior adviser to Obama and a strategist for his 2008 and 2012 campaigns, speaking to around 200 people at the New Hampshire Institute of Politics at Saint Anselm College. "We have the wind in our face because the American people have the wind in their faces. This is going to be a titanic struggle.''
Talking separately to reporters, Axelrod sought to downplay expectations for Obama's quarterly fund-raising report, due out next month. While Axelrod said Obama would have a "healthy'' quarter, he noted that fund-raising is difficult in the current economy and Obama canceled several events during this summer's debt-ceiling debate.
Nationally, Obama's approval ratings stand at around 43 percent, one of the lowest of his presidency, according to polling data collected by Real Clear Politics. While most surveys show Obama narrowly edging out his nearest Republican rival, former Massachusetts Governor Mitt Romney, two recent polls show Obama risks losing when matched against a generic Republican.
Axelrod, who was also media adviser to Massachusetts Governor Deval Patrick's campaign, said Obama's message will be about contrasting his economic vision with the one presented by his Republican rival.
"Ultimately, this isn't just going to be a referendum on economic conditions,'' Axelrod said. "It's going to be a choice between two candidates with records and ideas bringing a very individual character to this race.''
In an interview, Axelrod previewed attacks the president is likely to use against two of his potential opponents – Romney and Texas Governor Rick Perry.
"I think Governor Perry is going have to explain why a state with among the lowest wages in the country; the highest rate of uninsured people; …why a state with schools are on the decline where he's slashing investment in schools; why that's a model for the country,'' Axelrod said.
Regarding Romney, Axelrod said, "Governor Romney is going to have to explain why if he's such an economic virtuoso, Massachusetts did so poorly under his leadership – 47th in the nation in job creation. He's going to have to explain how you claim that you never raised taxes when you were governor, when you raised fees to the tune of $750 million a year.''
Overall, Axelrod said the entire Republican field has been influenced by the Tea Party movement and is "cleaving very closely to the most strident voices in their party.''
Axelrod pointed to an incident in last week's Republican debate when some in the audience booed a gay soldier in Iraq who asked a question about the repeal of the military's policy against allowing openly gay soldiers to serve.
"Not one person on that platform, not one candidate was willing to say, 'Don't do that, it's inappropriate to boo someone who's risking his life for our country, who's serving our country honorably,''' Axelrod said.
Axelrod also criticized the Republican candidates for refusing to raise taxes on the wealthy, for wanting to maintain corporate tax loopholes, and for advocating cuts to education, research and development, and infrastructure.
"They've all sworn oaths of obedience to (anti-tax activist) Grover Norquist and his basic construct that we never again should ask not $1 more from any American, from any corporation, to help solve our problems,'' he said.
He added, "They're all essentially promoting the same economic theory, and it's the one that got us into this mess in the first place.''
Instead, Axelrod promoted the American Jobs Act, Obama's $447 billion proposal for stimulating the economy through tax cuts and government spending. Axelrod said the plan would put teachers, veterans and construction workers back to work, train unemployed workers, and give tax breaks to individuals.
Obama has also called for a higher tax rate on millionaires.
"We have short-term challenges how to blast out of this economic lull were in,'' Axelrod said. "Long term, we need to get the budget under control, in a way of cutting what we don't need to pay for what we do.''
While acknowledging that Obamas' 2008 campaign slogan of hope and change may be a harder sell right now, Axelrod said he believes Obama has a message that can win.
"It's harder to be hopeful right now because of what we've been through in the last three years, but he firmly believes there is a path forward that will not only deal with our problems in the short run but set us up in the long run to build our economy in a way that gives everybody a better shot,'' Axelrod said.
The visit came as the Obama campaign is beginning to ramp up nationally and in New Hampshire.
Jim Demers, a New Hampshire lobbyist who co-chaired Obama's 2008 campaign, said the campaign recently hired a state director, Pete Kavanaugh, and around six regional coordinators. It is putting together a program of surrogates, beginning with Axelrod, who will promote Obama's agenda.
Fred Kocher, president of the New Hampshire High Technology Council who has voted for politicians of both parties, said he believes this election will be a toss-up, with businesses and workers uneasy about the economy, and looking to blame a sitting president.
"People are scared for the future,'' Kocher said. "People are searching for a leader and many of them can't find that person.''
Yet Democratic stalwarts are optimistic.
Former U.S. Representative Paul Hodes, a New Hampshire Democrat, said he thinks voters will suffer "buyers' remorse'' after electing numerous conservative Republicans in 2010.
"People have a right to be angry, concerned,'' Hodes said. "We need to invest in the middle class and working people, we need to grow and innovate, and we can't do that with thinking from Republicans that says cut, cut, cut.''