NoPrimaryTagMatch
Setti Warren quits race against Scott Brown, conceding 'overwhelming' odds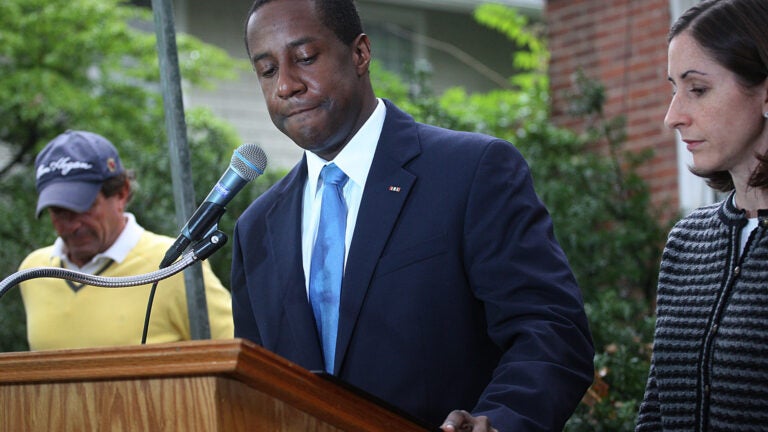 NEWTON – Newton Mayor Setti Warren today quit what once seemed to be a star-sponsored race for the US Senate, declaring, "It was clear to me in the last days and weeks that we faced overwhelming political and financial odds.''
In a speech to supporters in his hometown, the Democrat added: "I got into this race for one reason and one reason only – to beat Scott Brown. And I'm getting out for one reason and one reason only – because I no longer believe I have a clear path to victory in this race.''
Warren had been one of seven Democrats seeking their party's nomination for the right to challenge Senator Scott Brown, a Republican seeking his first full, six-year term in office.
He was coaxed into the race, in part, by high-profile state Democrats such as Governor Deval Patrick and Senator John Kerry.
But the race has been reshaped in recent weeks by the entry of fellow Democrat Elizabeth Warren, a Harvard Law School professor and former Obama administration official who had been courted by Washington Democrats.
Campaign fund-raising reports are due to be filed tomorrow, and they were expected to show a shift in financial support toward Warren and away from some of her rivals.
Warren, a first-term officeholder now anxious to salvage a mayoralty not even two years old, underscored an already glum mood surrounding the region after the epic collapse near-midnight of the Boston Red Sox.
"I don't know what's worse, the Red Sox losing last night, or me being out here announcing what I'm about to announce,'' he said.
As he spoke, he was flanked by about a dozen staffers and supporters, with his wife, Tassy, at his left side.
Warren said he will take next week or two to assess the field before making a decision about whether – and who – he may endorse in the race.
The mayor was peppered with questions about Elizabeth Warren, who is not related, and specifically about whether her candidacy prompted him to flee the race.
"Look, Elizabeth Warren has captured the imagination of Democrats nationally and here in the state, and she has changed the dynamic of the race, certainly for me,'' he replied.
Setti Warren also told reporters he was not explicitly asked my other politicians to leave the race, nor was he pressured to quit.
He also declined to say whether he will run again for higher office, or seek reelection as mayor, saying he's instead focused right now on being the best chief executive possible.