NoPrimaryTagMatch
Romney tells conservative voters that "poisonous language'' doesn't advance their cause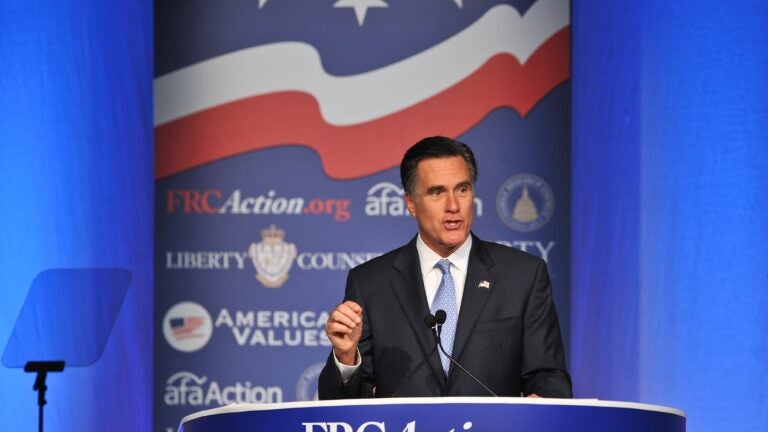 WASHINGTON – Former Massachusetts Governor Mitt Romney told conservative and evangelical voters today that "poisonous language doesn't advance our cause,'' the day after a supporter of another GOP presidential candidate described Mormonism as a cult.
"It's never softened a single heart or changed a single mind,'' Romney said. "The blessings of faith carry the responsibility of civil and respectful debate.''
Romney's comments at the Values Voter Summit in Washington were aimed at a conservative radio host who immediately followed him on the program, according to a spokeswoman.
But the backdrop was a controversy from the previous day when a Texas pastor, Robert Jeffress, gave an interview in which he said that Mormonism was not a Christian faith and was a cult. The pastor had made similar comments in the 2008 presidential election. As before, the comments immediately caused a stir.
Yesterday's comments were notable because the pastor delivered the comments shortly after introducing another GOP presidential contender, Texas Governor Rick Perry, raising questions over whether Perry knew that his surrogate was about to attack his competitor's religion.
Perry told a reporter in Iowa that he did not agree with Jeffress.
Romney's speech largely focused on criticizing President Obama, outlining actions Romney would take to turn around the economy, and reiterating his foreign policy platform that he had laid out in a speech the previous day at the Citadel, a military college in South Carolina. Some comments were repeated verbatim from yesterday's speech.
But at the end of today's speech, Romney said that another speaker following him at the conference had "crossed the line.'' Conservative radio host Bryan Fischer of the American Family Association was on the program immediately after Romney; he has regularly ignited criticism for comments about Islam, gays and lesbians, and other issues.
"The task before us is to focus on the conservative beliefs and the values that unite us. Let no agenda narrow our vision or drive us apart,'' Romney said. "We have important work to accomplish.''
Fischer laughed off Romney's accusation, saying, "do I look like a poisonous person?''
"I don't know what he was talking about,'' Fischer said, as he reiterated his belief that Mormonism is outside mainstream Christianity. "If anybody was dividing people today, it was Mitt Romney. He was the one throwing rocks, not me.''
Shortly before Romney took the podium, former US Secretary of Education William Bennett, now a conservative commentator, similarly condemned bigotry, and specified that he was referring to Jeffress' comments.
"Do not give voice to bigotry. Do not give voice to bigotry,'' he said, eliciting applause from the audience, then quoted George Washington: "despise all forms of racial and religious bigotry.''
Jeffress said today that Romney "is a good, moral family man, but that evangelical Christians ought to choose another evangelical "who embraces historic Christianity,'' rather than Mitt Romney. He said that he had not consulted with the Perry campaign about his comments on Mormonism.
"This is not an issue of bigotry. It's an issue of defining how important faith is in the election,'' he said. "And this issue is not going away. It will continue to be a discussion up until November 2012.''