NoPrimaryTagMatch
Democrats try fresh request to target Mitt Romney's records handling at end of term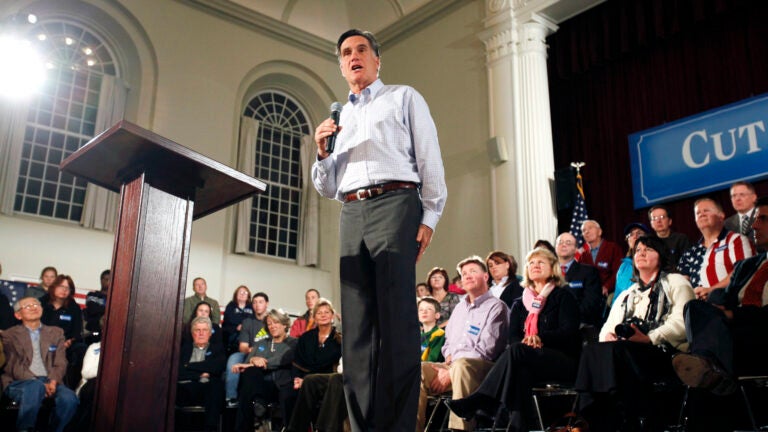 WASHINGTON – The Democratic National Committee, continuing to target Mitt Romney, is filing more public information requests today to try and determine how and when his office disposed of records during the last few months of his term as Massachusetts governor.
The DNC is asking for all applications that would have allowed the outgoing Romney administration to transfer or destroy documents to the state archives. It is also asking for all correspondence related to the removal, destruction, or purchase of any public record, including a computer, hard drive, or disk.
The Globe reported last week that 11 of Romney's aides took the unusual step of purchasing 17 hard drives from the governor's office in 2006, just as Romney was leaving office and preparing for his first run for president.
The Romney administration also wiped the server for the governor's office, as well as the remaining computers in the office, as they prepared to transfer power to Governor Deval Patrick, a Democrat.
Over the weekend, Romney pointed out to reporters that his administration turned over paper records to the state archives in Dorchester.
"Under Massachusetts law, there is no provision asking either the governor or the Legislature to provide any information for the archives,'' he said in New Hampshire. ''We voluntarily decided to do something which is not required by law: We put together 700 boxes of material from our administration and provided that to the archives.''
Romney also sought to explain why his aides purchased their hard drives, something that officials from past administrations said they had never heard of doing.
''They may have personal information on there—medical records, resumes from people who have applied for jobs, judicial appointments made, and people applying for those positions,'' he said. ''Those are confidential, of course. [It] would not be appropriate to put them in the public domain. We'd be violating our trust in doing so.''
Today, during a meeting with The Telegraph of Nashua, N.H., added a reason: thwarting would-be political opponents.
"Well, I think in government we should follow the law. And there has never been an administration that has provided to the opposition research team, or to the public, electronic communications. So ours would have been the first to have done so,'' said Romney.
Secretary of State William F. Galvin, who oversees the Public Records Law, has said that although Romney was under no obligation to release e-mails or other electronic files to the public, he may have had an obligation to preserve them.
The requests the DNC is filing today are targeted at information related to the destruction of records, which in Massachusetts is done in a process before the Records Conservation Board.
The Globe reported last week that, starting in September 2006, the Romney administration began submitting applications to the board to have documents moved to the state archives. They covered a wide range of topics, including gubernatorial correspondence, daily schedule files, photographs, briefing packets, and speeches.
At the same time, the board granted a request to destroy some documents, including routine items – such as vendor invoices, intern files, and accounting records – and those involving topics such as "travel expense records,'' "pardon/commutation records,'' and "individual appointment requests.''
As part of two public records requests the DNC is filing today, the partisan organization is asking for documents related to the staff purchases of the hard drives, as well as the legal basis of such requests. It also specifically asks for information related to purchases by Natalie Crate, who at the time was Romney's personal assistant.
The Globe reported last week that Crate purchased three hard drives, but it is unclear whose she purchased. Romney's campaign would not say last week whether Romney had used a computer that contained one of the purchased hard drives, and Crate did not return messages seeking comment.
In Massachusetts, the Supreme Judicial Court ruled in 1997 that "the governor is not explicitly included'' in the Public Records Law. For that reason, some of the correspondence that the DNC is focused on may not be deemed eligible for release to the public.
Democrats have focused almost exclusively on Romney, betting that he will be the Republican nominee and wanting to get a head start in defining him to a national electorate.
"The last thing the White House wants is to run against Mitt Romney – which explains its obsessive focus on him and the deployment of President Obama's cronies to attack him,'' Romney spokeswoman Andrea Saul said this morning in a statement. "President Obama has failed to create a single net new job and has wreaked more havoc on the middle class than any president in modern history. The only job he cares about is his own, so, instead of working to create jobs for Americans, he's working to create distractions.''
The Romney campaign last week also sent a public records request to the Patrick administration, asking for all communications his office has had with three top advisers to President Obama. The Patrick administration said it would comply with the request.