NoPrimaryTagMatch
With Rick Santorum's exit, Mitt Romney completes eight-year nomination quest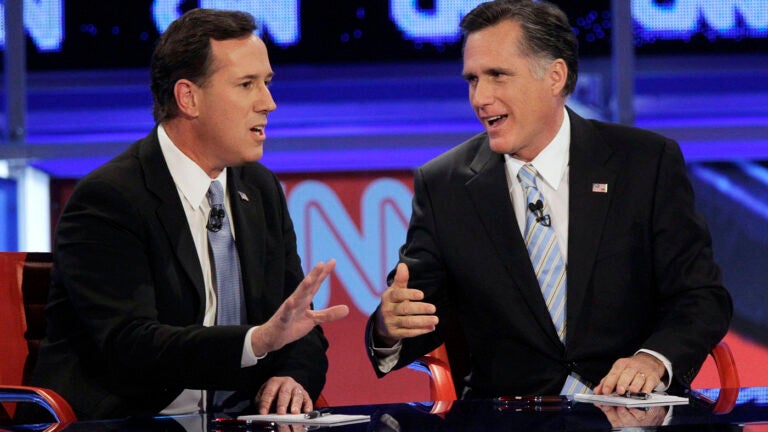 In 2002, Mitt Romney triumphantly returned to Massachusetts as the savior of the trouble-plagued Olympic Winter Games in Salt Lake City.
He elbowed aside acting Governor Jane Swift and won the state's GOP gubernatorial nomination on the strength of his reputation as a turnaround artist.
He settled into office in January 2003.
Yet by 2004, Romney had turned his sights beyond the confines of the Bay State and toward the Republican presidential nomination.
He maneuvered in 2005 and 2006 to become chairman of the Republican Governors Association, knowing it would give him that pedestal to travel the country, sprinkle about RGA cash, and develop political chits in a critical congressional midterm year.
He also announced he would not seek a second term as governor, freeing him to launch his campaign for the Republican presidential nomination in 2007. He filed the paperwork to start his candidacy two days before leaving the State House.
Of course, Romney was unsuccessful in 2008, conceding the race after a string of Super Tuesday losses and stepping aside as the last true challenger to the eventual nominee, John McCain.
But today, Romney completed his eight-year quest, as Rick Santorum, his last true challenger for the 2012 GOP nomination, announced he was ending his own campaign. Two other candidates, Newt Gingrich and Ron Paul, have no practical chance of accruing the 1,144 delegates needed to displace him as nominee.
With that, Mitt Romney – a child of privilege, family man, devout Mormon, business builder, state leader – achieved his unwavering goal: emerging as one of two people in the country with a realistic chance of becoming president.
A general election campaign between Romney and President Obama, a Democrat, that commenced last week as Romney swept Santorum in Wisconsin, Maryland, and the District of Columbia, will only intensify from here to November.
For Romney, the challenge of the next seven months is to convince the broader electorate that the policy shifts and other machinations he went through to win the nomination would not be hallmarks of his tenure as president.
Rather, the 65-year-old has to project the qualities that Massachusetts voters fell for in 2002, before his presidential aspirations consumed his persona.
In that campaign he ran not as some hardcore conservative but the Massachusetts moderate that Gingrich has aptly labeled him during this campaign.
In office, Romney wielded a deft budget pen, isolating "likes'' and "wants'' from "needs.'' He raised fees instead of taxes and says his test as president will be succinct: Is any new spending worth borrowing money from China?
And as he wrapped up his four years, he rekindled the Massachusetts voters' love affair – albeit briefly – with his confident and decisive handling of the crisis created when a Big Dig tunnel ceiling panel fell and crushed a passing motorist.
Romney literally got into the nuts and bolts of hangers and epoxy and ordered a stem-to-stern review of every element of the $15 billion project.
It was the kind of leadership demanded on a daily basis by the occupant of the Oval Office.
Working in his favor is the natural pivot from a primary campaign to a general election matchup – the point at which Romney now finds himself.
For all the guff his senior adviser Eric Fehrnstrom took recently, this really is an "Etch A Sketch'' moment, in which a candidate gets a clean slate and is examined in a new context.
A primary campaign is a mashup, fought not amid the general electorate but the special interests who dominate the smaller group of voters turning out for primaries and caucuses. That invariably pushes Democrats to the left, courting vociferous liberals. And it sends Republicans to the right, as they try to assuage anxious conservatives.
A general election, by contrast, is moderated by the need to appeal beyond those bases.
There is a group of people who will never vote for Obama. There is another group who will never vote for Romney. But there is yet another group not predisposed to either candidate who is their most fertile target.
Yes, Obama has to talk about the "Buffet Rule'' and contraception to engage his core supporters. But his broader message about fairness is his effort to connect to the great middle class.
True, too, that Romney has to talk about his unwavering support for Israel and opposition to new taxes to engage his own base. But his grand message about creating an "opportunity-based society'' instead of a "government-centered society'' is his chosen campaign thematic.
One of his own most potent tools as he runs against an incumbent seeking a second term may well be the faux pas made by Obama amid the Democratic giddiness over Fehrnstrom's Etch A Sketch comment.
It came when an open mic caught Obama telling Russian President Dmitry Medvedev that he would have more "flexibility'' on missile defense issues after he wins reelection this fall.
That perfectly feeds the notion that any president – in this case Obama – might make decisions during his second term that do not align with the promises of his first once freed from the constraints of ever again having to face voters at a ballot box.
Romney is already exploiting it. Expect him to continue.
Financially, the sitting president already has a large fund-raising advantage over Romney. But it will be counterbalanced by outside advertising from pro-GOP groups such as Karl Rove's Crossroads GPS, which is better-funded than its pro-Obama counterpart.
Experientially, Obama has also gone further down this path than Romney. He has faced the demands of a party convention, the pressures of a general election, the crucible of three high-stakes presidential debates. Romney has not.
But spiritually, Romney is also driven by that fact.
So far in his life, he has matched the achievements of his late father and mentor, George Romney. He, too, has raised a wholesome family, led a profitable business, become governor of his state, and run for the Republican presidential nomination.
But that is where George Romney's own quest fell short in 1968. Today, Mitt Romney not only matched his father but began, for the first time, to succeed him.
And with the manifest destiny that took his Mormon ancestors out west, he now sets out to complete his own eight-year journey.