NoPrimaryTagMatch
Records say gangster James 'Whitey' Bulger gave information to authorities as early as 1950s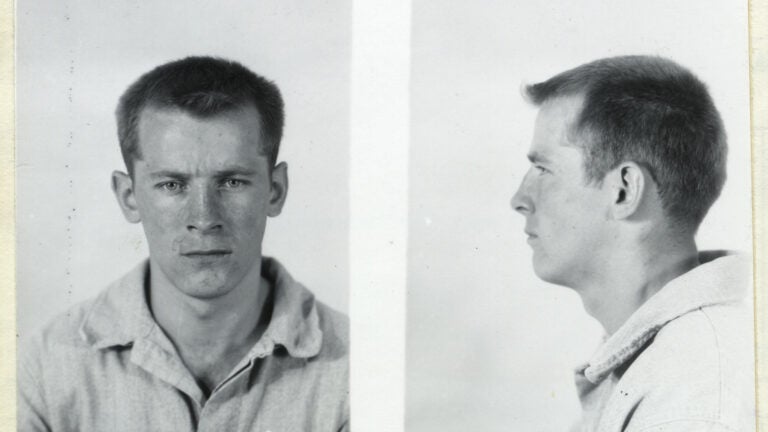 When he graduated from penny ante crime to the big leagues of bank robbery, James "Whitey'' Bulger learned a hard lesson early on: everybody talks.
And so he decided to play the game, too. Not to save himself, as he did in his later notorious role as an informant for the FBI. But to save his girlfriend, Jacqueline "Jacqui'' McAuliffe, who had gone to Indiana with him when he robbed a bank.
"Bulger orally admitted who his accomplices were in these bank robberies,'' FBI Agent Herbert Briick wrote on July 5, 1956.
Bulger persuaded Jacqui to do the same, with an FBI promise that she would not be prosecuted, according to the FBI memo. Bulger got 20 years; McAuliffe went back to cutting hair.
WBUR-FM (90.9) first reported today that Bulger had identified his accomplices in the bank robbery. The Globe has independently corroborated that report, and developed new information, including why Bulger agreed to talk to the FBI in 1956.
The entire episode is revealing in that it shows how Whitey Bulger learned to use cooperation with the FBI to gain leniency, and why he was so obsessive about insulating himself from potential informants even as he worked for years as an FBI informant.
Bulger agreed to cooperate with the FBI in 1956 after learning that an accomplice, Carl Smith, who had talked Bulger into going on his first bank job, had, as Bulger put it, "squealed on us.''
Bulger told the FBI that he was introduced to Smith at the Stage Bar in Boston's Theater District in May of 1955. Smith asked Bulger, then 25, to drive for him in an unspecified crime. Whitey insisted to prison authorities that he was duped into his first bank job.
"When he learned that this deal concerned a bank robbery he wanted to back out but did not want them to know he was afraid,'' a prison official wrote. "He claims that he was even more afraid when he learned he had to go into the bank since two persons who (were) involved backed out. He stated that the bank robbery was successful and afterwards he was in on three more bank robberies.''
In May of 1955, Bulger walked into the Darlington branch of the Industrial National Bank in Pawtucket, R.I., with Smith and Ronnie Dermody, an ex-con from Cambridge. Bulger pointed a .22-caliber revolver and forced bank employees to lie on the floor. The trio made off with $42,112.
Bulger took his cut from the bank job and told his hairdresser girlfriend, Jacqui McAuliffe, they were going to Florida, where they stayed at high-end hotels. McAuliffe, three years older than Bulger, looked like Jayne Mansfield and had done some modeling. She was the first of a string of beautiful blondes, first Teresa Stanley, then simultaneously, Catherine Greig, who would be his companions, even on the run, over the next half-century.
Carl Smith had once lived in Hammond, Ind., and that was why Bulger's next bank job was there. Smith had identified a bank in the Midwest town as a soft touch. Smith, Bulger, and another accomplice, Richard Barchard, drove out to rob it on Oct. 29, 1955, but backed off when they saw a police officer stationed inside. As they left Hammond, Bulger and Barchard noticed another bank in town that looked like an easy mark.
They headed back east, and the next month Bulger and a bricklayer from Dorchester named William O'Brien robbed a bank in Melrose. Bulger vaulted the counter and took $5,035 out of the tellers' drawers. They split the money with Barchard, who had picked out the bank and cased it.
Bulger and Barchard decided to leave town to let the heat die down. They remembered the lonely little bank in Hammond, Ind., and decided to make it a double date. Barchard took his wife, Dorothy, and Bulger brought Jacqui McAuliffe along. The boys left the girls in a motel and cased the bank, then hit it the next day, Nov. 23, 1955.
Bulger pointed two pistols that day. He went to the nearest customer and stuck the gun in the man's chest, pushing him to the floor. Barchard vaulted the counter and grabbed the cash. They made off with $12,612.
Back in South Boston, Bulger told Jacqui to pack: they were going to Miami. After another round of fancy hotels — Bulger claimed he spent $25,000 on hotels and fine food in the year he was robbing banks — they came home for Christmas.
But in the meantime, Smith had been arrested and started talking. A few days after New Year's, authorities in Indiana issued a warrant for Bulger's arrest based on Smith's statements. Bulger got wind of the warrant and drove cross-country to California, the state where he would later spend most of his 16 years on the run from 1995 until his arrest last June in Santa Monica.
But he missed Jacqui and drove back to Southie and picked her up. They drove south to Delaware, then spent the next two months on the road, trying to stay ahead of the law. But Jacqui got homesick. (Teresa Stanley, Bulger's companion when he first left Boston in late 1994 after being tipped by his former FBI handler John Connolly of an impending indictment, would also get homesick. Jacqui lasted twice as long on the road as Teresa. Cathy Greig bested them both by 16 years.)
Back in Boston, Whitey Bulger dyed his famous locks black, donned horn-rimmed glasses, plopped a big cigar in his mouth to distort his facial features. But an informant told the FBI that Whitey was back in town, at a nightclub in Revere.
The FBI arrested Bulger at the nightclub on March 4, 1956. The agent who arrested him, Paul Rico, would later be charged with helping Bulger murder an Oklahoma businessman in 1981. And in a memo filed in by the FBI to justify keeping Bulger on as an informant, Bulger claimed in 1980 it was Rico's kindness to him and his family during and after the arrest that persuaded him to become an FBI informant in the 1970s.
Bulger not only gave up his accomplices in the bank jobs, he persuaded Jacqui McAuliffe to identify Barchard as being with Bulger on the Indiana job and O'Brien as with him on the Melrose bank robbery.
Barchard, now 81 and living in Florida, said he was unaware that Bulger had cooperated against him, but had no hard feelings for what happened more than 50 years ago.
"All I know is that Whitey and I were friends,'' Barchard said during a telephone interview with the Globe. "We committed a crime. We paid for doing the crime. He went his way and I went mine.''