NoPrimaryTagMatch
Haverhill teen to serve year in jail for fatal texting crash; judge calls for people to keep eyes on road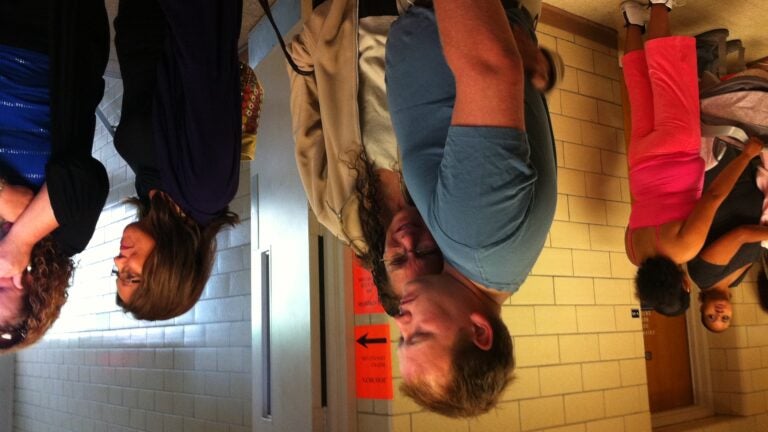 HAVERHILL — Saying he was sending a message of deterrence to Massachusetts drivers, District Court Judge Stephen Abany today imposed maximum sentences on Haverhill teen Aaron Deveau for causing a fatal crash by texting while driving.
[fragment number=0]The judge sentenced Deveau, who was 17 at the time of the crash, to concurrent sentences of 2½-years on a charge of motor vehicle homicide and 2 years for a charge of negligent operation of a motor vehicle causing serious injury while texting.
Noting Deveau's youth and lack of criminal record, Abany ordered the teen to serve one year in the Essex County House of Corrections, suspending the rest of the sentences. Deveau, who has been free on bail since his arrest in 2011, was taken into custody by court officers.
Abany said from the bench that a criminal sentence is based on four principles — punishment, public safety, rehabilitation, and deterrence. Of those four issues, deterrence was his primary concern.
Deterrence "really seems to come to play in this case,'' Abany said. "People really want to be safe on the highways.'' People need to "keep their eyes on the road, keep their eyes on the road.''
Before Abany imposed his sentence, he heard from Deveau and from relatives of Daniel Bowley Jr., the 55-year-old New Hampshire man who suffered massive injuries in the February 2011 crash, and lingered for 18 days at a Boston hospital before dying.
"I made a mistake,'' Deveau told the judge. "If I could take it back, I would take it back. I just want to apologize to the family.''
Abany also heard from the sole survivor of the crash — Bowley's girlfriend, Luz Roman — and Bowley's sister, Donna Burleigh.
According to testimony at the trial, Bowley and Roman were driving on River Street when Deveau's car crossed the center line and smashed into Bowley's vehicle head-on on Feb. 20, 2011.
Roman told Abany that she suffers both physical and emotional pain due to her injuries and the death of Bowley, the father of three adult children.
"This has been giving me a lot of pain, there are no words to describe,'' Roman said. "Broken leg, broken heart.''
Burleigh, in her victim impact statement, said her brother died as the result of a "tragic and unnecessary accident.''
The small courtroom was full today when the verdicts were returned. Some in the crowd of about 50 gasped.
In brief comments after the verdicts, Burleigh expressed hope that the convictions would change driving habits across the state.
"We hope this sends a message that it's not OK to text and drive,'' Burleigh said.
Deveau, whose license was also suspended by the judge for 15 years, was prosecuted under a 2010 state law that makes it a crime to injure someone during a car crash due to texting while behind the wheel. Prosecutors had also argued that he was texting two minutes before the crash, and that his behavior qualified as negligence.
State Police spokesman David Procopio issued a statement, saying it was an important case and "the maximum penalty sought by the district attorney was a more appropriate punishment than the one year the defendant will serve.''
"We should never forget that his family will see him again, will talk to him, will mark holidays and milestones with him, but the victim's family will always have an empty seat at their table, a hole in their lives, and only memories of the person they loved. That's what distracted driving does,'' the statement said.
The verdict comes one day after Deveau fidgeted and gave clipped answers on the witness stand while testifying in his own defense. He insisted he was not texting at the time of crash and could not remember texting while driving.