NoPrimaryTagMatch
Most charges being dropped in BU hazing case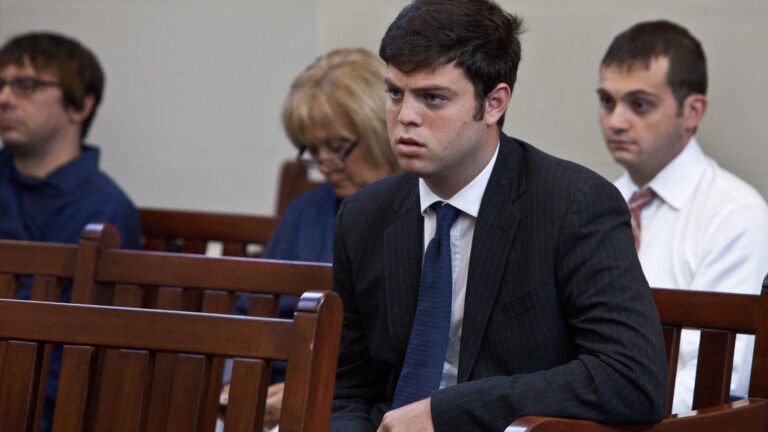 Prosecutors said Wednesday they are dropping most of the charges against the Boston University students who allegedly left five stripped-down fraternity pledges covered with condiments in a hazing incident in April.
Two of the nine defendants, Jesse Kay, 20, and Spencer Davidson, 21, still face the most serious charge of assault and battery for what prosecutors have described as inhumane treatment of the pledges, found by police shivering in the basement of an Allston home that was being used as the Alpha Epsilon Pi house. Both men, who appeared to be the ringleaders in the hazing ritual, also face single counts of hazing and failure to report hazing.
Kay and Davidson are accused of ordering the victims to duct-tape themselves to one another and to disrobe, according to prosecutors. They then allegedly poured hot chili sauce on them, causing welts to appear on their skin. They also allegedly ordered the victims to drink fish oil, said Jake Wark, spokesman for the Suffolk
district attorney's office.
Kay was in Brighton District Court on Wednesday, along with five other defendants. He pleaded not guilty and was ordered to return to court on Aug. 20 for a pretrial hearing.
Davidson was arraigned June 20 and also ordered back on the same date. The two face up to
2½ years in jail, if convicted.
Boston police originally issued five charges on each of the counts the defendants faced, to reflect the number of victims, but have since reduced the counts. For example, Kay and Davidson had faced 15 counts each but now face only three single charges.
The 30-member chapter of Alpha Epsilon Pi drew most of its members from BU, although school officials said the fraternity had no official ties to the university.
The five defendants who appeared in person in Brighton District Court on Wednesday left without commenting, and all either declined to comment when reached by phone or did not return messages.
Police investigating a noise complaint on April 9 found the pledges in the basement of 24 Ashford St., taped together, splashed with condiments, and shivering. They were wearing only underwear. Some had portions of their heads shaved.
One of the former pledges, Tim Barranen, 19, a freshman, told the Globe in an earlier interview that he didn't feel victimized and that all the pledges knew they could simply walk away if they chose.
The cases of two defendants, Jonathan Katz, 22, and Robert Rappa, 22, have virtually ended, as charges against them were modified to civil infractions. Both men paid fines Wednesday — $200 for Katz and $400 for Rappa. Rappa must complete 40 hours of community service by the end of the year.
Prosecutors said Rappa didn't participate in the hazing but directed pledges to the house "to become one with their brothers.'' He grinned as he left the courthouse with his attorney, Melinda Thompson.
"We're thankful the DA's office did the right thing, taking a fresh look at the case and seeing that Rappa didn't have any involvement in the hazing,'' Thompson said afterward. She said BU withheld his diploma but allowed him to participate in commencement May 20. The university will release his diploma in the fall, Thompson said.
Katz was able to produce a time-stamped receipt from a convenience store to prove he was not at the house at the time of the alleged hazing, prosecutors said.
Colin Riley, a BU spokesman, said he is prohibited about talking the students' standings.
Defendant Kyle Shevrin, 21, failed to appear for his arraignment, but had sent a letter to the court asking for a postponement because he is in California. Judge Patricia Bernstein found him in default but stayed the arrest warrant until Aug. 20.
Shevrin, according to a police report, had attempted to flee during the incident but was stopped by police.
Katz and Alexander Nisenzon, 21, were found in a second-floor bedroom where they and three other defendants, were "lying in a bed together, faking that they were sleeping,'' according to the report.
Nisenzon faces a charge of failure to report hazing and his arraignment was deferred until Aug. 27.
Jonathon Toobi, 22, is out of the country and his arraignment was deferred to Dec. 12. He faces one count of failure to report hazing. The arraignment for Lawrence Rosenblum, 19, was also deferred, to Sept. 20. He faces charges of failure to report hazing and keeping a noisy and disorderly house.
Michael Sanieoff, 22, faces a charge of keeping a disorderly house. He was arraigned in May and is due back in court on July 5.
Brian R. Ballou can be reached at [email protected]