NoPrimaryTagMatch
Trustees nominate former Urban College executive as interim president at Roxbury Community College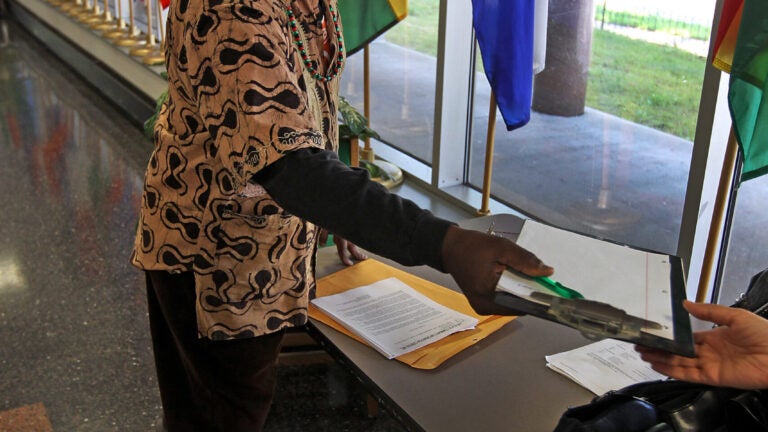 Roxbury Community College's Board of Trustees nominated a former president of the small Urban College of Boston as its interim president Tuesday night — eight days after its current leader announced his retirement amid controversy over campus crime reporting and alleged financial mismanagement.
The board selected Dr. Linda Edmonds Turner, after two other candidates declined the offer. A crowd of at least 40 people spilled into the college's hallway for the meeting.
"This is our last chance to get it right,'' said Sadiki Kambon, the organizer for Friends of Roxbury Community College, a local community group, "because it seems like there's a crisis at Roxbury Community College every 10 years.''
President Terrence Gomes is retiring as the school faces a Department of Education audit about the alleged financial mismanagement, missed education opportunities, and underreporting of campus crime.
The board settled on Turner after discussing eight to 10 names, said Anita Crawford, trustees chairwoman. The nomination goes to the state Board of Higher Education for final approval.
During Turner's tenure from 2002 through 2011, Urban College expanded its enrollment by 40 percent, to about 1,200 students. She was also the vice president and chief marketing officer for Dean College in Franklin before her nine years at Urban College — experience that was a big point for the board, Crawford said.
Prior to her career in academia, Turner worked in the corporate realm.
"We wanted, and were searching for, somebody coming with a different set of tools in their tool chest because that's going to be critically important,'' Crawford said.
Turner was one of the first black women to attend Virginia Tech in 1966; she graduated with honors four years later. She went on to earn a master's of business administration and a doctorate, both from Virginia Tech, as well as a master of science degree from Michigan State University.
Turner will arrive on campus July 3, and Gomes will assist in the transition as much as possible under the law, Crawford said.
Tuesday morning, about 25 supporters of Roxbury Community College held a press conference on campus to issue a call to put students first.
"Whatever the perceptions are about the college, we want to change that, and the first thing that has to happen is the culture has to change in terms of how students are related to,'' Kambon said.
At the trustees meeting, Kambon requested an office space on campus for community representation. Bill Owens, a retired Massachusetts state senator who helped secure funding for the college, recommended quarterly, informal meetings to connect with the public.
A former student recently called the administration building a "penthouse,'' highlighting the perceived gap between the school's leaders and its students.
"They feel like they're a stepchild in many respects,'' Kambon said.
Crawford also announced Tuesday that trustee Janice Owens resigned her position on the board on June 18, the same day Gomes said he was stepping down.
On Tuesday night, several former students told the board they never felt connected to the administration while at the college, and one alumnus, who asked not to be named, said it was the same in the early 1970s when she attended.
"Some people are alienated from this school,'' Owens said. "They don't feel in their guts that this belongs to them.''
Shawn Reed, a graduate of the college, said the interim and permanent presidents can make a difference by taking time to walk around campus and meet students.
Crawford said the concerns of connectivity to students and community will be discussed. She also promised that the community would have a role in the selection process for the permanent president of the college.
Kambon left the meeting "optimistic'' because the board is aware of the community's presence, concern, and desire to be involved.