NoPrimaryTagMatch
Rescuers free humpback whale off the coast of Chatham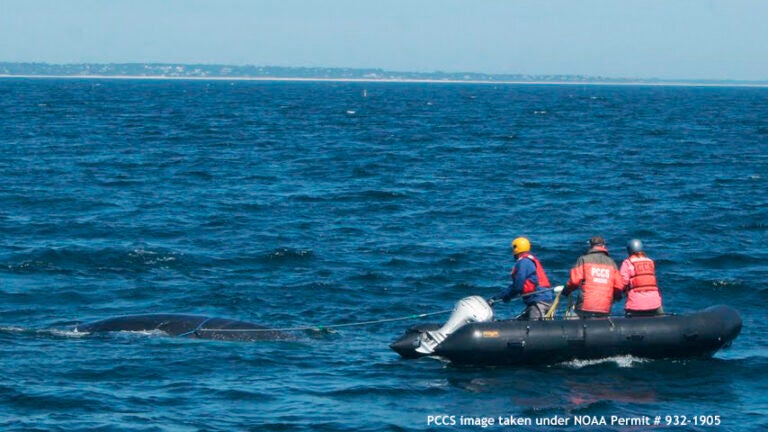 Rescuers freed a young humpback whale heavily entangled by fishing line about five miles off Chatham early Thursday morning, marine animal rescuers said today.
The Provincetown Center for Coastal Studies said a rescue team received a call around 7:30 a.m. from recreational boaters who stood by the anchored whale until the team arrived. The fishing line was wrapped through the whale's mouth and around its body and tail several times, the center said in a statement.
The center's Marine Animal Entanglement Response team worked from a small inflatable boat and used hook-shaped knives on the end of long poles to make strategic cuts under the line so it would fall free from the whale, said Cathrine Macort, executive assistant at the center. The whale suffered minor injuries but swam off gear-free.
The whale was later identified, using the unique markings spotted under the tail, by the Provincetown-based center as the 2004 calf of a whale named Dusky that the center has been monitoring.
Humpback whales migrate to waters off the Cape in the early spring and their activity peaks in the summertime. In the past six months, the center's team has disentangled three humpback whales and one North Atlantic right whale, the latter being one of the most critically endangered whale species in the world.
Recreational boaters are encouraged to report any entanglement sightings to the center at 1-800-900-3622 or to contact the US Coast Guard. Mariners should remain by the animal at a safe distance until responders arrive, the center said.