NoPrimaryTagMatch
Lincoln Park's Comet roller coaster demolished today in Dartmouth, evoking memories of thrills past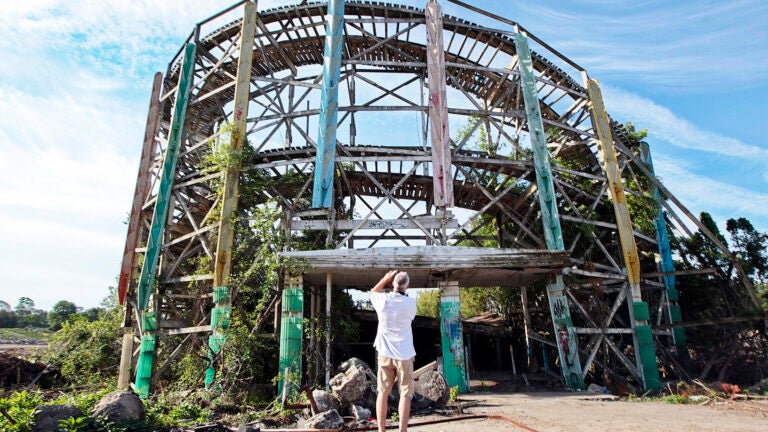 DARTMOUTH — The Comet roller coaster, which provoked whoops of delight, hollers, and screams from its riders from the 1940s to the 1980s, was demolished today as its fans stood by, remembering the bygone thrills of the former Lincoln Park amusement park.
[fragment number=0]"It was like your childhood got ripped down to the ground,'' said Debbie Gabriel, 60, of New Bedford who stopped by with her husband, Steve, also 60, to collect mementos.
The couple recalled going on dates at Lincoln Park and bringing their oldest daughter, Jennifer, now 34, when she was a child.
"It's pretty sad,'' said Steve Gabriel.
The roller coaster sat on the park's 42 acres near Route 6 and Beeden Road. Midway Realty LLC, a real estate firm, now has control of the property, and plans call for the site to be transformed into residences.
The 3,000-foot-long wooden coaster was designed by Edward Leis and Vernon Keenan of the National Amusement Device Co. and built in 1947 for $80,000. The ride climbed to 65 feet and had a top speed of 55 miles per hour.
The park itself was opened in 1894 by the Union Street Railway Co. as a picnic ground. It closed in 1987, after suffering from low attendance and tax issues. Rumors about safety issues did not help. During Comet's final run, in 1987, faulty brakes caused the last car of the train to derail, leaving passengers dangling and injuring four. A private electrical contractor had died on the ride a year before.
In 1988, the owner put Lincoln Park up for sale for $3.5 million, but even then any chance of reopening the park was bleak. Three other New England amusement parks closed that same year. Eventually, the property was foreclosed on and seized by the bank. A series of owners and proposals for the land followed until it was bought by Midway in 2002.
Some rides were auctioned off, including the carousel, which ended up at Battleship Cove on the Fall River waterfront. However, the rest of the park has been idle since 1987, prey to multiple arson fires throughout the 1990s that destroyed the remaining buildings, including a bowling alley, skating rink, and a ballroom that not only had nightly live music and once hosted performances ranging from Buddy Holly to the Three Stooges. The park was also once frequented by President Kennedy and his children.
Debbie and Steve Gabriel shared a laugh today as they recalled times when they would get stuck on a Ferris wheel in the park, and Debbie would have fun with their passenger car at her husband's expense.
"I used to rock it purposely, and he'd yell at me,'' she said.
Scott Almond, 52, of New Bedford, was also on hand. He remembered operating controls on the Comet in the 1970s.
"It was exciting, trying to stop that, basically by hand-pressing down'' a series of bars as the ride drew to a close, he said.
"Lot of good memories going up in smoke right now,'' he added.
Alan Souza, 68, of Westport, stood near the rubble and shook his head at one point, unable to completely fathom that a landmark from his youth was gone.
"It's like watching your childhood go to Hell,'' he said.
Souza remembered taking field trips to the park as a fifth-grader at the now-defunct St. Louis school in Fall River.
"My parents didn't even have a car, so that was the only way of getting here,'' he said.
Souza said his fondest memories included clambakes and roller skating at the park, and he sometimes ventured onto the Comet.
"Not very often, I wasn't that brave,'' he said. "Of course in those days, that was quite a ride. Going up the hill [you'd hear] 'clack, clack, clack, clack.'''
Souza said he was saddened that many of the older amusement parks in the region have closed.
"Six Flags and Disney and all that, I guess it's hard to compete with them,'' he said. "But this was local. When you couldn't afford to take a trip to Florida, this was here.''
Messages left at Midway Realty seeking comment were not immediately returned.