NoPrimaryTagMatch
In 'Sleepless Night,' crime pays (or does it?) in Paris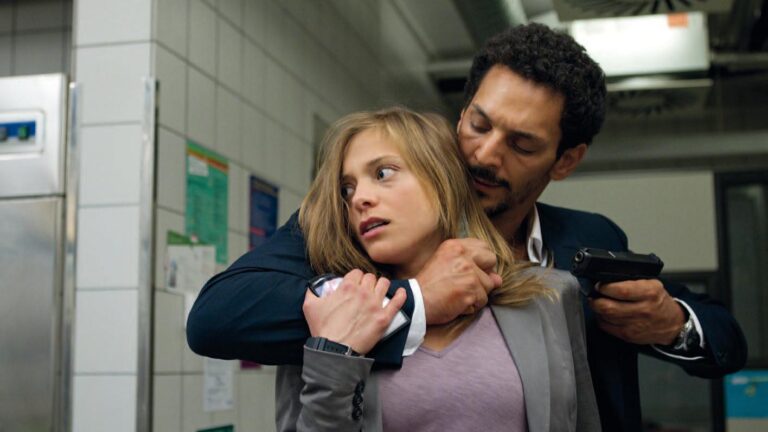 'Sleepless Night'' is one of those French crime thrillers — last summer's "Point Blank'' was another — that wants nothing more than to run its hero and its audience entertainingly ragged. It's fast, lean, satisfying, and forgettable; nothing special, really, until you realize that the movies have largely lost the knack for brisk mayhem like this.
We open in media crime: two thugs hijacking a pair of drug couriers and coming away with a gym bag full of cocaine. Surprise #1: The thugs are actually cops. Vincent (Tomer Sisley) has a cool head and Manu (Laurent Stocker) is a whiner; both are seemingly dirty.
Surprise #2: José (Serge Riaboukine), the natty Corsican gangster who belongs to that coke, kidnaps Vincent's son Thomas (Samy Seghir), a young teenager just beginning to get stroppy. An exchange is arranged inside José's busy Paris nightclub, Le Tarmac, but there are other players complicating the game, including a corrupt police lieutenant, Lacombe (Julien Boisselier), and his too-trusting underling, Delphine (Lizzie Brocheré).
Surprise #3: The movie plays out almost entirely within that nightclub over the course of one long, hectic evening. Vincent and his various pursuers push through crowds of oblivious club-kiddies, beat each other up on stairwells and in front of goggle-eyed sous chefs, exchange gunfire in poolrooms and VIP lounges. It's a gimmick that works surprisingly well, thanks to Tom Stern's whiplash camerawork and director/co-writer Frédéric Jardin's ingenious staging, and while the filmmakers aren't playing for comedy, there's a sense of can-you-top-this outrageousness to the double crosses and stuntwork that keeps pretentiousness at bay.
Minor players appear and disappear: a runty enforcer with a mean streak (Birol Ünel), Thomas's exasperated minder (Adel Bencherif), a dazed dance-floor beauty (Pom Klementieff) who briefly becomes Vincent's running partner. Sisley ("Largo Winch'') holds and deepens our sympathy as a flawed cop and even more flawed dad trying to make it all right — on top of everything else, he has a nasty stab wound that keeps reopening — and "Sleepless Night'' becomes at times a manic visual essay in fatherly love.
Mostly, though, the movie wants to exhaust us with smartly filmed action and suspense, and it fulfills its part of the bargain. An American remake is already in the works for 2014, but it's unnecessary. After this gallop through clubland, all you'll need is some time in the chill-out room.