NoPrimaryTagMatch
Man attacked by great white shark off Ballston Beach in Truro jokes about surviving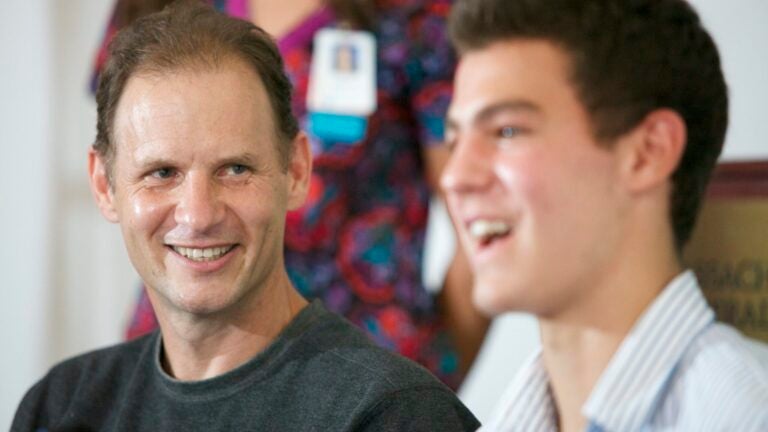 A wisecracking Boston native today explained why he thinks he survived the first great white shark attack on a Massachusetts swimmer since 1936: I taste lousy.
Chris Myers, who grew up on Joy Street in Beacon Hill but now lives in Colorado, was attacked Monday afternoon while swimming with his 16-year-old son, J.J., off the shores of Ballston Beach in Truro.
Speaking with reporters today, Myers said he felt a "huge bite on my leg'' when the shark attacked.
"I was quite sure it was a shark,'' he said. "It felt like my leg was caught in a vise. I kicked very hard with my free leg…and he let go.''
Myers now thinks he knows why the attack came to an end.
"I figure the shark just didn't like the taste of me,'' said the Harvard University graduate.
Myers, 50, was bitten first in his lower left leg and then suffered puncture wounds in his right leg when he kicked the shark in the snout. Doctors at Massachusetts General Hospital in Boston have used 47 stitches to close the wounds, which he said will mostly keep him off his feet or on crutches for about a month.
During a joint press conference, father and son said they decided to swim several hundred feet off the shore in hopes of finding a good spot for breaking waves to body surf on. As they paddled out, J.J. asked his father a question, they recalled today.
" 'What do you think would happen if a shark came along?,' '' J.J. asked.
" 'Well, we'd be history,' '' his father replied.
When they were some 400 to 500 feet off shore, the two decided a sandbar was too distant for them and decided to turn around and head back inland — and that's when a dark object sliced through the water between the two of them.
Myers said he has only one way to describe the size of the animal that attacked him — "big'' — and said that it was dark in color.
Once Myers was free of the shark's jaws, he and his son began swimming furiously toward land. They became focused on reaching the beach, and not just because his father had been bit, J. J. Myers said.
"Seeing a shark is enough to get swimming back, fast, to the beach,'' he said.
During their inbound swim, Chris Myers told his son that the shark "bit me pretty badly,'' but also made it clear to him that the wound was not going to be fatal.
" 'Well, we're not history,' '' the elder Myers told his son.
Swimming frantically toward land, the two said they saw people on the beach. Once they got close to shore, people waded into the water to help them. Myers said he did not feel any pain until he was riding in the ambulance to Cape Cod Hospital, where he was first treated before being sent to MGH.
Myers said he did not know seals were in the area of Ballston Beach, and was not aware of great white shark sightings near Truro before he went into the water on Monday. If he had known seals were about, he would not have gone swimming, he said.
According to the state's top shark scientist, Greg Skomal, Myers is likely the first person to be attacked by a great white shark in Massachusetts waters since 1936 when a teenager was killed.