NoPrimaryTagMatch
The self-written obituary: the hottest thing in dying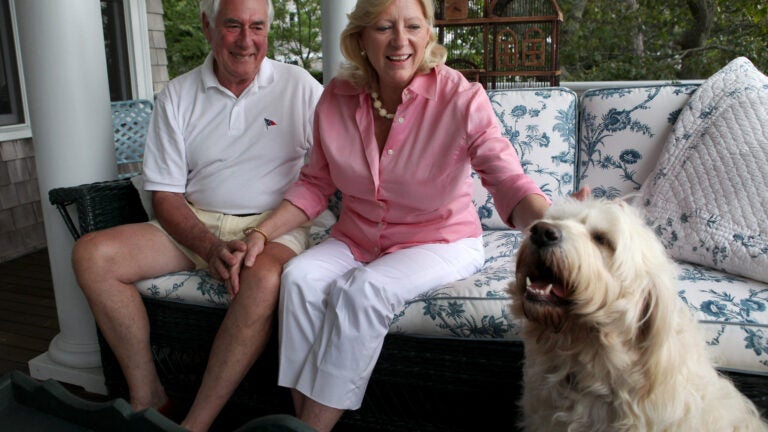 Rachel Kuhe was enjoying a breezy summer afternoon with family and friends on her West Chop porch when death knocked, sort of.
It was the FedEx man, there to deliver the two obituary-writing kits that Kuhe, 66, had ordered. One for herself, the other for her 74-year-old husband, a man in fine health, as far as he knew.
"He was kind of surprised,'' said Kuhe, a retired interior decorator, chuckling. "Was there something I hadn't told him?''
There wasn't, except that Peter Hegener was about to become part of the latest trend in dying: the self-written obituary. Having done all they can to dictate exactly how their funerals will go — down to playlists, menus, and off-beat hearses — baby boomers, and some members of the Silent Generation, are now taking control over the story of their lives.
"An opportunity to speak from the grave,'' is how Marilyn Johnson, author of "The Dead Beat: Lost Souls, Lucky Stiffs, and The Perverse Pleasures of Obituaries,''
describes the auto-obit. "It's a great defensive move, right up there with leaving a sharp black and white photo of yourself lying around.''
Self-written obituaries generally run in newspapers as paid death notices, while traditional obits are written by newspaper reporters. But with the growing popularity of online obituary sites such as Legacy.com, which publishes mainly paid death notices, the self-written obit has an ever-larger potential audience.
Statistics on the number of seniors working to meet the ultimate deadline are hard to come by, but obituary-writing courses are being offered on-line and in workshops, and informal obit-writing sessions are popping up at book club meetings and girlfriend reunions.
On the Vineyard, Kuhe is planning a champagne lunch for her "allies'' to help each other recall important life events to include — and exclude — in their final reports. "Who better than you or your friends to make sure nothing terrible goes in print?'' she said.
In Yarmouth Port, Nancy Wurlitzer, an ordained interfaith minister, took an online obituary-writing class and plans to host potluck dinners and classes to share what she learned, namely that obituaries can be creative — and that no one knows as much about you as you do.
After watching so many people feel disappointed that they didn't have more information for a loved one's obituary, Wurlitzer considers the self-written piece crucial. "People say, 'I should have said this, I should have said that.' ''
Wurlitzer, who is over 60, is still working on hers and feels some pressure to finish. "Death could happen any day,'' she said.
Speaking of death: Many people don't want to, said Sarah White, a writing teacher in Wisconsin who teaches an online course, "Put a Little Life into Your Obituary.''
"People think it's morbid,'' said White. "But if they get past that first reaction, they realize it's really very interesting.''
People are willing to pay to have their story seen. The Globe charges $10 a line for a death notice, which is about 35-40 characters, plus an $18.50 fee to put the notice on Legacy.com for one year. At the New York Times, a death notice costs $55 per line, which runs about 28 characters, and the paper's Legacy.com fee is $55.
White said she realized the need for self-penned obituaries after an elderly aunt died on a Friday, prompting a frantic scramble to locate key information before her hometown newspaper's noon Saturday deadline. The stress triggered an asthma attack that sent White to the hospital. "At that point, I said, people don't have to go through this.''
Students taking White's $120 course do writing and memory-recall exercises and learn how to edit and polish. But without a doubt the hardest part of the process is soliciting quotes from friends and family.
"It's an odd thing to do, to call and say, 'I'm writing my obit, will you tell me what you like about me?'' White said.
Those who don't want to write their own obit, but do want one done ahead of time, have started hiring writers to do the job. Whether self-written or commissioned, the pre-written obit can be a way for the subject to spare loved ones — who may not love each other — from having to interact, said Susan Soper, a veteran journalist who created the "ObitKit: A Guide to Celebrating Your Life.''
She recently worked with a client in his mid-70s who had been married twice and wanted to ensure that his whole life story was told — not just the part that one side or the other knew about.
"Honestly, I think he didn't want anything going on between his grown children and his current wife,'' Soper said.
Just as seniors are getting creative with funeral planning, they're writing obits that go beyond a mere recitation of graduation and wedding dates, jobs held, and names of offspring. Soper says she's seen self-written obits that have included quirky, everyday details of lives (just like ones penned by good reporters).
"As an anniversary present, she purchased tickets to the Masters Golf tournament in Augusta,'' read one. Another recalled: "A formative educational experience occurred when he was 10 and his mother took him and his brothers to Italy where she inadvertently enrolled them in a girls' boarding school on the outskirts of Rome.'' And finally: "Her mother taught her that good manners are due not only to the Queen of England but also to the parking attendant.''
But don't let the light-hearted touches fool you. Writing one's own obituary can be an emotional experience. Soper ran a workshop in North Carolina last year where many of the 18 students got teary, she recalled.
"There is a question in the ObitKit that asks about the road not taken,'' she said. "Sometimes people have regrets. And talking about their own deaths always dredges up unrequited grief about someone else's.''
In Westport, Ellen Gower, 72, says she doesn't understand the squeamishness.
"Why put this off?'' she asked. "We're all going to die. Why not fashion your obit the way you would want it to read? Why wouldn't you make sure you don't put the onus on someone else?''
With that in mind, Gower, a retired banker and an active volunteer, has started clipping obits she likes and tucking them into folders she keeps for herself and her husband, who's 78.
Noting that the project is more hers than his, Gower realized she better set herself a deadline. "After having all these good intentions,'' she said, "don't want to die not having done the job for both of us.''