NoPrimaryTagMatch
While Romney campaign talks of forging ahead, Isaac may prompt convention cancellation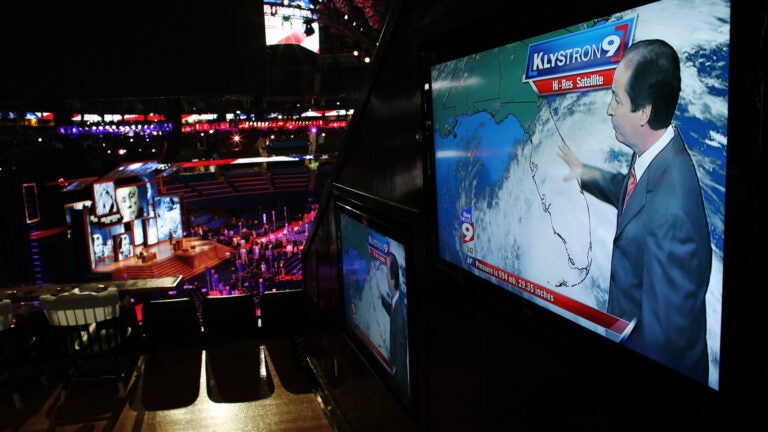 TAMPA – There is a distinct possibility that the 2012 Republican National Convention will be cancelled.
The decision may come not so much because the Tampa-St. Petersburg area will suffer a direct hit from Isaac, which built from a tropical storm toward a hurricane as Sunday turned to Monday.
Rather, it may happen because of the damage the high winds and rain would inevitably wreak elsewhere on the Gulf Coast just before the delegates are slated to reconvene Tuesday in the Tampa Bay convention hall.
Conversations with a series of top advisers to presumptive GOP presidential nominee Mitt Romney made clear that his staff is proceeding afoot with plans to conduct their party's quadrennial nominating convention.
A conference call at 5:45 p.m. Sunday spelled out the adjusted schedule for Tuesday, Wednesday, and Thursday after organizers earlier decided to cancel Monday's opening convention session.
But the series of conversations – occurring just hours later – made clear that the Romney staff also realizes that Isaac's potentially horrid wrath could eclipse any bunting-draped imagery they generate inside the Tampa Bay Times Forum.
That would render the whole convention exercise a net loss for their candidate, rather than a positive force propelling him into the fall campaign.
Consider for a moment the juxtaposition of President Obama marshaling his administration's forces and personally visiting New Orleans or Mobile, Ala., in the aftermath of the storm's landfall, all while the convention hall is filled with delegates dressed in funny hats listening to partisan speeches.
Consider, too, the practical reality of the public and news media being forced to choose between watching a staged political event or coping with the aftermath of a natural disaster.
Reality TV has proven to generate audiences at least equal to scripted programming ever since the first "Survivor.''
Finally, set aside politics and think of the humane thing to do: At a time of human suffering, the natural response is for the country to join together and work in unison to overcome it.
If Obama and Romney could unite in July to condemn the Aurora, Colo., mass shooting, or just this past weekend to celebrate the life of moonwalker Neil Armstrong, the expectation surely is that they would do the same in the aftermath of Isaac.
One Romney adviser said he even expected the television networks would acknowledge their civic duty by offering Romney a prime-time speaking opportunity, should the GOP be forced to cancel its already-truncated convention.
"Sure, we might lose one messaging opportunity, and understandably so. But we could also pick up another one,'' said one adviser.
That wasn't a possibility discussed with reporters on the logistics conference call Sunday evening, but it's certainly one being talked about within the Romney campaign.