NoPrimaryTagMatch
Deval Patrick's Obama friendship, Romney perspective, create convention demand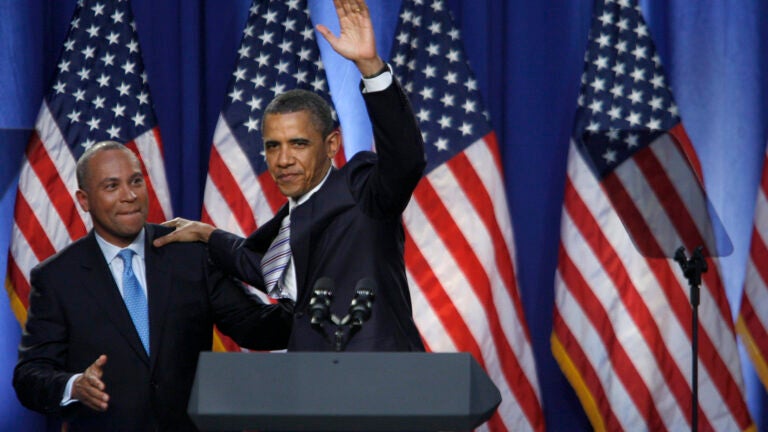 CHARLOTTE, N.C. – He may be governor of Massachusetts, but Deval Patrick will be a man about town in Charlotte this week.
The twin virtues of his close connection to President Obama and leadership of the state previously governed by Republican presidential nominee Mitt Romney make Patrick a highly sought speaker at the 2012 Democratic National Convention.
It all starts at 8 a.m. today, when he addresses delegates from the battleground state of Virginia. Then he attends a breakfast for his homestate delegation.
Those engagements are just the beginning for a politician who will step into the prime-time spotlight on Tuesday to address the convention itself at the Time Warner Cable Arena. Aides say he will mount a spirited defense of his friend the president – and perhaps engage in a little offense against his predecessor.
"The governor believes this is an election of a lifetime,'' said spokesman Alex Goldstein. "These are the final days leading up to the 2012 election; there is no time to waste. As a co-chair of the Obama committee, he think it's vitally important to tell the president's very positive story to every audience he can.''
A Romney spokesman did not immediately return a request for comment.
While Romney largely glossed over his tenure as governor during his own nominating convention last week, save to talk of his tax-cutting efforts and record of appointing women to leadership positions, Patrick is sure to cite his 2006 role in enacting a universal health care law in Massachusetts.
While some might view that as boosting Romney, Patrick believes it undercuts the former governor's pledge to dismantle Obama's national health care law. It is based on the Masssachusetts model.
Highlighting those similarities, and also explaining what Patrick describes as its minimal effect on overall state spending, could neutralize one of Romney's key anti-Obama lines on the stump. It could also fuel charges of hypocrisy among Democrats and independents and dissent among Republicans who oppose what critics call Obamacare.
Patrick was left to enact the Massachusetts law when he took over from Romney in January 2007.
"Specifically on health care, Massachusetts has a strong story to tell, and no person is better equipped to tell it than Deval Patrick,'' said Goldstein.
On Tuesday, Patrick is slated to host the delegation's morning breakfast, which is a glorified way of saying one of his political committees will pick up the tab. He then will participate in an afternoon panel discussion focused on the Massachusetts health care law.
It is sponsored by the Massachusetts Democratic Party, which has been trying to fuel coverage of Romney's connection to Obamacare.
Later, the governor will attend a reception for the Edward M. Kennedy Institute for the United States Senate, now under construction on Columbia Point between UMass Boston and the John F. Kennedy Presidential Library and Museum.
That evening, Patrick will deliver his remarks on the convention's opening evening, the same night first lady Michelle Obama speaks.
On Wednesday, Patrick is set to address the Arizona convention delegation and then participate in another health care forum. It will be held at the NASCAR Hall of Fame.
He will then be a panelist for a forum sponsored by the John F. Kennedy Library Foundation focused on the nation's changing political demographics.
Not only is Patrick the state's first black governor and only the second popularly elected in the country, but he also headed the US Justice Department's civil rights division during the Clinton administration.
That discussion will be moderated by David Gregory, host of the NBC News program "Meet the Press.''
On Thursday, the governor will be at the convention's closing-night venue – the outdoor Bank of America Stadium – to hear Obama, his friend and fellow Chicagoan, deliver his nomination acceptance speech and chart his course for a second term.
While that is also the day of the Massachusetts primary, Patrick already voted at Milton Town Hall through an absentee ballot, Goldstein said.